Prosthesis
To view the suppliers & products available in your area, click the button to the right.
Contents: To jump to the topic you would like, click on the links below
Introduction
Prosthesis or Prosthetics is an artificial device that replaces a missing body part, which may be lost through trauma, disease, or congenital conditions. Prosthetic amputee rehabilitation is primarily coordinated by a prosthetist and an inter-disciplinary team of health care professionals including psychiatrists, surgeons, physical therapists, and occupational therapists.
A person's prosthetics should be designed and assembled according to the patient's appearance and functional needs. For instance, a patient may need a transradial prosthesis, but need to choose between an aesthetic functional device, a myoelectric device, a body-powered device, or an activity specific device. The patient's future goals and economical capabilities may help them choose between one or more devices.
Limb Prosthesis
Limb prostheses include both upper- and lower-extremity prostheses.
Upper-extremity Prosthesis
Upper-extremity prostheses are used at varying levels of amputation: forequarter, shoulder disarticulation, transhumeral prosthesis, elbow disarticulation, transradial prosthesis, wrist disarticulation, full hand, partial hand, finger, partial finger.
A transradial prosthesis is an artificial limb that replaces an arm missing below the elbow. Two main types of prosthetics are available. Cable operated limbs work by attaching a harness and cable around the opposite shoulder of the damaged arm. The other form of prosthetics available are myoelectric arms. These work by sensing, via electrodes, when the muscles in the upper arm move, causing an artificial hand to open or close. In the prosthetic industry a trans-radial prosthetic arm is often referred to as a "BE" or below elbow prosthesis. You can view information on Body-powered arms under the section "Current technology and manufacturing. " below.
Lower-extremity Prosthesis
Lower-extremity prostheses provide replacements at varying levels of amputation. These include hip disarticulation, transfemoral prosthesis, knee disarticulation, transtibial prosthesis, Syme's amputation, foot, partial foot, and toe. The two main subcategories of lower extremity prosthetic devices are trans-tibial (any amputation transecting the tibia bone or a congenital anomaly resulting in a tibial deficiency) and trans-femoral (any amputation transecting the femur bone or a congenital anomaly resulting in a femoral deficiency).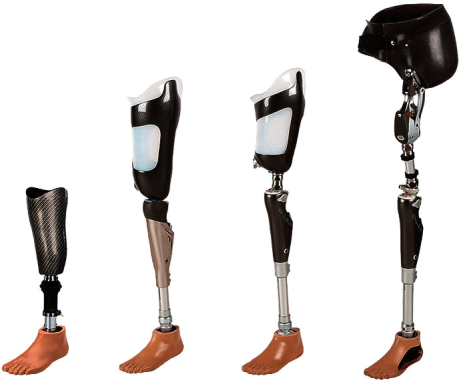 A transfemoral prosthesis is an artificial limb that replaces a leg missing above the knee. Transfemoral amputees can have a very difficult time regaining normal movement. In general, a transfemoral amputee must use approximately 80% more energy to walk than a person with two whole legs. This is due to the complexities in movement associated with the knee. In newer and more improved designs, hydraulics, carbon fiber, mechanical linkages, motors, computer microprocessors, and innovative combinations of these technologies are employed to give more control to the user. In the prosthetic industry a trans-femoral prosthetic leg is often referred to as an "AK" or above the knee prosthesis.
A transtibial prosthesis is an artificial limb that replaces a leg missing below the knee. A transtibial amputee is usually able to regain normal movement more readily than someone with a transfemoral amputation, due in large part to retaining the knee, which allows for easier movement. Lower extremity prosthetics describes artificially replaced limbs located at the hip level or lower. In the prosthetic industry a trans-tibial prosthetic leg is often referred to as a "BK" or below the knee prosthesis. You can view more information on Lower-extremity prostheses under the section "Current technology and manufacturing. " below.
Patient procedure
A prosthesis is a functional replacement for an amputated or congenitally malformed or missing limb. Prosthetists are responsible for the prescription, design and management of a prosthetic device.
In most cases, the prosthetist begins by taking a plaster cast of the patient's affected limb. Lightweight, high-strength thermoplastics are custom-formed to this model of the patient. Cutting-edge materials such as carbon fiber, titanium and Kevlar provide strength and durability while making the new prosthesis lighter. More sophisticated prostheses are equipped with advanced electronics, providing additional stability and control.
Artificial limbs are typically manufactured using the following steps:
Measurement of the stump
Measurement of the body to determine the size required for the artificial limb
Fitting of a silicone liner
Creation of a model of the liner worn over the stump
Formation of thermoplastic sheet around the model – This is then used to test the fit of the prosthetic
Formation of plastic parts of the artificial limb – Different methods are used, including vacuum forming and injection molding
Creation of metal parts of the artificial limb using die casting
Assembly of entire limb
Current technology and manufacturing
Over the years, there have been advancements in artificial limbs. New plastics and other materials, such as carbon fiber, have allowed artificial limbs to be stronger and lighter, limiting the amount of extra energy necessary to operate the limb. This is especially important for trans-femoral amputees. Additional materials have allowed artificial limbs to look much more realistic, which is important to trans-radial and transhumeral amputees because they are more likely to have the artificial limb exposed.
In addition to new materials, the use of electronics has become very common in artificial limbs. Myoelectric limbs, which control the limbs by converting muscle movements to electrical signals, have become much more common than cable operated limbs. Myoelectric signals are picked up by electrodes, the signal gets integrated and once it exceeds a certain threshold, the prosthetic limb control signal is triggered which is why inherently, all myoelectric controls lag. Conversely, cable control is immediate and physical, and through that offers a certain degree of direct force feedback that myoelectric control does not.
Most modern artificial limbs are attached to the stump of the amputee by belts and cuffs or by suction. The stump either directly fits into a socket on the prosthetic, or a liner is used that then is fixed to the socket either by vacuum (suction sockets) or a pin lock. Liners are soft and by that, they can create a far better suction fit than hard sockets. Silicone liners can be obtained in standard sizes, mostly with a circular (round) cross section, but for any other stump shape, custom liners can be made. The socket is custom made to fit the residual limb and to distribute the forces of the artificial limb across the area of the stump (rather than just one small spot), which helps reduce wear on the stump. The custom socket is created by taking a plaster cast of the stump or, more commonly today, of the liner worn over the stump, and then making a mold from the plaster cast. Newer methods include laser guided measuring which can be input directly to a computer allowing for a more sophisticated design.
One problem with the stump and socket attachment is that a bad fit will reduce the area of contact between the stump and socket or liner, and increase pockets between stump skin and socket or liner. Pressure then is higher, which can be painful. Air pockets can allow sweat to accumulate that can soften the skin. Ultimately, this is a frequent cause for itchy skin rashes. Over time, this can lead to breakdown of the skin.
Body-powered arms
Current high tech allows body powered arms to weigh around one-half to one-third of what a myoelectric arm does.
Sockets
Current body-powered arms contain sockets that are built from hard epoxy or carbon fiber. These sockets or "interfaces" can be made more comfortable by lining them with a softer, compressible foam material that provides padding for the bone prominences. A self suspending or supra-condylar socket design is useful for those with short to mid range below elbow absence. Longer limbs may require the use of a locking roll-on type inner liner or more complex harnessing to help augment suspension.
Wrists
Wrist units are either screw-on connectors featuring the UNF 1/2-20 thread (USA) or quick-release connector, of which there are different models.
Voluntary opening and voluntary closing
Two types of body powered systems exist, voluntary opening "pull to open" and voluntary closing "pull to close". Virtually all "split hook" prostheses operate with a voluntary opening type system.
More modern "prehensors" called GRIPS utilize voluntary closing systems. The differences are significant. Users of voluntary opening systems rely on elastic bands or springs for gripping force, while users of voluntary closing systems rely on their own body power and energy to create gripping force.
Voluntary closing users can generate prehension forces equivalent to the normal hand, upwards to or exceeding one hundred pounds. Voluntary closing GRIPS require constant tension to grip, like a human hand, and in that property they do come closer to matching human hand performance. Voluntary opening split hook users are limited to forces their rubber or springs can generate which usually is below 20 pounds.
Feedback
An additional difference exists in the biofeedback created that allows the user to "feel" what is being held. Voluntary opening systems once engaged provide the holding force so that they operate like a passive vice at the end of the arm. No gripping feedback is provided once the hook has closed around the object being held. Voluntary closing systems provide directly proportional control and biofeedback so that the user can feel how much force that they are applying.
A recent study showed that by stimulating the median and ulnar nerves, according to the information provided by the artificial sensors from a hand prosthesis, physiologically appropriate (near-natural) sensory information could be provided to an amputee. This feedback enabled the participant to effectively modulate the grasping force of the prosthesis with no visual or auditory feedback.
Terminal devices
Terminal devices contain a range of hooks, prehensors, hands or other devices.
Hooks
Voluntary opening split hook systems are simple, convenient, light, robust, versatile and relatively affordable.
A hook does not match a normal human hand for appearance or overall versatility, but its material tolerances can exceed and surpass the normal human hand for mechanical stress (one can even use a hook to slice open boxes or as a hammer whereas the same is not possible with a normal hand), for thermal stability (one can use a hook to grip items from boiling water, to turn meat on a grill, to hold a match until it has burned down completely) and for chemical hazards (as a metal hook withstands acids or lye, and does not react to solvents like a prosthetic glove or human skin).
Hands
Prosthetic hands are available in both voluntary opening and voluntary closing versions and because of their more complex mechanics and cosmetic glove covering require a relatively large activation force, which, depending on the type of harness used, may be uncomfortable.
Lower-extremity prosthetics
Lower-extremity prosthetics describes artificially replaced limbs located at the hip level or lower.
The two main subcategories of lower extremity prosthetic devices are trans-tibial (any amputation transecting the tibia bone or a congenital anomaly resulting in a tibial deficiency), and trans-femoral (any amputation transecting the femur bone or a congenital anomaly resulting in a femoral deficiency). In the prosthetic industry a trans-tibial prosthetic leg is often referred to as a "BK" or below the knee prosthesis while the trans-femoral prosthetic leg is often referred to as an "AK" or above the knee prosthesis.
Other, less prevalent lower extremity cases include the following:
Hip disarticulations – This usually refers to when an amputee or congenitally challenged patient has either an amputation or anomaly at or in close proximity to the hip joint.
Knee disarticulations – This usually refers to an amputation through the knee disarticulating the femur from the tibia.
Symes – This is an ankle disarticulation while preserving the heel pad.
Socket
This important part serves as an interface between the residuum and the prosthesis, allowing comfortable weight-bearing, movement control and proprioception. Its fitting is one of the most challenging aspects of the entire prosthesis. The difficulties accompanied with the socket are that it needs to have a perfect fit, with total surface bearing to prevent painful pressure spots. It needs to be flexible, but sturdy, to allow normal gait movement but not bend under pressure.
Shank and connectors
This part creates distance and support between the knee-joint and the foot (in case of upper-leg prosthesis) or between the socket and the foot. The type of connectors that are used between the shank and the knee/foot determines whether the prosthesis is modular or not. Modular means that the angle and the displacement of the foot in respect to the socket can be changed after fitting. In developing countries prosthesis mostly are non-modular, in order to reduce cost. When considering children modularity of angle and height is important because of their average growth of 1.9 cm annually.
Foot
Providing contact to the ground, the foot provides shock absorption and stability during stance. Additionally it influences gait biomechanics by its shape and stiffness. This is because the trajectory of the center of pressure (COP) and the angle of the ground reaction forces is determined by the shape and stiffness of the foot and needs to match the subject's build in order to produce a normal gait pattern. The main problem found in current feet is durability, endurance ranging from 16–32 months These results are for adults and will probably be worse for children due to higher activity levels and scale effects.
Knee joints
In case of a trans-femoral amputation there also is a need for a complex connector providing articulation, allowing flexion during swing-phase but not during stance.
Microprocessor control
To mimic the knee's functionality during gait, microprocessor-controlled knee joints have been developed that control the flexion of the knee.
A microprocessor is used to interpret and analyse signals from knee-angle sensors and moment sensors. The microprocessor receives signals from its sensors to determine the type of motion being employed by the amputee. Most microprocessor controlled knee-joints are powered by a battery housed inside the prosthesis.
The sensory signals computed by the microprocessor are used to control the resistance generated by hydraulic cylinders in the knee-joint. Small valves control the amount of hydraulic fluid that can pass into and out of the cylinder, thus regulating the extension and compression of a piston connected to the upper section of the knee.
The main advantage of a microprocessor-controlled prosthesis is closer approximation to an amputee's natural gait. Some allow amputees to walk near walking speed or run. Variations in speed are also possible and are taken into account by sensors and communicated to the microprocessor, which adjusts to these changes accordingly. It also enables the amputees to walk down stairs with a step-over-step approach, rather than the one step at a time approach used with mechanical knees. However, some have some significant drawbacks that impair its use. They can be susceptible to water damage and thus great care must be taken to ensure that the prosthesis remains dry.
Myoelectric
A myoelectric prosthesis uses electromyography signals or potentials from voluntarily contracted muscles within a person's residual limb on the surface of the skin to control the movements of the prosthesis, such as elbow flexion/extension, wrist supination/pronation (rotation) or hand opening/closing of the fingers. A prosthesis of this type utilizes the residual neuro-muscular system of the human body to control the functions of an electric powered prosthetic hand, wrist, elbow or foot. This is as opposed to an electric switch prosthesis, which requires straps and/or cables actuated by body movements to actuate or operate switches that control the movements of a prosthesis or one that is totally mechanical. It is not clear whether those few prostheses that provide feedback signals to those muscles are also myoelectric in nature. It has a self-suspending socket with pick-up electrodes placed over flexors and extensors for the movement of flexion and extension respectively.
References