Contents: To jump to the topic you would like, click on the links below

Introduction
Children and the youth are the future of South Africa, According to UNICEF Projections from Census 2001 indicate that there are some 474 000 children living with severe disabilities in South Africa today. In all likelihood there was probably more than this at the time and this figure has likely increased quite considerably. According to WHO -  15% of the world are persons with disabilities, while it according to the 2011 statistics 7% in South Africa have disabilities. In my opinion it is more likely to be 15% in line with world statistics.
persons with disabilities make up approximately 7% of the population. Ordinary schools with an inclusive orientation are the most effective means of combating discriminatory attitudes, creating welcoming communities, building an inclusive society and achieving education for all and also improve the efficiency and ultimately the cost-effectiveness of the entire education system. Our schooling system in SA is not inclusive of learners with a disability, and many special needs schools are under-resourced and not able to support learners until Matric. We need to challenge this, and promote inclusive education as much as possible – but in the meantime, look for bridging programs, entry level NQF Learnerships that offer a matric equivalent, or home study to try and get this matric.
Persons with mobility impairments for example would still be able to attend the mainstream schools if it was accessible and they would not require other adaptions when it comes to books and teachers needing to learn sign language etc. The biggest problem with most mainstream schools is that they are not accessible to persons with disabilities that would otherwise be able to attend them.
Most mainstream schools do not have ramps in the school, accessible bathrooms which include grab rails, lever taps, an elevator or Stair Lift for those schools that have different levels of classrooms. It is also important that the stage would need to be accessible and that the desks in their classrooms can accommodate a wheelchair from a space and a height perspective. This means not only do schools not want to accept persons with mobility impairments as the cost may be too high to adapt the school but if the pupil is injured while still attending school, they sometimes have to change schools to go to a school that is accessible to persons with mobility impairments which means not only is there a mobility affected but they use the support structures of their friends at school as well.
Other equipment that may be needed includes:
If you can …. GET YOUR MATRIC or NQF Equivalent!! Many companies have a policy whereby all potential employees, no matter what the role, must have a minimum of a matric qualification. This also applies to most learnership opportunities.
This is largely due to a factors such as:
production skills
effective social skills
The integration between worker and workplace
Health Problems
Transportation
Lack of Assistive Devices
Accessibility to the building (place of work) & lack of facilities like Disabled Toilets, Disabled Parking, etc.
Jobs offered to people with disabilities are scarce & studies have shown a correlation between disabilities and poverty. Those who are able to get jobs but unable to stabilize a job are often left discouraged & many who had participated, found that they were paid less when compared to their co-workers.
Special Needs Schools website: https://www.schoolguide.co.za/schools/special-needs-schools.html 489 Schools listed, please also see attached pdf of LSEN Schools in Gauteng.
The following website gives a breakdown of the various special needs schools in each province: http://www.southafricanschools.net/special-schools.php this would then need to be cross-referenced to remove any duplicates from the website above.
Please also remember that some persons with disabilities also attend mainstream schools or could be home schooled, may not attend school and some schools might not be listed on these websites above or in the documentation attached. According to the following article with link: https://www.hrw.org/news/2019/05/24/south-africa-children-disabilities-shortchanged  "An estimated 600,000 children with disabilities remain out of school in South Africa, but the government has not published accurate data. In 2015, according to government data, nearly 121,500 learners with disabilities were in "ordinary" schools."
There are a wide variety of different care facilities available in South Africa, including Protective Workshops, Self-help Care Centers or Quad homes and other Residential Homes. Please see the PDF documents attached with the list of some of these homes and workshops in Gauteng plus the Quad Homes countrywide. I have included a brief description of each of these types of facilities. There are also a wide variety of others which all will include in a different email.
Protective Workshops:
The aim of protective workshops is not to provide a workplace for all persons with disabilities, but to rather develop the skills and abilities of these persons and to provide the necessary support which will allow them to find suitable employment or other forms of income generation.  Protective workshops have since undergone many changes and the services that are currently provided at our workshops include:
skills development such as life-skills, work-skills as well as entrepreneurial development
psycho-social and other support services
empowerment and other capacity building programmes
contract work, which may be available at some protective workshops
Please see a list of protective workshops below in the Western Cape and document attached with information about protective
workshops and lists of other protective workshops in south Africa. I got the information from the document and only included protective workshop contact details, but please confirm these details as this is an old document from 2014 which I found that the DWD organization put together. I'll try to send you some more information about this as possible.
Employment Rights For Persons With Disabilities
Disability is a natural part of human life and does not diminish the right of persons with disabilities to take their rightful place in the work place. Widespread ignorance, fear and stereotypes cause persons with disabilities to be unfairly discriminated against in society and in employment. As a result, persons with disabilities experience high unemployment levels and, in the workplace, often remain in low status jobs and earn lower than average remuneration. The Employment Equity Act no. 55, of 1998 was drafted and put in place to ensure the employment rights of persons with disabilities in the workplace. Click on the link below to find out more about your rights and the Employment equity act no. 55, of 1998.
Companies & Organizations That Can Help



There are now various Organizations and Companies that specialize in Education For All and can advise you on how to adapt your building & environment to make sure that persons with disabilities have equal rights and no loss of dignity. The National Council of and for Persons with Disabilities (NCPD), QuadPara Association of South Africa (QASA), Bradshaw LeRoux Consulting and specialize in Universal Design and Access to make sure that persons with disabilities are not excluded from any events, services, information, communication, products and venues. These Organizations and Companies can assist in different ways including:
Higher and Further Education Disability Services Association (HEDSA): HEDSA is an advocacy and rights-based non-profit organisation representing disability services in Higher and Further Education Institutions in South Africa, and is recognised and endorsed by the Department of Higher Education and Training, as well as being accepted as a community of practice by Universities South Africa. HEDSA comprises of institutions of Higher and Further Education and Training, striving to ensure equal opportunities for all students with disabilities.
Education Fund: One of QASA's main areas of focus is that of developing the skills and thereby the employment potential of people with disabilities. Historically, people with disabilities have been prevented from gaining basic and further qualifications through physical and attitudinal barriers to access to such opportunities. QASA has a number of initiatives to tackle these barriers and provide opportunities for people with disabilities to gain skills and qualifications, these include the provision of education bursaries and facilitating skills development through internships; Employment Support through learnerships and promoting small businesses owned by persons with disabilities.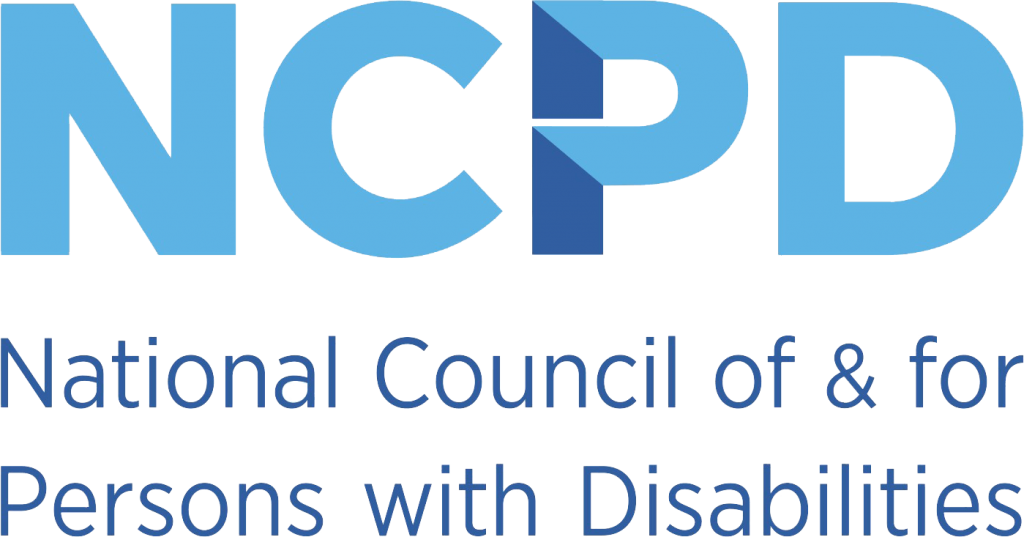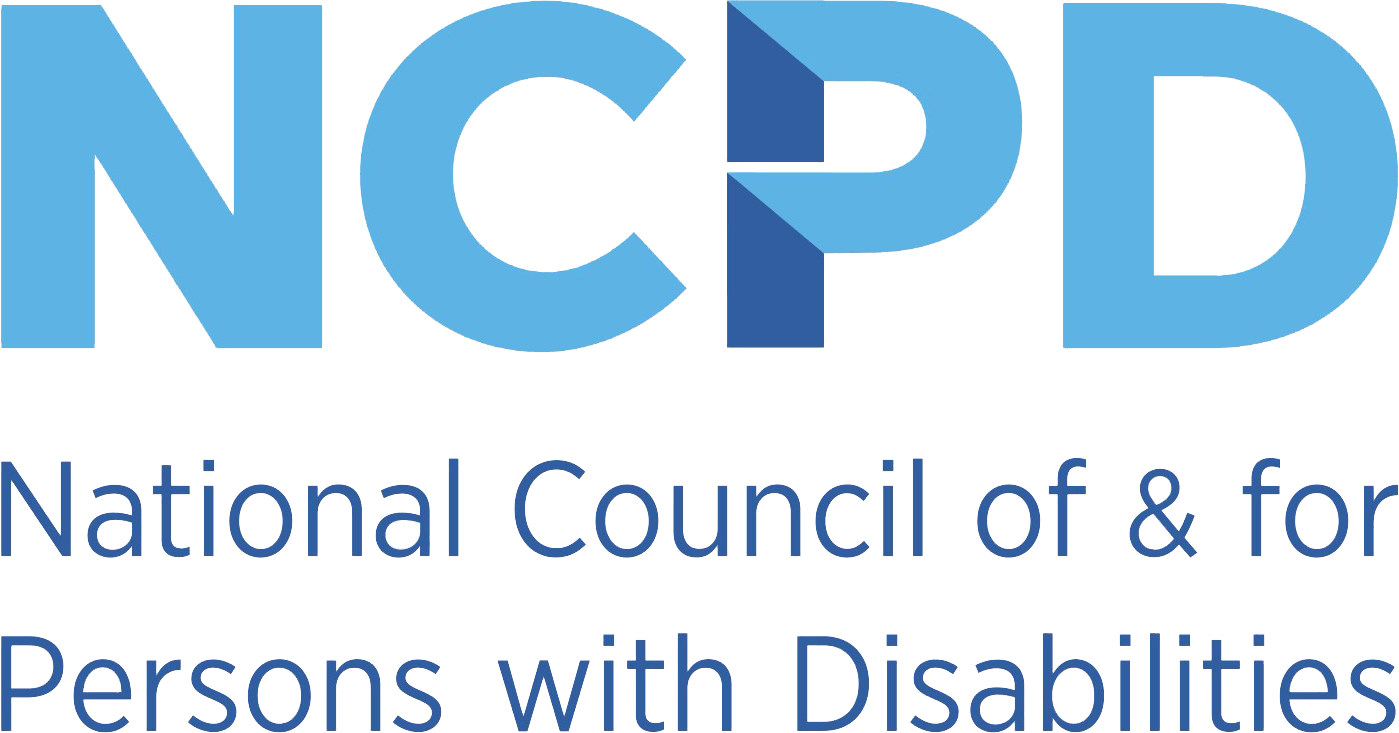 National Council of and for Persons with Disabilities
The National Council of and for Persons with Disabilities offer BBBEE advice and services related to persons with disabilities, such as: Job placement, Skills development, Preferential procurement, Ownership, Supply chain development. "We will refer you to our experts in each of the nine provinces or support you from our National Office in Edenvale." Contact Danie Marais for more information via email: danie@ncpd.org.za or at Tel: +27 11 452 2774. The National Council of and for Persons with Disabilities also provides Disability Equity Training to both public and private sectors.
Disability Equity Training
The National Council of and for Persons with Disabilities also provides Disability Equity Training. Many public and private sector bodies have gradually realised that their work practices and policies fall far short of fulfilling the needs, rights and aspirations of disabled people who are their clients, customers and co-workers and that, in order to change this situation, they need to turn to disabled people for education and guidance. From this realisation has grown the demand for Disability Equality Training (DET) run by disabled people, which aims to help people understand the meaning of disability, identify changes in work practice, and plan strategies to implement change
Disability Equality Training courses have been organised and run by disabled people and organizations to address the need for information about reality of disability. A DET course will enable participants to identify and address discriminatory forms of practice towards disabled people. Through training they will find ways to challenge the organisational behaviour which reinforces negative myths and values and which prevents disabled people from gaining equality and achieving full participation in society.
The National Council of and for Persons with Disabilities: offer training which is done by an expert well trained team of persons with disabilities, the training is inclusive of all impairments and addresses definitions, an inclusive workplace, reasonable accommodation, terminology and much more! The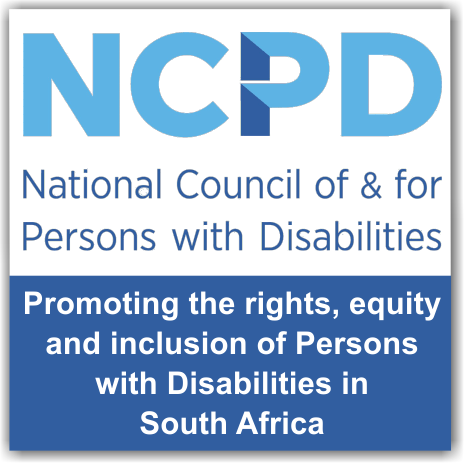 sessions are at least three hours, but can be up to two days (depending on the needs of the client). Training is done in inter - actively, using multimedia and is not "heavy"!!! Training is tailor made for every sector, including: Tourism, Tertiary Education, Banking, Mining and more.
For references, contact:
Bradshaw LeRoux Consulting
Bradshaw LeRoux Consulting was established in 1998 and are recognized leaders in Disability Inclusion. We focus on sourcing, identifying, developing and retaining diverse talent within your organization. Through our range of Disability Awareness Campaigns, Stereotype Busting Training, Strategic Consulting, and On the Ground support services, we leverage the benefit of their extensive network and experience in Disability Inclusivity to create enabling and flexible business environments.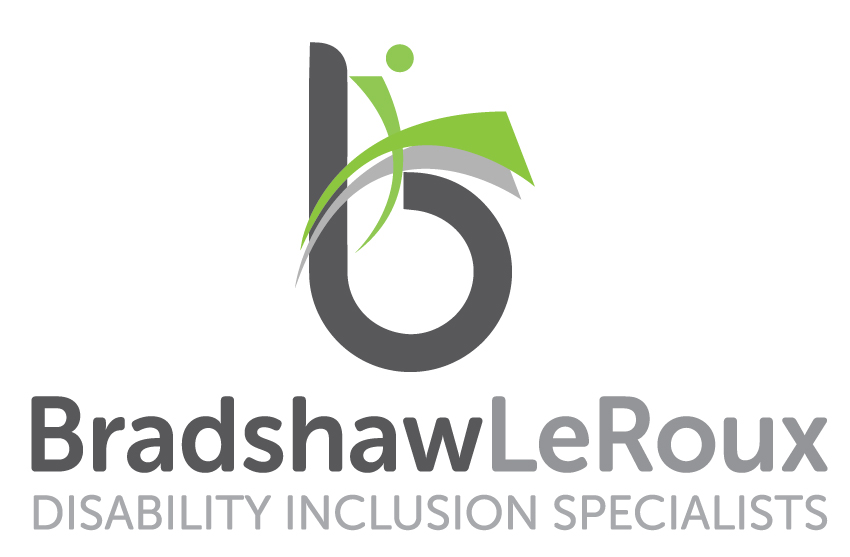 Our significant contribution to internationally recognized Best Practice principals of disability inclusion is making impact in South African organizations, with large focus being placed on Transformation and Scorecard objectives in the space of Disability Inclusion. In order to realize and sustain these inclusivity objectives, organizational cultures and environments seek to become more disability confident, and recognize the value of this form of diversity to their businesses and in their service offerings. Bradshaw LeRoux helps businesses and people to create productive, enabling and inclusive futures.
For companies seeking to employ talent, our role is to assist you in creating an accessible work environment that provides equal opportunities for employment of people with a disability. In a nutshell, we represent both job seekers with a disability, and assist companies with including and developing people with a disability by creating a disability inclusive environment. We also offer SETA Accredited Learnership Programmes and various other services including:
Environmental Accessibility Audits: Bradshaw LeRoux Consulting conduct Environmental Accessibility Audits designed to identify environmental barriers that could hinder access for Persons with a Disability. Our consultants will review your site, note potential barriers from a functional and safety perspective, and propose cost-effective solutions which can be actioned within short, medium and longer term timeframes. Our reports are practical in nature, specific in the solutions offered, and allow for ease of use by all. Relevant to all environments, from corporate offices, manufacturing or industry sites, education facilities or hospitality environments, we can assist.
Disability Awareness Training / Equity Training: In order to develop and create awareness in the organisation for persons with a disability which aligns to the organisation's D&I strategy, Bradshaw LeRoux have proposed a focused training approach aimed at raising awareness about disability as a value adding form of diversity. Facilitated by Lesa Bradshaw, who is a recognised international disability inclusion specialist with over 23 years experience, these practically applicable courses focus on the critical success factors needed to create a transformative, inclusive and safe environment in which persons with a disability feel confident to compete and succeed. Our training is designed to equip organisations and their stakeholders with relevant tools to drive the disability inclusion agenda with impact and effectiveness.
Communications Campaign: Communicating the right messaging on Disability as a form of Diversity, and its value to business and society, is a key success factor in promoting Inclusion and building a culture of respect. The aim of any Disability Communications Campaign is to 'normalise' disability, shift perceptions which form barriers to inclusion, and create a culture of trust in which employees feel confident to disclose a disability in order equalize opportunities for success. Paramount to the success of changing perceptions around disability is the use of the correct 'language' and messaging content. This campaign includes a brand/logo design and 5 digital communications including context and design work.
Empowerment Training for Persons with a Disability: Designed to teach persons with a disability about their rights and responsibilities within the workplace, these training sessions assist those individuals who have a newly acquired a disability, or who are new to the work environment, to understand the potential barriers to equal and dignified access to, or advancement in, employment and how to become change champions in creating an inclusive culture. Empowering by design, this practical and motivating training approach prepares individuals for their work journey and equips them with the skills needed to 'get the job'.
Bursary Management Programme: The bursary management programme is an excellent alternative for your company to invest in the Skills Development of Persons with a disability. The programme provides benefit to the Bursary recipients as they receive ongoing mentorship and assistive support during their years of study and beyond into their careers, creating future empowered, skilled talent with a disability. The programme benefits the Sponsoring company by building a talent pipeline aligned to its future needs whilst enjoying Skills Development objectives and positive brand recognition for respecting the value of disability as a form of diversity in the workplace.
ODIN: Online Disability Inclusion Network is a web-based diversity and inclusion platform which supports the transformation of an organisational culture towards being disability inclusive.
ODIN Recruit matches talent with a disability to your vacancies
ODIN Learn supports your learners with a disability, whether on or off site, to promote retention
ODIN Recruit Provides you with a cost-effective, fixed cost, 'budget friendly' solution in the form of a subscription-based service.
If you are a job seeker with a disability, please take a look at our Current vacancies page on our website, and Upload Your CV.
For more information, please feel free to send any queries to lesa@bradshawleroux.co.za or take a look at our website: www.bradshawleroux.co.za. You can also visit us at our Address: 4 Ironwood Way, Simbithi Eco Estate, or contact us via our Contact number: 031 765 2547.
Learnerships Available For Persons With Disabilities



is a

Information Desk
The DiSA Information Desk was created to help provide a "Free One - Stop Information Service" to assist Persons with Disabilities and their families in South Africa, whom are looking for information that can help them to be better equipped to face the challenges of their circumstances and any related barriers presented by society.

Yes To Access
Yes To Access (YTA) is an online reporting platform, created by DiSA, to acknowledge persons with disabilities' civil right to equal and fair access and facilitating a Disability Discrimination Complaint by inviting anyone in society to voluntary Identify and Report on all forms of Barriers to Access and acts of Disability Discrimination.