Transport Services & Vehicle Hire



To view suppliers of Transport Services & Vehicle Hire companies that are available in your area, click the button to the right.
Contents: To jump to the topic you would like, click on the links below

Introduction
Suitable and affordable accessible transport for persons of all disabilities remains a challenge and is one of the largest barriers to their independence. Much of the Public Transport that is available to the general public is not always accessible to wheelchair users, while many persons with Visual Impairments and Intellectual Impairments require extra assistance, which is not always available. Government projects often include introducing services to specific Cities or Provinces, these services cater & are accessible for some persons with disabilities but many rural areas in South Africa do not have public transport, let alone accessible transport. These areas are largely reliant on the taxi industry which also carries challenges for persons with disabilities. There are however private companies & organisations such as Pro Mobility, Travel With René, Safari Brothers & Bus - Tours & Transfers, SK Sambu Tours and Transfers, Beyond.Access, National Council of and for Persons with Disabilities (NCPD) and Pop a Wheelchair, who also specialize in the transport of persons with disabilities in South Africa, they offer services such as an Airport shuttle service, Charter Service or some include a Self-Drive option. Some companies and organizations such as NCPD also rent out accessible or adapted vehicles with Hand Controls suitable for persons with Mobility Impairments to be able to drive themselves.
In this article below, we will give you more information about the organisations and companies that can assist you and highlight some of these services that are available for all persons with disabilities in specific areas & explain how you would go about using these services.
Public Transport
Persons with disabilities who rely on Public Transport often battle to  get around, especially those who use wheelchairs and the Blind. There are however projects in place in certain areas, to improve Public Transport & make it more accessible to all persons
with disabilities. Public Transport includes transport services such as: Buses, Trains & Taxis.
Buses
The City of Johannesburg's Metrobus Service offers a specialized transport service which is dedicated to persons with disabilities on designated routes, with 6 buses which are equipped with a hydraulic chair lift. This is a subsidized service and the passengers pay a monthly fee.
Special stickers are displayed at the front of the bus to notify commuters. The buses also have ramps that align with the pavement to make wheelchair access easy. They also have dedicated wheelchair spaces complete with seat belts that lock the wheelchairs to the floor.
There are 9 double decker buses which have ramps that align to the pavement to make wheelchair access easy. These buses have been integrated into the normal daily scheduled service. A special prepaid tag system is also available for persons with disabilities.
Rea Vaya Bus Service: Phase 1 of the bus system was introduced to assist with the daily transport of workers from Soweto to Johannesburg and around the city. The intermodal hub at park station links Rea Vaya, Metro rail and Gautrain services. The City of Johannesburg's Rea Vaya bus system route has been operational since October 2013.
The new route runs from Soweto and passes through Noordegesig, New Canada, Pennyville , Bosmont, Coronationville, Newclare, Westbury, Westdene, Melville, Auckland Park and Parktown, and it links to the CBD. The new services uses 134 new buses, which have also been manufactured locally.
Auto-Mobility Public Transport: ....
In KwaZulu-Natal, the provincial education department bought 58 new buses worth R55 million to transport Deaf and Intellectually Impaired children.
The department bought the buses because it was difficult for learners with special needs to take public transport to school. Seventeen of the 58 buses were handed to schools around Durban in November last year.
For more information, call the Department of Transport Call Centre: 012 309-3657, or the National Council for Persons with Physical Disabilities in South Africa: 011 726-8040, or call 1020
MyCiTi
MyCiTi is designed to ensure that all special needs passengers can use the service. This includes persons with disabilities, the elderly, young children, pregnant women, passengers traveling alone at night, and passengers with luggage including suitcases, surfboards, prams and bicycles.
MyCiTi's universal access facilities include:
Tactile paving to help the Visually Impaired locate stations and platforms: Read More: ....
Induction loops at ticket kiosks for the hearing impaired.
CCTV cameras, which are monitored by a control centre, on buses and at stations.
Boarding bridges on buses serving residential and central city routes, which provide passengers with level access onto the buses from bus stops if required.
GO GEORGE
The George Integrated Public Transport Network (GIPTN) is a project aimed at launching a new and improved public transport system for George and surrounding areas.
GO GEORGE is operated by the public transport operators with existing services in the George area. The first trial phase was launched on the 8th of December 2014, with routes rolling out in phases over the following months.
The aim is to provide a quality public transport service that is reliable, affordable, safe, convenient and accessible, and contributes to a better quality of life for all.
The GO GEORGE system has been designed to ensure that it is as accessible as possible for passengers with a wide variety of needs. This is in line with national policy for new South African public transport systems, such as GO GEORGE.
On most routes, sidewalks at bus stops are raised to reduce the height between the sidewalk and the bus-floor boarding platforms. This provides easy entry for persons in wheelchairs, people with prams, young children and the elderly.
Tactile paving, which is raised, is used at the stops to make it easier for persons with Visually Impairments so that they can identify the bus stop area. Guide dogs and special assistive animals will be permitted on the buses, but no other animals.
Trains
You can give National Rail train companies advance notice if you think you'll need any help from staff. You can also check if a station has accessible facilities.
Wheelchairs On Trains: On mainline (intercity, suburban and cross-country) trains, there is space for your wheelchair. Put your chair in this space and use the brakes (or switch your wheelchair's power off) when the train's moving.
Your Rights: Your right to travel by train is protected by the train company's Disabled People's Protection Policy (DPPP). Each train company must produce a DPPP and you can get a copy from the company. The DPPP explains how the train company can help passengers with disabilities to use their stations and trains.
Disabled Person's Railcard: If you're eligible you can get up to a third off on rail tickets by applying for a disabled person's railcard. You must provide evidence of a relevant disability.
Unfortunately there are still many train stations in many cities that are inaccessible for persons with disabilities, especially persons with Mobility Impairments who use wheelchairs. A recent article revealed how inaccessible many of train stations in Cape Town are.
"Broken Lifts And Stairs For Commuters With Wheelchairs: Long wait before Cape Town's train stations will provide access for people with disabilities."
Gautrain
The Gautrain Rapid Rail Link's stations are fully accessible and every second train and feeder bus has special access for passengers with disabilities. The Gautrain is for everyone and is suitable for people with special needs. All station environments, as well as the trains and buses, are specifically designed to provide easy access for the mobility impaired and to accommodate sight- and hearing impaired passengers. Non-slip surfaces, handrails and handholds aid people with difficulties in walking, gripping, reaching or balancing.
The blind and partially sighted are assisted by the following:
The consistent use of colour contrasts, clear signage, good lighting and non-reflective surfaces.
Audible as well as visual service announcements.
Tactile and audible guidance and warning surfaces and systems, where appropriate.
The deaf or hard of hearing are assisted by the following:
Visual as well as audible announcements.
Induction loops (earphone jacks) at ticket vending machines.
Clear signage
The rail network is 80 kilometers long and is connected to other forms of public transport like taxis, buses and the Metrorail public train system. Commuters can also use several Gautrain buses to destinations within a 15 kilometers radius. The Gautrain is in the Gauteng province, South Africa, which links Johannesburg, Pretoria, Ekurhuleni and OR international airport. Traveling at up to 160 kilometers per hour, the Gautrain takes 35 minutes to travel between Johannesburg and Pretoria. From Sandton to the OR Tambo International Airport, it takes 15 minutes and provision has been made for air passengers to remotely check in at Sandton Station in future.
Main Station: Johannesburg Park Station, OR International Airport, Pretoria station.
Other Station: Centurion, Hatfield, Molbaro, Midrant, Rhodesfield, Rosebank and Sandton.
Route Map: It covers Hatfield, Pretoria, Centurion, Midrand, OR international airport, Rhodesfield, Marboro, Sandton, Rosebank and Park station.
Fares: Fares on the Johannesburg/Pretoria route are between R21.00 and R53.00, depending on the distance. Fares on the Gautrain Bus Link is R6.00 (R20.00 if the train is not used within one hour of the bus journey). The method of payment on Gautrain buses uses the same personalized electronic ticket as for train travel, requiring a minimum balance of R20.00 for boarding a bus.
How To Use The System
The Gautrain's train, bus and parking services are all fully integrated and may be used separately or jointly by transferring from one to another. These services are all accessed by means of a contactless smart card: Your Gautrain Gold Card.
Taxis
The South African National Taxi Council (SANTACO) and council members in the nine provinces are working with municipalities and transport authorities to make taxis accessible to persons with disabilities.
Several taxi associations in different provinces have already introduced vehicles specially adapted for persons with disabilities. New taxis will be built in such a way that people who use wheelchairs can easily get in and out. All new taxis that have been specially adapted to accommodate wheelchairs, must have clear signs that say they are certified to carry wheelchair users.
Unfortunately there are still many Taxi services in South Africa that are not accessible for many persons with disabilities, some that are accessible, are not necessarily accessible to all persons with disabilities. Below are a couple of other Taxi Services that cater for persons with disabilities.
UberASSIST

UberASSIST has been designed to provide additional assistance for senior passengers and passengers with access needs. Driver-partners are specifically trained to assist passengers when getting in and out of vehicles and can accommodate folding wheelchairs, walkers and service animals, as well as motorized wheelchairs in certain cities.
"UberASSIST is available in Joburg and Cape Town and is specifically aimed at those with access needs, we urge you to respect others by only using UberASSIST if applicable to you. We'd like to ensure those who need to get an UberASSIST ride can always do so."
How To Access UberASSIST In Cape Town?
How To Access UberASSIST In Johannesburg?
uberWAV - Affordable rides in wheelchair-accessible vehicles: Persons who use motorized wheelchairs or scooters can in certain request a ride in a wheelchair-accessible vehicle in certain cities. uberWAV driver-partners are certified by a third party in safely driving and assisting people with disabilities.
Rikkis Taxis

Rikkis taxis are fully wheelchair accessible, so that persons with disabilities can also get around Cape Town easily and freely. Rikkis have a handful of London cabs which are equipped with ramps for wheelchair access. When booking, simply let the call centre agent know that you require this service. They will dispatch one of their vehicles right to your door. The driver will then position a manual ramp and safely guide you into the taxi, ensuring that you are secure and comfortable before departing on the journey.
To book a wheelchair accessibility Rikkis taxi, phone 021 447 4444 or Email: bookings@sport24hrs.co.za
Government Subsidized Transport
Government Subsidized Transport is available in order to make it cheaper for persons with disabilities to travel. The Dial-A-Ride service is heavily subsidized, it is therefore important that it remains focused on providing transport for those who require it: This includes persons with Mobility, Visual and Intellectual Impairments who need to commute between home and work, who cannot board and use public transport due to their disability, and who have no other means of transport.
It is an important service because it allows persons with physical disabilities to use public transport to access economic opportunities and is intended to ensure that they are still able to work.
Dial-A-Ride
The Dial-A-Ride service collects and drops off persons with disabilities from their homes, thus providing a service, so that persons with disabilities will have equal opportunities. The service gives them a chance to travel to work, schools and other facilities. The service is part of the City's goal to create an environment where passengers have confidence in the public transport system. The wheelchair friendly buses have been made available to accommodate persons with disabilities, their assistance and also their guide dogs.
Fares are based on the distance traveled and compare favorably with other modes of public transport. The Dial-A-Ride bus service is reasonably priced, with a fare of R2 a kilometer with average trip costing R10 to R14, depending on the distance travelled. The buses operate on weekdays from 05:30 to 19:30 and on weekends from 06:00 to 19:00.
For convenience, commuters can make telephonic bookings on a first-come-first serve basis. The Dial-a-Ride service requires you to pre-register as a commuter for their kerb-to-kerb service, commuters need to book 7 days in advance. Download and submit the application form, after which reservations can be made via the call centre (from within SA) on: 0800 656 463.
This service is available in Cape Town and is intended to be a temporary, limited public transport service that will serve as a bridging measure until all public transport becomes universally accessible.
Cape Town: Application For The Dial-A-Ride Public Transport Service
TDA Contact Centre

The City of Cape Town's TDA Contact Centre is a 24 hour, seven-day-a-week call centre service that provides residents and visitors to Cape Town with information on public transport in Cape Town.
The TDA Contact Centre provides information on routes, schedules, ticket prices, ticket outlets and locations of interchanges, ranks and park-and-ride facilities. The public transport information is related to public transport services such as MyCiTi, Cape Metrorail, Golden Arrow Bus Services, as well as Park-and-Ride facilities, Dial-a-Ride and kerbside parking management.
In addition to this the TDA Contact Centre offers information on long distance bus, rail and taxi operators, the location of tourist information centres, heritage sites and popular attractions in and around Cape Town.
The service is currently available in English, Afrikaans and Xhosa. All calls are recorded to maintain the centre's fast and efficient call response. Call 0800 65 64 63 or send us a message.
Private Transport & Car Rental Companies
Private Transport Companies and Organisations offer persons with disabilities an alternative to Public Transport services which are not always available. Persons with Mobility Impairments who you use Mobility Aids such as Wheelchairs or Scooters and who are
travelling within South Africa may need to rent an accessible minivan with a wheelchair accessible lift, or a vehicle with Hand Controls. There are however private companies and organisations such as Pro Mobility, Travel With René, Safari Brothers & Bus - Tours & Transfers, Beyond.Access, SK Sambu Tours and Transfers, National Council of and for Persons with Disabilities (NCPD) and Pop a Wheelchair, who also specialize in the transport of persons with disabilities in South Africa, they offer services such as an Airport shuttle service, Charter Service or some include a Self-Drive option. Some companies and organizations such as NCPD also rent out accessible or adapted vehicles with Hand Controls suitable for persons with Mobility Impairments to be able to drive themselves. You can rent wheelchair accessible vehicles in major cities in South Africa, including Durban, Johannesburg and Cape Town, Western Cape, Free State, Polokwane ( not entire Limpopo), Upington, Port Elizabeth and some other parts of the Eastern Cape. Some rental companies are situated near the airports to make renting a vehicle easier if arriving by airplane. Some companies will drop off and pick up the vans from the airport for an extra fee, while some companies can also provide a driver with vehicle for an extra fee, making Transportation in these cities fairly easy if booked far enough in advance. If you require accessible transportation for longer periods of time, or will be driving outside of the city you're flying into, renting a van from one of these companies may be your best option. Read the article below to find out more about the Companies or Organisations that provide these services for persons with disabilities in specific areas and how you would go about using them.
Pro Mobility Transport Service
Pro Mobility offers an accessible transport service for persons with disabilities in Durban & Johannesburg. The Services includes: An Airport shuttle service, Doctor / Hospital Visits, Special Events, Charter Service &  Self-Drive option coming soon. You can also contact them for any other transport requirements.
The vehicles are fitted with a wheelchair accessible lift and also include: Fire Extinguishers, First Air Kit, Chargers for Android and Apple Products, Air Pumps for Wheelchair wheels, Dash Cameras, Tracking Systems, Tissues and Hand Wipes, WIFI to be available soon.
Pro Mobility: is Your One Stop for Assisted Living and Mobility Access Solutions; we provide leading-edge services and solutions to those with mobility and agility impairments or limitations. With first class service and support, we cater individually to each of our clients to find the best accessible solutions according to their mobility needs. Pro Mobility are Authorised Agents for Autochair and Ardoo Products in South Africa and sell or rent out a wide variety of "Hoists, Lifts, Ramps and Transferring Aids" as well as Assistive Devices such as Bathroom and Mobility Aids, Pressure Care Products, Health Care Accessories, Pediatric Equipment, Accessories, Seating and Positioning Equipment and Services and Vehicle Adaption's and Equipment. Pro Mobility can also install service and repair the products that they sell and supply.
Pro Mobility has their Head Office in Durban where they offer an Accessible Transport Service and have recently opened their first concept shop in Cape Town. "We have created a welcoming, wheelchair friendly space for any person with a disability or impaired mobility to come and see all the available items as they would be in your home. The shop is easy to find and has ample parking. We carry a wide range of products and accessories, from mobility to incontinence products, for use throughout your home."
Please feel free to visit their web site: www.pro-mobility.co.za or contact Pro Mobility if you require any of these products or services listed above, or you can contact them at: Natal or Johannesburg: via Clinton on: 083 775 0611; email: clinton@pro-mobility.co.za, or visit their Shop at: PO Box 2123, Westville, Kwa-Zulu Natal, 3630, South Africa. Pro Mobility Transfer Booking Form
Cape Town: via Lee on: 021 111 0980; email: lee@pro-mobility.co.za, or visit their shop at: The Village Square, Shop 8, Plumstead, Cape Town
Safari Brothers & Bus - Tours & Transfers
Safari Brothers & Bus is a specialised Safari and transport operator based in Johannesburg, South Africa. Our satellite bases in Cape Town, Namibia and Botswana ensure support even when travelling through very remote areas.
Competent staff and well-maintained vehicles deliver a reliable and professional service to several international agencies and local company's alike.
A diversely skilled team ensures that there are capable personnel delivering a high level of service in all facets of the company. Director, Craig Redelinghuys believes in a 'hands on' approach to the business and has a long history in tourism and transport.
The Safari Brothers run various tours in Botswana thanks to our base in Maun, Gateway to the Okavango Delta, Makgadikgadi Salt Pans and the Central Kalahari Game Reserve. We also regularly do private group and family trips to Botswana, Namibia, Zambia, Zimbabwe and beyond. These can be tailor-made with us. Touring includes day trips in Johannesburg and Cape Town, Soweto, Cape Point, De Wildt Cheetah Research and the Cradle of Humankind are always popular.
Cross border travel to any destination in Southern Africa. Namibian and Botswana registered operators
Disability travel (accommodated in 12-seater sprinter – up to 4 x wheelchair passengers subject to size and type of chair)
Day trips
Tailor-made packages for groups
Large fleet of vehicles available accommodating group sizes ranging from 12 to 40 passengers
Please feel to contact Safari Brothers on their Company details:  Craig Redelinghuys (Director) on Email: craig@safaribrothers.co.za or info@safaribrothers.co.za, or on Office: +067 612 7429 or Mobile: +27 82 827 4449, or visit their website at: www.safaribus.co.za
Travel With Renè

The company is owned by Renè Moses who is a quadriplegic as a result of a motor vehicle accident in 1995. She uses a motorised wheelchair & is a people's–person and thrives on her dedication to customer care. She is a tour operator based in Cape Town & specialises in wheelchair accessible tours & transfers.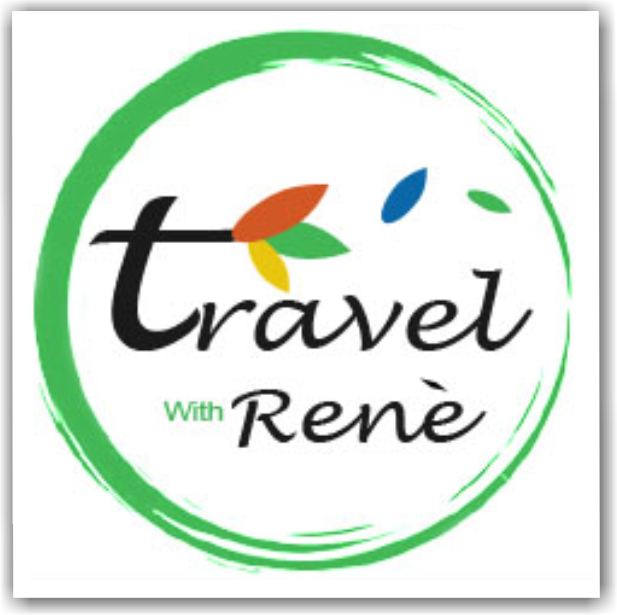 We specialise in tailor–made itineraries, transport services and tours for groups. Our listed Services include:
Transport of mobility impaired persons.
Airport to hotel transfers
Customised private tours with a Registered Tour Guide or driver
Reservation's – Accommodation, activities, etc
Vehicle hiring for self-drive
Extreme Activities: Shark cage diving, para-gliding
Sourcing of medical products
Surgical Tours
My vehicles have been adapted with hydraulic wheelchair lifts to cater for wheelchair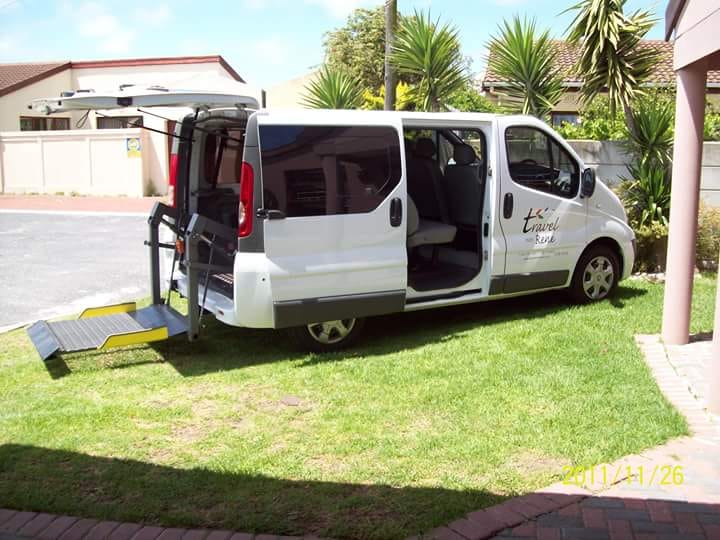 users, family and companions. For the clients safety the wheelchair is secured to the floor by means of x4 floor restraints. A body belt is placed around the wheelchair user & the wheelchair to ensure their safety. We have the necessary permits, drivers have pdp's along with passenger & pubic liability covers.
The vehicles are configured as follows:
The Toyota Quantum 2012 which caters for:
The Nissan Primastar 2007 caters for either:

x1 wheelchair users + x5 walkers
x2 wheelchair user + x3 walkers
x8 walkers only
You can contact René on +(27) 82 770 9430, email: rene@travelwithrene.co.za or visit their website at: www.travelwithrene.co.za
Pop a Wheelchair
Pop a Wheelchair is a wheelchair accessible transport service which is located in Cape Town and was started in 2021 by Zaeem Rawoot. "We transport customers in the comfort of their wheelchair, without them having to get out of their wheelchair."
The Pop a Wheelchair fleet consists of a VW Caddy (pictured on the right), this vehicle has been professionally built to safely carry wheelchair passengers.
Pop a Wheelchair can supply the following services to persons who use wheelchairs:
Airport Transfers & Shuttle Services
Tours & Full Day Outings
Assisted Patient Transfers
If you require wheelchair accessible transport in Cape Town, please do not hesitate to contact Zaeem from
Pop A Wheelchair via their email address at: popawheeliesa@gmail.com, or please call them on: 061 430 4302 or send them a message on Whatsapp via: https://wa.me/27614304302. Please feel free to also visit the Pop a Wheelchair Facebook Page by clicking on the link.
Beyond.Access

Beyond Access is a social enterprise founded by former corporate executive Gregory Marks and award-winning activist and humanitarian Eddie Ndopu.
One of the services that beyond Access currently connects its clients to, is mobility, through the provision of bespoke, door-to-door transfers. Through Beyond Access, this service enables people with disabilities to move freely, seamlessly, and beyond. When disabled people are able to show up to work, to school, to spaces that matter to them, they are able to show up as active citizens and as leaders.
The various services offered include:
Airport transfers
Transport of mobility impaired persons
Visit to therapists
Outings & day trips
Doctor & hospital visits
Shopping service
Medical and Pharmacy pick ups
Any other special requests
Contact Beyond.Access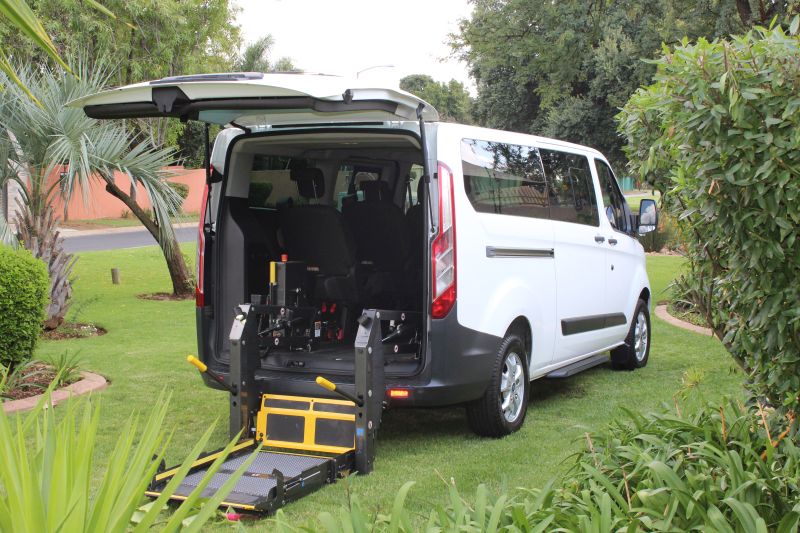 Please feel free to contact them on 061 524 5277 or via email them on: beyondaccess@access2point0.co.za, if you require their services, or visit their Facebook Page at: Beyond Zero to find out more, or visit our "Booking Form" to make a booking.
SK Sambu Tours and Transfers
SK SAMBU Tours and Transfers is a 100% black owned Tourism and Transportation Company which supplies accessible tours and transfers in various provinces throughout South Africa. SK SAMBU Tours and Transfers is owned and run by King Sambu, they have been in existence since 2005 but have experience in the transport industry since 1995. "Through our relentless commitment to meeting our clients' needs, SK SAMBU Tours and Transfers have developed a team of people whose desire is to be at the forefront of service delivery."
SK SAMBU Tours and Transfers provide a diverse range of services that includes but are not limited to:
Local and Country Tours
Hotel Transfers and Courier Services
Mining Transport Services and Airport Shuttle Services
Long Distance Bus Transport Across the country and across boarder travelling.
SK SAMBU Tours and Transfers cover transporting domestic tourists in between Cape Town and Eastern Cape; from Gauteng to Cape Town and Gauteng to Eastern Cape. They also provide Transportation for Special Hire for:
School Trips
Church Members Visiting and Attending funerals
Company Staff Trips
Services that will be offered international tourists in Gauteng include visits to:
The Apartheid Museum, Union Building and Soccer City Stadiums
SAB (South African Brewery) and Wits University
Township Tours and various other attractions
SK SAMBU Tours and Transfers are currently also servicing the routes of Western Cape and surrounding areas; Long distance routes between Cape Town, Port Elizabeth, East London, Umtata and includes some of local towns of the Eastern Cape province. Services that will be offered to international tourists in the Western Cape Province include visits to:
Wine lands tour; Cape point tour; Table Mountain Tour and Robben Island Tour
Town ship and Hermanus Tours
SK SAMBU Tours and Transfers strive to offer affordable prices for reliable, Accessible Transportation to our clients throughout South Africa. Please feel free to contact them on Telephone: 071 801 3270; Fax No: 086 6054 255; Email: sksambu@gmail.com; Skype: king.sambu, or via their website at: www.sksatours.weebly.com
The National Council of and for Persons with Disabilities (NCPD)
The National Council of and for Persons with Disabilities (NCPD) have vehicles to rent with hand controls and various other larger vehicles where persons can remain in their wheelchairs while in transit. These Accessible Vehicles are available to rent in Jhb and Gauteng area, Natal, Western Cape, Free State, Polokwane ( not entire Limpopo), Upington and Port Elizabeth. Please contact NCPD via Fanie Swanepoel or Danie Marais for more information on Tel: +27 11 452 2774 or email them on: fanies@ncpd.org.za or danie@ncpd.org.za, or visit their website at: www.ncpd.org.za
Car Rental Services
A challenge for drivers with Mobility Impairments, is renting a vehicle that is accessible to drive when they arrive in a new city by plane and don't have their own vehicle. Adapted rental cars, including those with hand controls, are available from some of the larger car rental companies in South Africa such as Avis and Budget, while organisations such as QASA also supply this service.
View the information below to find out more information about these companies and organisations that can supply vehicles with Hand Controls, you will need to make sure to book in advance.
QASA: has vehicles with adaptations necessary to allow persons with disabilities the opportunity of car hire during their travels. A vehicle with a hand control system is available at O.R. Tambo Airport (Johannesburg) and Durban for hire by members who require a self drive facility. Contact DiSA for more information.
Avis: "We want car hire to be accessible to every driver, that's why we offer a solution for disabled drivers in South Africa. From Johannesburg, Durban, Cape Town and Pretoria. Booking must be made at least 72 hours in advance. No extra cost. Call the National Call Centre on 0861 021 111 / +27 11 387 8431. +27 / (0)11 923-366 0,
Budget: +27 (0)11 398-0123 (e-mail: reservations@budget.co.za, fax: +27 (0)11 398-0124), requires prior arrangement via reservations. From Johannesburg, Durban and Cape Town. No extra cost.
International Vehicle Hire & Transport Companies
Persons with Mobility Impairments who you use Mobility Aids such as Wheelchairs or Scooters and who are traveling overseas may need to rent an accessible vehicle with a wheelchair accessible lift, or a vehicle with Hand Controls. There are a variety of different types of these and other vehicles available to rent and includes wheelchair accessible RV's for those who want to go on a long "Road Trip". There are also various companies who rent out out these vehicles, such as Accessible Vans of America in the USA which offer quality wheelchair van rentals to their customers  at competitive rates, thus making wheelchair accessible transportation convenient and affordable overseas.
www.disabledholidays.com: Wheelchair Accessible Holiday Taxis
www.wheelchairtraveling.com: Wheelchair Accessible Transportation
www.wheelchairaccessibleholidaytaxis.com: Wheelchair Accessible Holiday Taxis
www.motorhomeandrvhire.com: Wheelchair Accessible RV Rental - Canada
www.worldwide-motorhome-hire.com: Motorhomes available for Rental for Disabled Users - Italy
If you are going to be driving overseas or are being transported and you use Mobility Aids such as Wheelchairs or Scooters, you may be able to use your disabled parking disk from South Africa, depending on the country that you are going to be visiting. Please Contact Us if you require any assistance or information.
Disclaimer
Please note that the FREE services and website that we offer is privately run & funded and is not run or funded by the Government. We therefore rely on advertising and donations to continue to supply and improve this Free service. The Companies, Clubs, Schools and Organizations that have their logos on this site, have advertised or made donations to the Website and have therefore assisted us be able to continue to offer this free Service. Please support them as they have supported Us and please contact us if you can advertise with us or would like to make a donation!
N.B: This Website is continually changing and being improved some sections may therefor be incomplete or have links and contact details that are outdated. We are making every effort to keep this to a minimum, so we ask for your patients in this regard and to please Contact Us if you notice that your Companies, Clubs, Schools or Organizations details are incorrect or have changed.
Thank you for visiting our website, we hope that it will be helpful, please feel free to visit our Facebook Page to leave a comment.
References