Contents: To jump to the topic you would like, click on the links below
Introduction
Being Visually Impaired or Blind shouldn't stand in the way of anyone enjoying or discovering new hobbies & activities. Whether you enjoy solitary activities such as fishing or reading, or would like to engage in group activities, like playing cards or pool, or even if you are an adrenalin junkie & would prefer Shark Cage Diving or Paragliding, there is always something for you, no matter what your age or degree of disability is.
The end of sharp vision does not mean the end of life. You can still enjoy some of the hobbies that you once did, or find new hobbies & activities. Finding new and engaging activities that don't necessarily require sight can help low vision patients regain a sense of control and normality in their lives, as well as reduce the feelings of depression or monotony are, which can be common. Need some more motivation? It's been proven that AMD patients who maintain a social life and stay active have lower rates of depression, improved confidence, better memory and even a reduction in joint and muscle pain. The following are fun, stimulating activities that the blind or partially sighted can enjoy whilst adapting to new circumstances:

If an activity doesn't work for all abilities, it can usually be adapted so everyone can participate. It may require more planning & organization, but the benefits will make it worth your while.
Below is a wide range of hobbies & activities that you can enjoy doing.
Books & Reading
Reading is a wonderful hobby and very inexpensive. It provides so many benefits and is a hobby that can still be enjoyed despite having a disability. With the help of the many assistive devices available, books & reading can still be enjoyed, even with a severe disability.
People who  are blind and visually impaired can read Braille. Not all people who are visually impaired read Braille. There are large print books available. There are also audio books if you would rather listen than read. Many libraries have large-print and Braille books for the visually impaired. It's also possible to purchase books on tape or download them from the internet- often for free.
The act of reading improves your ability to absorb and comprehend written information, helping you in virtually any career path. There are very few jobs today that don't incorporate written information or instructions, and the more you read, the easier it is for you to absorb that information and execute your job better. Reading can be surprisingly social, too, with book clubs turning books into a true social event.
Card, Video & Board Games
If you enjoy playing card, video or board games, this is something that you should still be able to do despite many Visual Impairments, you might need help or the assistance of assistive devices, but most of these games are still possible . If you are unable to play the actual versions, there are always computerised versions of Card Games and Chess, etc available.
Art & Creative Writing

You don't need sight to write! Poems, fictional stories, etc. can be written on a Perkins Brailler, a Braille and speak, or even on a computer that has adaptive software.
Art is not only a great hobby, but also a form of therapy and a way to make money. People with Visual Impairments can learn to express themselves through art. People with disabilities often feel that they are is trapped inside their bodies. Art gives them a way to express themselves.
The tactile nature of pottery makes it an ideal activity for anyone who is visually impaired. If you've enjoyed working with clay in the past, there is no reason to stop with the onset of vision loss. You can experiment with texture and form just as sighted potters do. If you're familiar with the techniques of using a pottery wheel, it won't be difficult for you to become as adept as you were before becoming visually impaired.
Horseback Riding or Hippo Therapy
Horse riding is available for the Visual Impaired in South Africa as: a sport, hobby and as two forms of therapy, known as Horse riding Therapy and Hippo Therapy. It is available for almost all ages and is a one of the sports that are available for the Visually Impaired at the Paralympics.
There are many benefits of animal-assisted activities and therapies, they have been recognized for a long time, but the specific benefits of interacting with horses may be less well known. Working with horses can have a major physical and emotional impact on people with a wide variety of issues and disabilities, including Visual disabilities or Visual Impairments.
Individuals with a Visual Impairments, can benefit from horse riding and compete in it, as a sport or hobby. These benefits include:
Recreational
Therapeutic Benefits
Mental Benefits
Physical Benefits
Encourages Socializing
People who have a visual impairment are able to learn to ride or drive independently and compete in equestrian events. People with visual impairments may participate as part of a vaulting team. Strategies to help people with visual impairments include use of intercom systems with the instructors, learning to count steps/strides, or auditory markers in the arena.
TV, Sport, Movies & Music
Listening to Music & Watching Television, Movies & Sport &  are all a great Hobbies, especially if you have a Mobility Impairment. Listening to music is an activity that can be enjoyed alone or in a group. Sing-alongs to familiar tunes can prove to be a pleasurable- even cathartic activity for individuals with low vision. Additionally, many towns host free family-friendly concerts in local parks during summer and fall which is another inexpensive way to enjoy a change of pace.They offer a great way to escape from your troubles for a couple of hours & can be both entertaining & inspirational. All of these hobbies can be enjoyed at home on Television, where there are numerous TV programs showing: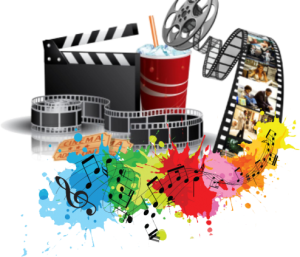 a variety of different types of Movies
all the latest sports events, including the Paralympics
a Large variety of different music.
news shows, representing all the worldwide affairs, both domestic and international news.
programs, where you can learn about economics, history, geography, and culture.
Some of these Movies, Music & Sports are not available or are limited on the regular channels, but are available on Pay T.V Channels such as DSTV or Top T.V, or can be enjoyed through streaming or live streaming, such as:
Netflix, which streams movies and TV shows.
Find out more about DSTV & other assistive devices: Click Here
References