Contents: To jump to the topic you would like, click on the links below

Introduction
Listening to Music & Watching Television, Movies & Sport &  are all a great Hobbies, especially if you have a Mobility Impairment. With the help of assistive devices, it is possible to still enjoy these hobbies even with a severe mobility Impairment. There are a wide variety of these assistive devices, which we will call "TV & Music Aids".
They include:
Satellite TV like DSTV, which offers a wide range of movies, music & sport, as well as viewing options. The latest movies can also be hired through the DSTV decoder.
Special remote controls make it easier to push buttons
A Computer & Internet are needed for Live streaming of Music, Movies & Sport. They can also be used for buying movies, or ordering movies online from Video Shops.
Digital Media Players to back up your personal CD & DVD collection, helps for easier listening & watching.
DSTV
DStv is Digital Satellite Television, providing various bouquets offering general entertainment, movies, lifestyle & culture, sport, documentaries, news & commerce, children, music, religion and consumer channels to Multi Choice subscribers. Multi Choice launched DStv in 1995 & has around 8 million subscribers,  with the majority being in South Africa and Nigeria.
DStv has a range of  packages and decoders (set-top boxes) , which were introduced to improve your viewing options, & to best suite your pocket. Features & services include:
Hiring Movies
Pause & fast forward
Having different channels available at the same time in different rooms.
Mobile lightweight decoder called a Drifter, which enables viewing on your: cellphone, laptop, PC, tablets and most smartphones.
Hire Movies through DSTV
To rent a Box Office movie on the HD PVR :
press GREEN to access DStv BoxOffice,
select the movie of your choice,
press OK to rent the movie,
accept the terms and conditions,
SMS the on-screen rental code (with or without the spaces) to 37569.
With so many options, it's hard to believe that you could want anything more, but for those who find it a bit pricey at R800.00 a month for the most expensive package, some opt for it`s competitor Top TV,  which offers a total of 55 channels with 25 channels in its basic offering.
Voice Controlled TV's
Over the years TV technology has improved in many areas, such as the sound & picture quality, size & thickness of the TV's available. New sophisticated Smart Interaction technology enables you to operate your TV without pushing a button. You can easily control functions such as turning on/off your TV, changing channels, accessing apps & navigating the web by using simple voice commands such as:
Change the channel and volume. "Channel Up"
Simply say the name of services. "Smart Hub"
A smart TV, is a television set or set-top box with integrated Internet and interactive "Web 2.0" features. Smart TV is a technological convergence between computers and flatscreen television sets and set-top boxes. Besides the traditional functions of television sets and set-top boxes provided through traditional broadcasting media, these devices can also provide Internet TV, online interactive media, over-the-top content (OTT), as well as on-demand streaming media, and home networking access.
The technology that enables smart TVs is also incorporated in external devices such as set-top boxes and some Blu-ray players, game consoles, digital media players, hotel television systems and smartphones and other network-connected interactive devices that utilize television-type display outputs. These devices allow viewers to search, find and play videos, movies, TV shows, photos and other content from the Web, on a cable TV channel, on a satellite TV channel, or on a local storage drive.
Streaming & Live Streaming
Streaming & Live Streaming is when a user is able to watch & listen to digital video content or digital audio content on a computer, smartphone or Smart TV over the Internet. With streaming content, the user does not have to download the entire digital video or digital audio file before they start to watch/listen to it. There are challenges with streaming content on the Internet. If the user does not have enough bandwidth in their Internet connection, they may experience stops in the content and some users may not be able to stream certain content due to not having compatible computer or software systems.
Two popular streaming services are the:
YouTube, video sharing website, which contains video and audio files on a huge range of topics.
Netflix, which streams movies and TV shows.
Live streaming
Live streaming refers to Internet content delivered in real-time, as events happen, much as live television broadcasts its contents over the airwaves via a television signal. An example of live streaming is:
Live internet streaming requires a form of source media (e.g. a video camera, an audio interface, screen capture software), an encoder to digitize the content, a media publisher, and a content delivery network to distribute and deliver the content. Live streaming does not need to be recorded at the origination point, although it frequently is.
Hire Movies through Online Video Shops



Online video rental shops offers consumers a way of hiring movies without having to leave their home, which is helpful if you have a physical mobility & can't always get out to the stores to select movies that you want to rent. With the advent of the World Wide Web, Internet services, it is possible to go on-line & select the movies you want to rent, these can then be delivered to you, or you can watch them through streaming.
The widespread availability of video on demand on Satellite TV and VHS-by-mail services have greatly reduced the demand for video rental shops.
Digital Media Players
Digital media players (DMP) are home entertainment  electronics devices that can connect to a home network to stream digital media (such as digital music, digital photos, or digital video).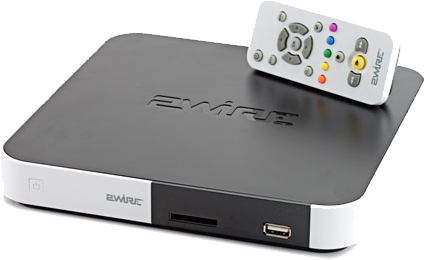 Some digital media players also have Smart TV features, such as allowing users to stream media such as digital versions of movies and TV shows from the Internet or streaming services and online media sites like YouTube, Vimeo, Netflix, Hulu, Spotify, and Amazon.com. Some other digital media players allow users to play back locally stored content from an attached USB hard disk or directly connect a Hard disk drive externally, or internally in the digital media player via a Serial ATA (SATA) port. These types of digital media player are sometimes referred to as HD Media Players or HDD Media Player if they can support a Hard Disk Drive installed inside. In the 2010s, the main difference between most "digital media players" and many modern set-top boxes (also known a set-top units) is that the set-top boxes generally contain at least one TV-tuner and are as such capable of receiving broadcasting signal (cable television, satellite television, and over-the-air television, or IPTV).
Many people have large collections of movies or music. By using your computer to back up your music & movies on to a Digital media player that is permanently connected to a television and controlled by a remote is seen as a convenience, especially if you have a physical disability. This will also help prevent ware-and-tear,  on your disks.
The rapid growth in the availability of online content, including digital music and video files and video games, has also made it easier for consumers to use these devices and obtain content.
It is also common to find digital media player functionality integrated into other consumer-electronics appliances, such as DVD players, set-top boxes, Smart TVs, or even video game consoles.
Computers
Computers can be used for a variety of purposes including as an assistive device when you want to watch movies streaming & live streaming, if you don't have a Smart TV. They are also handy for hiring or buying movies online &  backing up your music & movies onto a Digital Media Player. There are a variety of free software, which is downloadable from the internet for this purpose.
To view computer aids to help you use a computer if you have a Mobility Impairment, Click Here.
Disabled Friendly Remote Controls

Television is one of the ways in which those with disabilities can interact and learn about the world around them, but for many of them, it is difficult to control a television with ease. For this reason, there are remote controls that are specially designed to make controlling a television easier.
There are several different designs for these remotes, each working better for specific disabilities. Large button remotes make it easier for those with poor eyesight, or those with weak motor skills, to find the buttons they need. Remote interfaces can connect to an existing remote in order to provide users with one or more large buttons for access to vital television functions. Voice operated remotes allow users to control a television with simple voice commands. Finally, some remotes feature knobs and dials that make it possible for users to control their televisions without buttons. Each of these remotes can be programmed to work with virtually any television, which makes it easy for anyone with disabilities to customise their viewing experience.
Individuals who suffer from physical and mental disabilities, find that not only is their mobility limited, but that their dexterity and ability to manipulate objects is diminished as well. Due to limited mobility, many disabled individuals enjoy television as not only a means of entertainment, but as a window to the world as well. Sadly, many of those who are disabled, whether it be by injury, advanced age, or other conditions, are unable to manipulate a traditional TV remote control. There are, however, alternative remotes controls that are available for those who have disabilities.
With the above assistive  devices, it  is possible to enjoy this hobby with little to no assistance, no matter how bad your disability is.
Disclaimer
Please note that the FREE services and website that we offer is privately run & funded and is not run or funded by the Government. We therefore rely on advertising and donations to continue to supply and improve this Free service. The Companies, Clubs, Schools and Organizations that have their logos on this site, have advertised or made donations to the Website and have therefore assisted us be able to continue to offer this free Service. Please support them as they have supported Us and please contact us if you can advertise with us or would like to make a donation!
References