Accessible Housing
To view the suppliers of products that are available in your area, click the button to the right.
To view the service providers available in your area, click the button to the left.
Contents: To jump to the topic you would like, click on the links below
Introduction
Accessible housing refers to the construction or modification of your home, through renovation or home modification of housing, to enable independent living for persons with disabilities. Accessibility is achieved through architectural design, but also
by integrating accessibility features such as modified furniture, assistive devices, shelves, cupboards, electronic devices and Home Automation Products.
Access is typically defined within the limits of what a person sitting in a wheelchair is able to reach with arm movement only, with minimal shifting of the legs and torso. Most houses in South Africa are not designed to accommodate wheelchair users or the elderly. Homeowners may therefore be challenged by the need to find renovators familiar with accessible design issues.
Organizations & Companies That Can Assist With Universal Design & Access
There are however individuals, organizations & companies such as Studio HB and Tri Access that focuses on implementing Universal Access solutions in a wide variety of architectural and urban design projects, as well as providing Access Solutions on accessibility issues in higher education environments, workplaces, housing and urban design.
Studio HB
Studio HB focuses on accessible architecture across wide variety of architectural and urban design projects in South Africa from housing to offices, retirement homes, educational institutions and public transportation projects. We aim to transform the built environment to become more inclusive and accessible to a wide spectrum of people possible including people with disabilities, the elderly and children.
About Hiten Bawa - Architect and Access Consultant
Hiten Bawa is a qualified architect with over 6 years of experience and an internationally registered Accessibility Consultant with Global Alliance on Accessible Technologies and Environments (GAATES).
Hiten specialises in working with clients and architects on designing accessible environments and ensuring compliance with access related matters during the design stages of work. He had audited a number of buildings for the University of Johannesburg, Wits University and the Department of Higher Education and Training (DHET).
He presented his work on Universal Access at conferences focused on disability issues and transformation.
Contact Studio Hiten Bawa: (Studio HB) have offices at: 109 Clovelly Road, Greenside, 2193, Johannesburg, South Africa. They work on projects in not only Johannesburg, but also country wide. Visit their web site at: www.studiohb.co.za or Contact him at:
Hiten Bawa: hiten@hitenbawa.co.za | Tel: +27 (0)11 646 7419 | Cell: +2783 3050 367 (Whatsapp, SMS, Videocall)
Tri Access
Tri Access Consultants was founded in 2018 by Igor Rix who, from of a personal encounter, developed a passion for breaking down the barriers to access. This is enabled by providing assessments and audits on legal accessibility compliance pertaining to premises and the built environment and promoting "Good Access is Good Business".
Igor Rix, is an Access Consultant and has studied a Diploma course in Access Consultancy at the Access Institute in Melbourne, Australia and also completed a course in Universal Design: Public Transportation via the Buffalo University, New York.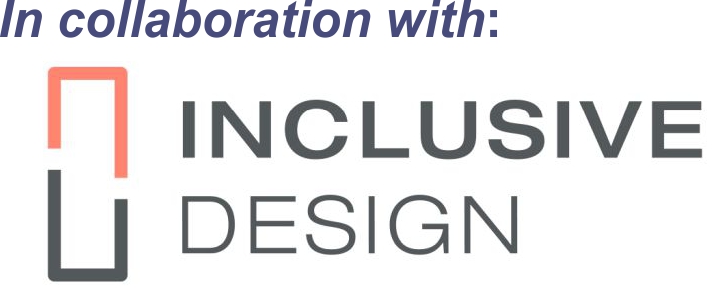 He is currently working in collaboration with Inclusive Design (www.inclusivedesign.co.za), a specialist Universal Design & Access Consultancy firm, under the auspices of its founder and director, Ms Colette Fransolet, a Qualified & Accredited Universal Access Consultant.
"Accessibility is a basic human need and we all have a constitutional right and privilege to participate in all of life's experiences in some unique way or another and should therefore have barrier free access to enjoy easier, friendlier and healthier environments." - Igor G. Rix
Contact Tri Access to do an access audit or review to ensure that your premises are accessible to all. Access Audits involves inspecting the built environment to determine compliance with legislation to enable access that is easier, friendlier & healthier to use by everyone. Our Access Consultants conducts audits & provides solutions when businesses & individuals take a proactive step to become legally compliant or being compelled by law and or society to be compliant.
You can contact Igor Rix on: +2783 703 0707, Email: igor@triaccess.co.za or visit their web site: www.triaccess.co.za
Public Buildings

The Government has made laws that insure that new public buildings are designed & build with certain features to make them wheelchair friendly. The National Building Regulations and Building Standards Act deals with facilities for disabled people, and includes access to public areas. City streets, public buildings and restrooms are some of the more visible changes but also included, are the installation of elevators, automatic doors, wide doors and corridors, transit lifts,
wheelchair ramps, curb cuts, and the elimination of unnecessary steps where ramps and elevators are not available, thus allowing people in wheelchairs and people with other mobility impairments to use public sidewalks and public transit more easily and more safely.
These features that have been introduced by the Government, are referred to as "Accessible Features" and are dealt with in detail on our "Accessible Features" Page.
Making Your House Accessible
Disability and old age often lead to the need to create an accessible house. Many senior citizens try to retain their independence for as long as possible. Adding ramps, handrails, grab bars, etc. throughout the home, not only helps improve accessibility but also reduces the risk of falling.
In your own home you're not necessarily limited to the government standards set aside for public buildings, but you may need to acquire the services of architects and builders who specialize in accessibility. You may also require plans or permits for the adaptions that you want to make.
There are a variety of areas where adaptations and assistive devices can improve accessibility for the mobility impaired, especially those in wheelchairs, they include:
Ramps
Gates, Doors & Doorways
Light switches & other controls
Multi-Story Homes
Accessible Bedrooms
Accessible Bathrooms
Ramps
Depending on your home, your wheelchair, and your physical abilities, ramps can take on different sizes and shapes. Various size ramps can be purpose built out of wood, cement or metal. You can also buy the smaller 1 or 2 step ramps made out of rubber or metal, or you can also easily make smaller ramps out of wood. See design of small wooden ramp. (right)

Longer metal ramps are also available and can be bought from a number of companies in South Africa. These ramps can be permanent or temporary and can be removed at a later stage, if the ramps are no longer necessary.
If you choose to build a ramp, the government standard for ramps is 1:12 but in your own home you are not necessarily limited to the government standard. A steeper or less steep ramp may be preferred when evaluating space limitations or other considerations. You may require a longer gradual ramp, if you use a manual wheelchair, or a steeper ramp if you are restricted with space.
Many of the government standards are however put in place for your safety and you will need to use your judgment, that any adaptions that you make, do not put yourself or others in danger. Remember to ensure that your ramps are slip resistant and are not dangerous to other people who have to walk up them. Installing handrails can also assist to help make the ramps safer. To view other safety tips and the government regulations for ramps, stairs & Hand Rails, click the "Ramps" button on the top-left of the page or Read More: ...
If you need advice or are unsure about what design would best suite you, we recommended you consult a architect or universal access consultant who can help you design a ramp that is safe and meets your particular needs.
Gates, Doors & Doorways
Gates: Due to the high crime rate, most people choose to have automatic security gates. These are not only handy to keep you safe, but can also provide you with easy access to your property & house. I have a control for my front gate attached to my wheelchair, so that I can come and go as I please. These controls can also be fitted to the security gate or on your front door.
Doorways & Hallways: Most wheelchairs are narrower than the width of a doorway, so under most circumstances you should not have a problem getting through doorways with a wheelchair, however some security gates on front doors, make the doorway narrower so this can make it very difficult for wheelchair users. You may require the gate to be adapted to give you more space, or you can use special off-set hinges to allow the door to open further.
Going around sharp corners can also prove difficult if you use a wheelchair. Some off-road Motorized wheelchairs can make this even more difficult, so you should take this into consideration when you're choosing what type of wheelchair to buy or where to live. You may have to do some remodeling, if you want to drive straight into a room.
Unlocking & Opening Doors: When it comes to unlocking and opening doors, there are a variety of options to choose from, depending on the degree of your disability and the amount of money you can spend. Solutions include:
Lowering the door handle: Door handles can be lowered or changed, so that they are easier reach and open. Straps can also be fitted to the door handle that can assist with this.
Installing number-code locks with key pads on your doors: They are easier to negotiate than keys and can allow you to provide access to the house to people if you can't get to the door. You can tell them the code over the phone.
Automatic Door Openers: There are a wide variety of different types of door openers available. This is dealt with in detail on our "Home Automation Page" on the "Door Openers" section.
Light switches & other controls

Light switches and other controls, like those used to control alarm system, music, heating, air conditioning, etc. can all be moved so that they can be reached and should not be below or above the reach of a person in a wheelchair.
Home Automation is another solution that allows older adults & people with disabilities to control there environment. Homes that are automated are called smart homes, they offer older adults & people with disabilities a wide variety of benefits including:
Independence: By supplying the elderly or disabled with control of their environment, they are able to gain independence and therefore re-gain confidence & determination.
Safety: Smart homes can also provide both older adults & people with disabilities with many different types of emergency assistance systems, security features, fall prevention, automated timers, & alerts. These systems allow for the individual to feel secure in their homes knowing that help is only minutes away. Smart home systems will make it possible for family members to monitor their loved ones from anywhere with an internet connection.
Thanks to these benefits and others the elderly are able to stay in their homes where they feel comfortable, instead of moving to a costly health care facility. If you decide to opt for Home Automation, you may want to consider a generator as a backup in case the power goes out. There are a variety of companies that specialize in the supply and installation of Home Automation products in South Africa.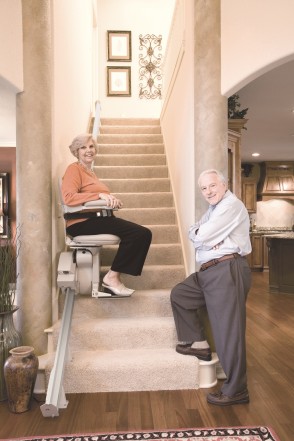 To find out more about the different types of Home Automation and the most common elements, click the Home Automation button on the top left or Read More: ....
Multi-Story Homes
A person staying in a home or apartment that has 2 or more floors (Multi-story home) may become disabled or get older and develop a mobility Impairment. If this is the case, it often becomes difficult or impossible for them to maneuver from one floor to the next. Sometimes moving is not an option and the only alternative is some type of lift. These can be expensive, but you have 3 options, they include:
There are a variety of companies in South Africa that supply, install and service this equipment. You should get expert advice on what type of elevator or lift best suits the building that you live in. Read More:...
Accessible Bedrooms
Creating an accessible bedroom is very important in retaining independence, especially if you use a wheelchair. Not everyone has the luxury of a lot of space, but putting a bit of thought into how you set-up and lay out a bedroom, along with using a variety of assistive devices, can improve your accessibility and help you become a lot more independent.
TV & Music: I enjoy Listening to music and also watch a fair bit of TV, so I have a big screen TV in my bedroom, that I can operate whether I am up in my wheelchair or lying in bed. You should also consider setting up your TV, so that you can see and operate it, no matter which side you face when lying in bed. If you have a shortage of space, you may want to mount your TV on a wall. There are a wide variety of assistive devices, which we will call "TV & Music Aids", that can assist you to operate this equipment and enjoy these hobbies without to much assistance. Read More: ...
Books & Reading: If you enjoy books and reading but have a Mobility Impairment, you may find it difficult to hold a book or turn pages. There are a variety of Reading Aids available for the mobility impaired & elderly that can assist you to enjoy a book whether you are sitting up or lying in bed. Read More: ....
Beds: If you use a wheelchair you should consider what size bed you require and how much room is needed around your bed so that you can get in and out of your chair and onto the bed. I use a double bed that is adjustable, they come out in a variety of different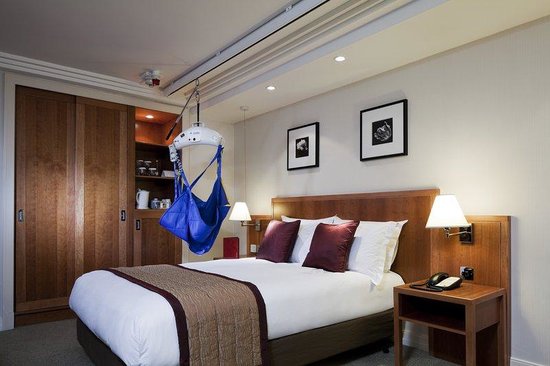 models, types & sizes. The adjustable double beds are obviously more expensive, but I find that they offer a lot of benefits, including pressure relief and allowing you to easily be able to work or eat if laid up in bed. Read More: ...
Transferring: Transferring from the bed to the chair or visa-versa, may require a hoist. There are many different types and styles. Some with hydraulic cranks, and others with electric motors. Depending on the type of hoist you decide on, you may need more room, or some clearance under your bed. The type of transfer method you employ will dictate how much space you need around your bed, and where the bed is positioned. Find out more about the types of Hoists that are available. Read More: ...
Work Space: If you're anything like me, you work from your bedroom, and spend a great deal of time in front of a desk and/or computer. Whether you use a laptop or desktop, you'll want a good, comfortable working area. I have a desk in my bedroom, which my brother built, the desk is made at the perfect height, so that I can sit under the desk and move side-to-side.
It is raised at the right height to give me easy access to my: telephone, keyboard, reading materials and remote controls. I also can also listen to music and watch movies on my computer. If you use a mouth stick, typing stick or voice operated software, you will want easy access to your assistive devices like headphones, mouth stick holder etc.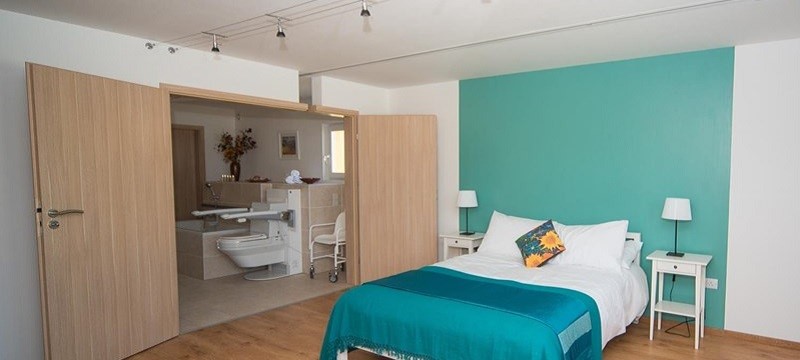 As a person who uses a wheelchair, I find that en suite bathroom is very handy. It not only gives you more privacy, but you can lay out your accessories the way you want them. The fact that it's attached to your bedroom means guests are less likely to use it. These Bathrooms can be made Accessible to meet your needs.
Accessible Bathrooms
An accessible Bathroom is a special bathroom designed to accommodate people with physical disabilities. In public buildings these are sometimes known as Disabled Toilets. Public toilets can present accessibility challenges for people in wheelchairs. The wheelchair may not be able to fit next to the toilet, and transferring between the wheelchair and the toilet seat may pose a challenge. Accessible toilets are designed to address these issues by providing more space and bars for users to grab and hold during transfers.
The National Standard for Building Regulations makes laws that insure that new buildings are designed & build with a certain amount of Disabled Toilets and that these toilets are accessible for the disabled and meet certain regulations.
Accessible Bathrooms in the home do not need to meet these same regulations, and differ in that they normally also include a bath or shower. "Everybody is different". Some people are happy to "Bed Bath", while others prefer to bath or shower. The type of mobility Impairment and your preference in your "bathroom routines", will determine what type of "Bathroom Aids" you will need, which will therefore determine what type bathroom adaption's need to be done. For those people who prefer to bath or shower, there are several alternatives.
Bath: Some people with mobility impairments still prefer to bath. Many bathrooms come with baths already installed and therefore require less alterations. You may require Hand Rails to assist you to get in or out of the bath, but if you have a severe mobility Impairment, you may require a Bath Lift to get in and out the bath. There are a variety of different types of Bath Lifts available, you will need to choose one that is suited to you. some of these lifts are easy to install, while other Bath Lifts may require slight alterations to your bathroom to be able to install these lifts.
Shower: If you prefer to shower and you use a wheelchair, you may need to transfer onto a shower seat, or use a commode to be able to shower. Either way, you will probably need to do alterations to make the shower open plan and wheelchair friendly. If you do require an open plan bathroom, we recommended you consult a reputable builder and architect or universal access consultant who can help you design and build a bathroom that is safe and meets your particular needs.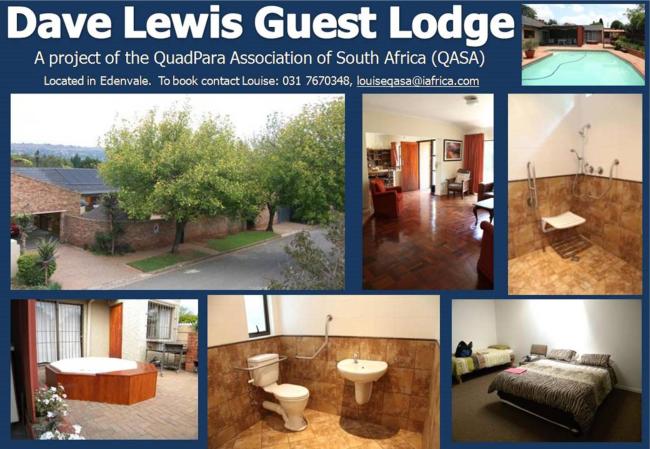 Remember to make sure that the builder uses non-slip tiles on the floor and slope this floor correctly, so that the water drains away properly. To find more about the bathroom aids listed above, as well as number of other accessories that can assist you to make your bathroom more accessible.
If you need advice or are unsure about what design would best suite you, we recommended you consult a architect or universal access consultant like Studio HB, who can help you design your house to suite you and meet your particular needs.
Dave Lewis Guest Lodge
Finding Accessible Housing while traveling in and around South Africa can be difficult, but thanks to organizations such as QASA, and projects like "The Dave Lewis Guest Lodge", this dose not need to be a problem. The David Lewis Lodge is a guest Lodge facility owned by QASA. It is situated in Edenvale, Johannesburg and provides accessible accommodation for wheelchair users and also has support of equipment like hoists, commodes and specialised bedding. A semi pool, Jacuzzi and boma facility complement the Lodge. If you would like to make a booking or have any enquiries please contact Louise on: 031 767 0348 or louiseqasa@iafrica.com
Disclaimer
Please note that the FREE services and website that we offer is privately run & funded and is not run or funded by the Government or any Organization. We therefore rely on advertising and donations to continue to supply and improve this Free service. The Companies, Clubs, Schools and Organizations that have their logos on this site, have advertised or made donations to the Website and have therefore assisted us be able to continue to offer this free Service. Please support them as they have supported Us and please contact us if you can advertise with us or would like to make a donation!
N.B: This Website is continually changing and being improved some sections may therefor be incomplete or have links and contact details that are outdated. We are making every effort to keep this to a minimum, so we ask for your patients in this regard and to please Contact Us if you notice that your Companies, Clubs, Schools or Organizations details are incorrect or have changed.
Thank you for visiting our website, we hope that it will be helpful, please feel free to visit our Facebook Page to leave a comment.
References