Contents: To jump to the topic you would like, click on the links below
Introduction
Home Automation Aids or Home Automation Technology, are those Assistive Devices which are used to help make your life easier around your home for both persons with and without disabilities, this includes persons with Mobility Impairments. Some solutions let you manage your home remotely, which not only allow you to keep an eye on your home wherever you are in the world, but they also offer ways to deter thieves from trying to break into your home when you are away. Some of these Home Automation products such as the Vox I.C.E. Monitor Solution are used to check up on an elderly relative or person with disabilities that live alone, as well as to add additional support so that the occupant of the home does not have to get up and down to switch on or off lights; the fan; the kettle; the T.V.; open and close curtains or answer the door, etc. Therefore making every day activities in the home easier and safer for many persons who may have difficulty moving around, whether they are Blind, Elderly or have a Mobility Impairment.
These days most people likely already use some form of automation on a daily bases. Basic Automation Aids include individually operated products such as Voice Operated TV's, Automatic Doors, Electrical Security Gates, Garage-Door Openers, Timers on Watering Systems and Security Systems, while Home Automation Systems gives the user access to control a wide variety of devices in your home with your voice or from a mobile device anywhere in the world. These Home Automation Systems are sometimes packaged and presented as Smart Homes and there capabilities go quite a bit further than some of the individual devices listed above.
Please read the page below to find out more about the various Home Automation Systems and Home Automation Aids that are available to purchase in South Africa and how they can make the lives of many persons, including those with Mobility Impairments and their Care Givers that much easier.
Wheelchairs on the Run: was established in 2002 and has grown into a company that is not too big to care and not too small to make a difference. We sell, service and rent Wheelchairs and Mobility equipment at affordable prices, At Wheelchairs on the Run our customers are offered a variety of products and services at competitive prices, these products include both, Manual and Motorized Wheelchairs, Mobility Scooters, and a wide variety of other Assistive Devices such as Backrests, Walkers, Bath Lifts, and many more. Part of our services include Wheelchair Hire/rental and Repairs on Manual or Motorized/powered Wheelchairs and Mobility Scooters. We at Wheelchairs on the Run also provide a variety of guides to help you through determining which functions will best complement your lifestyle whether this is your first Wheelchair or you've had a few that haven't worked out. We do this in conjunction with our occupational therapist on call.
"Wheelchairs on the Run" are based in Roodepoort, but also have a branch in Cape Town, please feel free to visit their shop at: 424 Ontdekkers Road, Florida Park, Roodepoort, 1709 or contact them in the office at: Tel: 011 955 7007. Alternatively, you can email: info@wheelchairsontherun.co.za or visit their Website: www.wheelchairsontherun.co.za
Home Automation Systems



Some Home Automation Systems or Smart Home integrate multiple sub-systems that are all controlled by a "Master Home Automation Controller", which receives input from all devices around the home and issues commands & controls everything, this includes programmable devices, like thermostats and sprinkler systems, as well as lights, appliances, electrical outlets, heating and cooling systems, as well as alarm system, doors, windows, locks, smoke detectors, surveillance cameras and any other sensors that are linked to it.
Various types of Home Automation Systems are being implemented into more & more homes of older adults & persons with disabilities in order to maintain their independence and safety, therefor assisting the elderly to stay in their homes till later in life, where they feel comfortable, instead of moving to a Health Care Facility. These systems include different types of emergency assistance systems, security features, fall prevention equipment, automated timers and alerts, therefor giving the individual a feeling of security in their homes knowing that help is only minutes away, while also making it possible for family members to monitor their loved ones from anywhere with an internet connection.
Other systems are also being installed in "Homes and Self-Help Centres to assist persons with disabilities to control essential equipment in their rooms, such as a Fan, TV, Lights, Radio, etc., therefore giving them the opportunity for some independence, which will help them gain confidence and reduce depression.
There are various companies in South Africa which specialise and sell these various types of Home Automation Systems which may be set up to automate your whole home, or just set up to control essential equipment in a specific room. One such company who sells these Home Automation Systems in South Africa, is a company called VoQoL, who use the Amazon Echo to help you control various devices in your home. Please read the information below to find out more about this company and the products they supply.
VoQoL
VoQoL is short for Voice-activated Quality-of-Life. VoQoL was developed by Coral Tech in Cape Town, South Africa and is a set of devices and software that allows persons with disabilities to control various functions in their living space, using just their voice.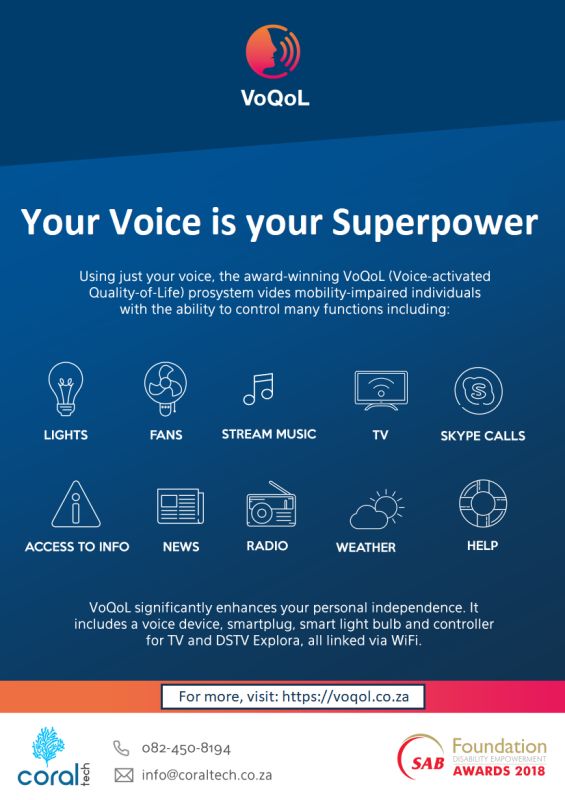 They can control rooms lights, TVs including changing channels, fans, hot blankets, get information from the Internet, and much more.
Additional services have been added to VoQoL over time, include the ability to stream most South African radio stations, including those in local SA languages such as Umhlobo Wenene FM, iKhosi FM, Radio Sonder Grense, Smile FM, Heart FM and many more. Users can also ask to send an SMS to a caregiver's mobile phone when they need assistance. The items that are supplied, include:
1 x voice device (Amazon Echo) and 1 x Smart Light Bulb
1 x smart plug and 1 x TV controller, which also supports the DSTV Explora decoder model.
User manual and 12 months of support - both phone-in and onsite where required.
Note: There must be a reliable WiFi connection in the room where VoQoL is installed.
Coral Tech brings 18 years of experience in developing mobile and web-based platforms and is also South Africa's leading voice-activated technology company. We developed the award-winning VoQoL (Voice-activated Quality-of-Life) system, which enhances the personal independence of quadriplegic and paraplegic individuals by allowing them to control functions in their living environments, just by using their voice. With voice becoming a key interface for engaging with customers, it is important to work with an experienced partner in the field.
Companies often have very custom requirements for their projects, and that's where Coral Tech thrives in providing specialised solutions. Apart from mobile and web-based platforms, Coral Tech is also able to design, build and deploy custom electronics and other specialised devices to satisfy our clients precise requirements.
Please feel free to contact Cliff Court from Coral Tech at: cliff@coraltech.co.za or 082 450 8194 to find out more, or visit their website at: www.coraltech.co.za.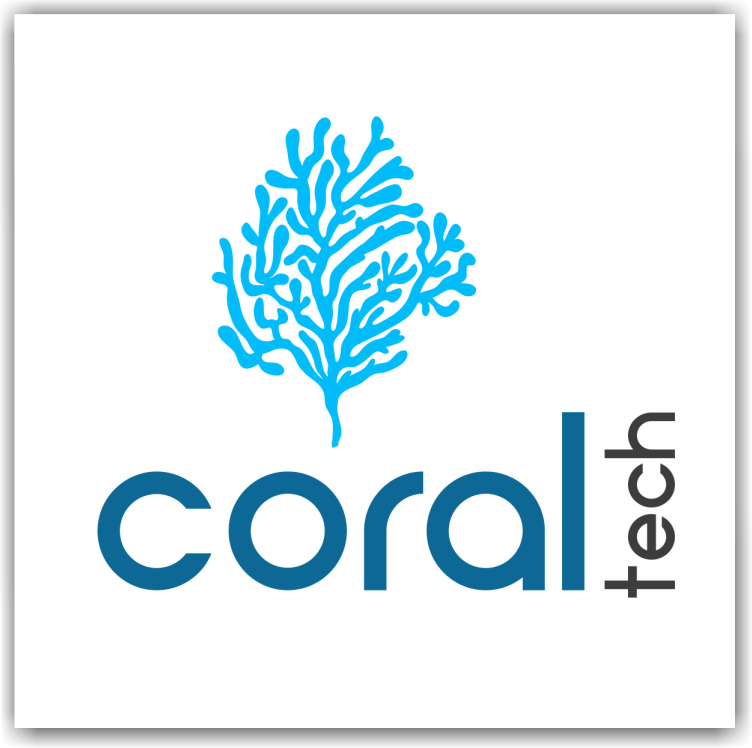 SAB Foundation Social Innovations Awards: In October 2018, from over 300 applicants, the VoQoL project was short-listed among 20 other candidate projects for the SAB Foundation Social Innovations Awards. On the night of the awards, Coral Tech was presented with 3rd place, a grant for R600 000, for the VoQoL project in the Disability Sector category. Using this incredibly generous grant from SAB Foundation, Coral Tech has started expanding the reach of the VoQoL project to other provinces in South Africa starting with installation in Port Elizabeth and Johannesburg, and training local partners in those areas to provide support and future installations.
These VoQoL installations are not only beneficial to the number of residents who currently utilise the System to independently accomplish many everyday activities which they were unable to complete previously, giving them more independence, but they also assist the Care Givers by giving them more time to do other essential jobs which the VoQoL System cannot assist with.
"Where my wheelchair is my legs, VoQoL is my hands"- Anthony Ghillino - C4 Quadraplegic, VoQoL Pilot and user.
One of the items that the VoQoL System includes, is the Amazon Echo, which is a smart speaker that responds to voice commands using Alexa, which is its artificially intelligent personal assistant. The Echo can answer questions, research the internet, command smart home devices, and stream music. Alexa responds to your voice, you can wake the Echo by saying "Alexa…" followed by a question.
There are countless questions that you can ask the Echo, in some cases, the device will respond verbally with the answer and other times, it will send a link to more information on the internet. The Echo is also optimized to respond to a large number of specific questions or commands. You are able to play various games with Alexa; Turn on a radio, heater, fan or other wall charged device; Requesting and playing local radio stations and Getting general information such as weather and news.
A sample of the device's capabilities and type of commands it recognizes includes:
Alexa, tell me the news.
Alexa, wake me at 7AM tomorrow.
Alexa, set a 30-minute timer.
Alexa, what's on my calendar today?
Alexa, play the Beatles.
Alexa, what's the weather?
Alexa, tell me a joke.
Alexa sing a song
By supplying these various functions the Alexa Echo also helps relieve boredom for many persons with disabilities and the elderly, especially during this time of Covid-19 and the lockdown, when many people feel isolated and lonely. When combined with additional smart home devices and software, an Echo can also control other devices such as:
Lighting

Turn on a single light, a group of lights or every light.
Lights can be set to the desired level at each location.
Smart switches/dimmers are available to control practically any kind of lighting load.
Lighting control can be retrofitted into virtually any home.

Shades/Blinds

Replace your existing manual shades with motorized models that can respond to commands from your automation system.

HVAC (Heating, Ventilation, Air Conditioning)

Save energy by automatically raising or lowering temperature set points to avoid heating or cooling an empty home.
HVAC control be retrofitted into virtually any home.

Irrigation & Pool/Spa


Control your home's landscape irrigation system.
Pre-heat your pool or spa before you get home so that the water is ready when you arrive.
Be notified if there is some failure in your pump system.
With a home automation system in your home, you can perform elaborate functions from across the house or from the other side of the world via the Internet. From your mobile device, one button press can disarm your alarm, lower the blinds, turn on the fireplace, dim the lights, heat the spa, and turn on your music. If you are interested in purchasing the VoQol System or finding out more about it, please feel free to contact Cliff Court from Coral Tech at: cliff@coraltech.co.za or 082 450 8194 or visit their website at: www.voqol.co.za. To view more benefits of these VoQoL System, or click on the: VoQoL Project Impact Assessment - 9th March 2020.
Other Home Automation Aids

There are a wide variety of other Home Automation products which can also be used on a daily bases to assist persons with or without disabilities to control various functions in their homes and also their yards if need be. Most persons in these modern times likely use some form of automation on a daily bases. Basic Automation Aids include Voice Operated TV's, Automatic Doors, Electrical Security Gates, Garage-Door Openers, Timers on Watering Systems and Security Systems. Read the article below to find out more about these various products.
Vox I.C.E Monitor Solution
Advanced aging is sadly, usually accompanied by changes in mobility, mental capacity and health, this even applies to healthy seniors. The elderly want to remain independent while their loved ones need peace of mind, especially now when many are isolating to stay safe.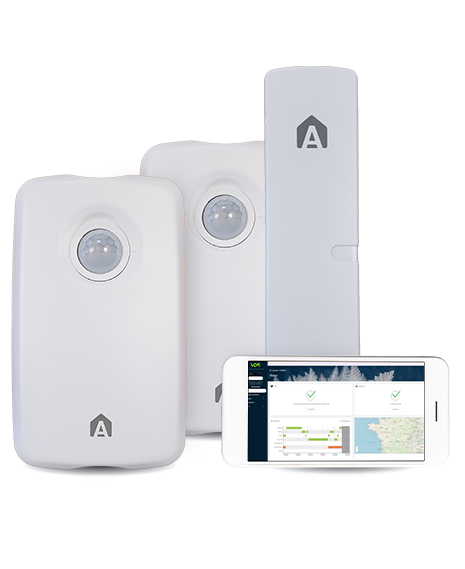 With the Vox I.C.E Monitor Solution, you Get the best of both, this digital solution allows caregivers and loved ones to passively watch over independent seniors and proactively respond to emergencies. The system works with non-intrusive sensors that are installed in strategic places around the home.
The motion sensors allow Vox I.C.E to establish a normal behavioral pattern, as motion sensors monitor sleep patterns, movement, accidental falls and routine tasks. If an abnormality occurs e.g. lack of movement or not locking a door, the system sends
an alert to a predefined list of contacts. This self-contained solution with built-in battery power, is not affected by power failures and does not require existing internet connectivity onsite.
Vox I.C.E is customisable and easy to install, it offers a scalable solution to suit changing care requirements and give you peace of mind. To find out more, contact Wheelchairs on the Run on 011 955 7007 or via info@wheelchairsontherun.co.za.
Voice Controlled TV's
New sophisticated Smart Interaction technology enables you to operate your TV without pushing a button. You can easily control functions such as turning on/off your TV, changing channels, accessing apps & navigating the web by using simple voice commands such as:
A smart TV, is a television set or set-top box with integrated Internet and interactive "Web 2.0" features. A Smart TV is a technological convergence between computers and flatscreen television sets and set-top boxes. Besides the traditional functions of television sets and set-top boxes provided through traditional broadcasting media, these devices can also provide Internet TV, online interactive media, over-the-top content (OTT), as well as on-demand streaming media, and home networking access.
To find out more about Smart TV's, and other Television & Music Aids, that can assist persons with disabilities to control their entertainment centre to be able to play music and watch movies with little to know assistance. Visit our section on Television & Music Aids to find out more.
Automatic Door Openers
An Automatic Door or Gate Opener is a handy Assistive Device for those persons with disabilities such as those who are Blind or have Mobility Impairments and who use Mobility Aids such as White Canes, Walkers, Scooters or Wheelchairs. These devices often prevent the user from getting close enough to the door or gate to open it and many of the persons who use these Assistive Devices don't have the strength or use of their arms and hands to open the door using the door handle. These devices are therefore not only essential for some persons with disabilities to retain their independence, but are also useful in case of emergency.
There are a wide variety of different devices that can be used to open both gates and doors, depending on whether the door or gate slides open or swings open. A swing-door opener automatically operates a swing door for pedestrian use, it opens or helps open the door automatically, waits, then closes it.
There are 3 basic types of swing door operators:
Full Energy Operator – Opens and closes the door at full speed.
Low Energy Operator – Opens and closes the door at reduced speed to limit the the movement of the door to levels deemed safe for users with disabilities.
Power Assist Operator – This is a version of the low-energy operator. It lets the user open the door manually at a reduced force compared to a standard door closer. It closes the door with the same speed as a low-energy operator.
Full Energy operators are typically used on the outside doors and Low Energy operators are typically used where a simple door closer is sufficient for able users, yet it is necessary to add access to users with disabilities in small businesses, apartments and bathrooms.
These door operators may be triggered in various ways including: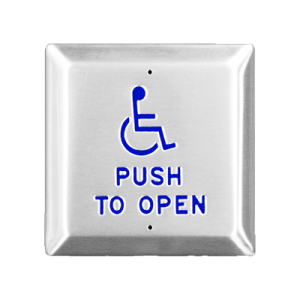 Approach Sensor - Uses a radar sensor to detect a person approaching, the door opens when a user approaches it.
Push Button – The door opens when a user presses a button.
Push-&-Go – The door opens fully when the user begins opening it.
Access Control – The door opens when the an access control system determines the user is authorized to go through.
A trigger from any of the above requests that the door be opened or reopened if it was closing. Sensors can be used to prevent the door from coming into contact with a user. Full Energy operators require at least 3 sensors. Low-energy operators are not required to have safety sensors, as the door is limited by the reduced moving speed. Previously sensors have been simply floor mats that sense the weight of a user, today, infrared safety sensors are normally used.
Opening technologies: The majority of the operators open the door directly or through an arm:
Overhead Concealed Mount – The operator is mounted above the door & rotates the door directly, through its pivot.
Surface Mount, Push (Scissor Arm) – The operator is mounted on the wall above the door, on the approach side & pushes the door with a linkage of 2 arms.
Surface Mount, Pull (Track) – The operator is mounted on the wall above the door, on the swing side and pulls the door with an arm whose end slides in a track mounted on the door.
Variations on the above do however also exist.
Operators use various internal technologies: They are often categorized by the means by which the motor's energy is applied.
Some are built on top of a standard door closer: To open the door, the operator forces the closer in the opening direction. Then, the closer closes the door. The user may open the door manually, using just the door closer. In case of power failure while the door is open, the closer itself closes the door.
Some are built without a door closer: The motor opens & closes the door through reducing gears. The operator may or may not include a return spring to close the door in case of power failure while the door is open.
Thanks to the companies that supply a variety of Home Automation Aids and systems in South Africa, you can now perform various functions from across your home or from the other side of the world via the Internet. If you have any question or are interested in purchasing any of these products discussed on this page the, please feel free to Contact Us and we will point you in the right direction.
References