Contents: To jump to the topic you would like, click on the links below
Introduction



In January 2022, Nicky's Drive joined our "Accessible Cities South Africa (AC - SA)" platform to help promote accessibility and inclusivity in South Africa by supplying free Hand Controls to persons with disabilities wishing to be able to drive and become independent. DiSA would like to congratulate and thank Nicky's Drive for joining  our "Accessible Cities South Africa (AC - SA) " platform and for becoming an "Access Warrior" and for then renewing their Membership in 2023.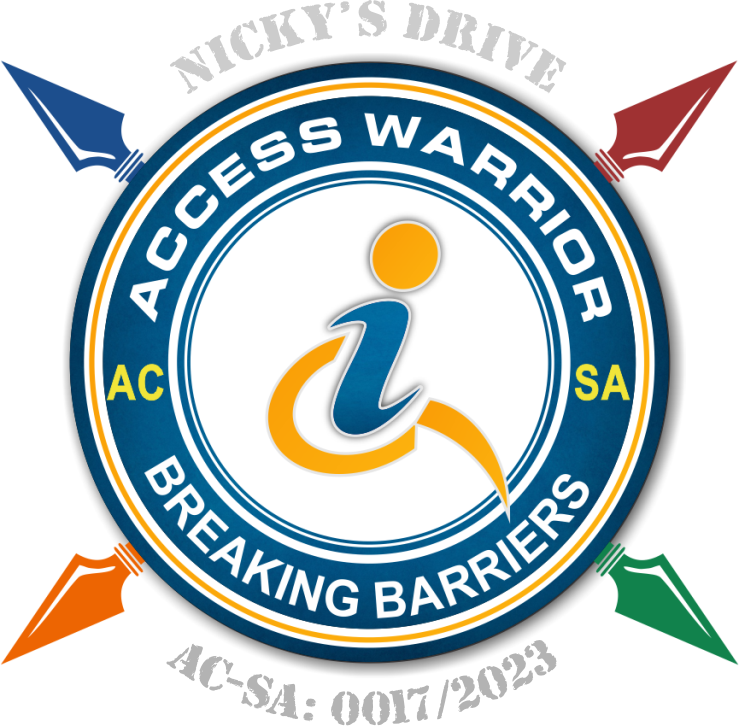 Nicky's Drive is a registered non-profit organisation (086-364-NPO) that aims to assist South Africans with disabilities to be more mobile and independent through the funding of these car adaptations. The lack of accessible public transport is one of the greatest barriers to the employment of persons with disabilities in South Africa. The ability to drive an adapted car provides more than the freedom that we so often take for granted. It enables persons with disabilities to develop their self-confidence, gain better access to education and work opportunities, and to make a valuable contribution to society through their work and family life.
In August 2021, Nicky's Drive joined Disability info South Africa (DiSA) and became an active member, by not only assisting us with various queries that came via the DiSA website regarding those individuals needing financial support to purchase Hand Controls but also by supporting us financially through the membership that they purchased from us in 2021. By Joining our Accessible Cities platform in January 2022, Nicky's Drive has become a valuable member and "Access Warrior" to help improve accessibility by removing the barriers that many people face in their daily lives.
Nicky's Drive & DiSA Partnership
Disability info South Africa (DiSA) was started in 2015 by Alan Downey when he realised that there was still an urgent need for a free information service to assist and support persons with disabilities and their families. Through the support over the years from various organisations, companies and clubs such as Nickey's Drive, we have been able to create a link between persons with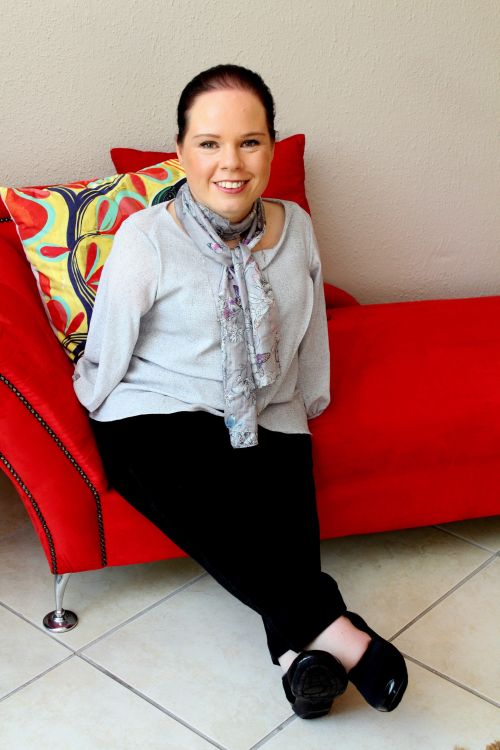 disabilities and the companies, clubs and organizations that are available to assist them. More recently, DiSA has identified a need to become more than an Information and Support Service but also provide platforms to help Identify, Address and Remove barriers to an inclusive, accessible South Africa. By creating a link with other reputable like minded companies clubs and organizations, we aim to create a better accessible future for all.
With this in mind, we have approached various current members of DiSA, including Nicky's Drive to join us and other Access Warriors in this journey to "Light a way to an Inclusive Society!" With assistance from all Access Warriors who have joined our Accessible Cities South Africa (AC-SA) platform, we aim to become a stronger force working together to help break down barriers, creating a level playing field - to enable all persons with disabilities to participate equally in society.
Nicky's Drive offer a variety of Services to assist persons with disabilities to become active members of society. By listing there service below and promoting them through our AC-SA platform with other Access Warrior - Service Providers and their services that they provide, we aim to ensure that all the pieces of the puzzle are in place to provide a complete Accessible Solution. Please read the information below to find out more about the services that Nicky's Drive can provide and contact us or Nicky's Drive, should you require any assistance.
Nicky's Drive - Nicky Abdinor
Nicky Abdinor is the founder and chairperson of Nicky's Drive. She was inspired to start a non-profit organisation, as she knows how empowering driving an adapted car can be. Nicky was born without arms and shortened legs and always had a dream to drive. In 2001, someone in the UK (with a very similar disability) donated her "old" car to Nicky as she was in the process of getting a new car. The costs of such sophisticated technology for Nicky to drive were beyond her reach, so this donation had a profoundly positive effect on her life. Nicky's Drive was founded in 2011 to inspire other people with disabilities to realise their dreams to drive!
Fundraising For Nicky's Drive - Motivational Talks

All fundraising through Nicky's Drive is provided through Nicky Abdinor's motivational talks at conferences and events.
Since her 2011 TEDx Talk, "Driving Dreams'', Nicky has become a sought-after motivational speaker and has travelled around the world (and online during the pandemic!) sharing her story of resilience and cultivating optimism in uncertain times. Besides her unique story, Nicky has the added expertise as a Clinical Psychologist that further enhances her message to create sustainable changes in our attitudes, beliefs and emotions.
For more information on Nicky's keynote speaking, visit www.nickyabdinor.com.
A portion of Nicky's speaking fee is donated to Nicky's Drive and goes directly towards the funding of car adaptations in South Africa.
How To Apply For Funding
If you have a DREAM TO DRIVE, apply to Nicky's Drive now! They could be funding your car adaptations in the near future.
To apply for funding, please contact: apply@nickysdrive.com or nicky@nickysdrive.com for an application form. The Nicky's Drive committee (all volunteers) meet quarterly to review applications. They are able to support 4 projects a year with a maximum donation of R20 000 per project.
In order to be considered by the committee for the funding of a car adaptation project, your application will need to meet the following criteria:
Applicants with a physical disability who are South African citizens may apply for funding.
Preference is given to applicants who require accessible transport for work and/or studies.
Applicants must have funding for their own AUTOMATIC vehicle and the maintenance/running costs of that vehicle.
Applications need to include a driving assessment by an Occupational Therapist to assess the abilities/needs for driving, along with a quotation from a local car adaptation company.
Preference is given to applicants from previously disadvantaged backgrounds.
Applicants need to be willing to be photographed or filmed for marketing purposes.
Please note that there is no guarantee that Nicky's Drive can support every car adaptation project (as much as they wish they could!) Please be in touch for more information www.nickysdrive.com
Nicky's Drive Funding Recipients
Disability and Diversity Training
Nicky Abdinor has a passion for making disability in the workplace WORK! Nicky presents talks and training sessions on disability awareness that are particularly useful for HR, Recruitment and Transformation Managers who want to minimise the stigma of disability in the workplace, recruit more employees with disabilities and increase the successful integration of people with disabilities into their companies and organisations.
What makes Nicky unique is her own physical disability (she was born without arms and shortened legs), making her a credible agent of change in the field of disability in the workplace. Nicky's expertise as a Clinical Psychologist enables her to facilitate discussions on the "hidden disabilities" (particularly, mental health problems) that are becoming a prominent feature in the workplace, impacting on productivity and work relationships.
This training (presented as either half-day or full day workshop or a keynote talk) aims to challenge each participant's perception of disability, through interaction, information and inspiration. With legislation in place to promote the employment of people with disabilities, the participants will be given the opportunity to assess their attitudes and beliefs about disability that may be helping or hindering them with the integration of these laws into practice. This workshop is beyond the transfer of information, but an experiential opportunity for participants to think differently about disability and their own abilities.
Workshop topics include:
Barriers to inclusion (physical and emotional)
Disability "Etiquette"
Challenges for disclosure of disability
Practical solutions for disability in the workplace
Nicky has presented disability training to a variety of audiences and can tailor the workshop to a client's specific needs.
Current and Future Plans



Only through inclusive environments can many persons with disabilities take part equally in society. "An impairment is any temporary or permanent loss or abnormality of a body structure or function, whether physical or psychological"
According to the World Health Organisation (WHO) "Disability is imposed by society when a person with a physical, psychosocial, intellectual, neurological and/or sensory impairment is denied access to full participation in all aspects of life, and when society fails to uphold the rights and specific needs of individuals with impairments."
With this in mind, DiSA aim to continue to make it a priority in 2023 to create awareness for the creation of inclusive environments at schools, Universities, at work and in your home. As South Africa's premium and free disability information portal, we at DiSA believe that we should create awareness of disability issues all year round, not only during Disability Rights Awareness month. To help drive this awareness, we launched our "Accessible Cities South Africa'' Platform in November 2021, whereby we strive to continue to build partnerships with Access Warriors such as Nicky's Drive, so that we can promote their services that they supply and the importance of creating accessible environments.
Through the partnership between DiSA and Nicky's Drive, DiSA pledge to continue to promote Nicky's Drive and the services that they supply to companies and individuals who contact us needing assistance, as well as through interviews and webinars, whereby we highlight the various benefits of employing persons with disabilities and in collaboration with Nicky's Drive and other Access Warriors, identify how companies and employers can go about creating environments in which the employee with disabilities can succeed, while also benefiting the company, other employees, as well as the community at large.
Accessible environments are so much more than just a ramp, only through the services that organizations such as Nicky's Drive provide, can we truly create more opportunities for persons with disabilities to succeed, which ultimately changes peoples perceptions of persons with disabilities. Creating access to venues, environments, information, products and services, enable persons with disabilities to break free of their barriers and comfort zones and experience success. No company, organisation or person is an island, we all need to work together to promote real change for this to happen - This is our goal as Access Warriors!
Contact DiSA
If you, your Company, Organisation, School or Sports Club require any assistance with regards to any of the services listed above, or would like to support DiSA and other Access Warriors in their journey to "Lighting the way to an Inclusive Society", please contact Alan Downey on Email: info@DiSA.org.za, Cell: 084 504 9176 or preferably via the Contact Form included on our Contact Us page.
References
Nicky Abdinor - Full Profile Photo - photo courtesy of Cape Video