Guide Dogs & Equipment



To view the suppliers of Guide Dogs that are available in your area, click the button to the right.
To view the service providers that can help train your Guide Dog, click the button to the left.

Contents: To jump to the topic you would like, click on the links below
Introduction
A Guide Dog is a Service Animal for persons who are Blind or Visually Impaired. Service animals are defined as animals that are individually trained to do work or perform tasks for persons with disabilities, they are working animals and not pets, so the work or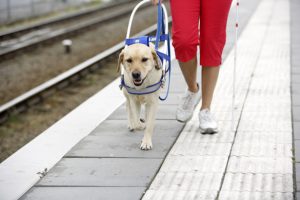 task that the animal has been trained to provide must be directly related to the person's disability. Animals whose sole function is to provide comfort or emotional support do not qualify as service animals. There are various types of Service Animals used in countries around the world, including Guide Horses in the UK and Service Monkeys in USA, but these are currently not trained or used in South Africa. Guide Dogs and training is available from various organizations in South Africa for persons who are Blind or Visually Impaired, while training of various other types of Service Dogs is also available to assist Persons With Disabilities, such as:
In several countries, including South Africa, Service Dogs, Guide Dogs, Hearing Dogs, etc. are exempt from regulations against the presence of animals in places such as restaurants, public transportation and aeroplanes. To find out more about the types of Service Dogs mentioned above, click on the links, or click the links above. To find out more about Guide Dogs and the Organizations that train and provide them, continue to read below.
Types of Dogs
Desirable character traits in service animals typically include good temperament or psychological make-up (including biddability and trainability) and good health (including physical structure and stamina). Some service dogs are bred and trained by service dog organizations such as the South African Guide-dogs Association for the Blind also trains dogs to assist people with disabilities other than blindness.
Early on, trainers began to recognize which breeds produced dogs most appropriate for guide work; today, Golden Retrievers, Labradors, and German Shepherds are most likely to be chosen by service animals facilities, although other breeds, such as Standard Poodles, Collies, Border Collies, Australian Shepherds, Staffordshire Terriers, Vizslas, Dobermans, Rottweilers, American Pit Bull Terriers, Boxers, and Airedale Terriers, may also be selected. Service animal breeds are chosen in relation to height at the shoulder measured against harness length and an individual's height.
Crosses such as Golden Retriever/Labrador (which are popular due to both breeds' known intelligence, work ethic, and early maturation) and Labradoodles (Labrador/Poodles bred to provide dogs with less shedding for those with allergies to hair or are also common.
The most popular breed used globally today is the Labrador Retriever. This breed has a good range of size, is easily kept due to its short coat, is generally healthy and has a gentle but willing temperament.
Such a dog may be called a "service dog" or an "assistance dog," depending largely on country.
South African Guide-dogs Association for the Blind
South African Guide-dogs Association for the Blind trains dogs to assist people with disabilities such as blindness.  Getting from point A to point B using a service animal is much faster and safe. Owners of service animals share a special bond with their animal.
The specially bred dogs are ready and able to perform a variety of basic tasks designed to bring independence to a person with a disability.
Training procedures are highly specialized.  The dogs are trained in a variety of environments, including shopping malls, restaurants and other public places to prepare them for working in all types of situations.
Coming from carefully selected pedigreed stock, as puppies they are placed in volunteer homes, "Puppy Raisers" as we call them, to begin their first stages of training. After 12-14 months with the Puppy Raiser, the pup returns to the training centre to start with approximately six months advanced training.  The skills and personalities of the dogs are thoroughly evaluated by the training staff, and each dog is matched and very carefully assessed before being placed with a disabled person.
Who qualifies to receive a Service Dog?
Guide dogs are trained for people with a visual disability. Applicants need to demonstrate that they are unable to perform certain daily tasks that a dog can perform for them.
No one person is the same and it is difficult to make hard and fast rules as to who would benefit from a service dog – by getting to know your individual circumstances, we can assess whether or not a service dog might be an appropriate option for you.
Applying for a Service Dog
Any person over the age of 18 who is visually disabled can apply for a Service Dog if he/she is prepared to undertake the necessary training.  They will become the dog's owner on the successful completion of the course and a payment of a purely nominal sum of R5.00
Training
Training is as important for the prospective owner as it is for the dog, as the training of the dog will quickly break down if it is not handled and managed properly.  Training for the owner usually consists of a stay at the Training Centre for 2-3 weeks, although as the Association continues to strengthen and obtain additional facilities, more opportunities for whole or part training from the applicant's home will be made available.  Each system has pros and cons for the individual and is something that would normally be discussed at the interview with the instructor.
Most Service Dogs are reared from breeding stock owned by the Guide Dog Association.  As puppies, they are brought up in families known as Puppy Walkers, who ensure that they are thoroughly domesticated and given some very basic training.  The young dogs return to the training centre when they are about a year old and for the next six to nine months are taught how to assist physically disabled people.  By the time they are ready to be allocated to someone, the trainer knows just about everything there is to know about the character and attributes of each of the dogs under his control.  Applicants will also have been interviewed and assessed so that the centre is able to select the most suitable dog for them.  This process is most important to the success of the working partnership and great care is taken to make the best possible match.
There are usually 2-3 students on each course and their residential training at the centre starts by learning about the responsibilities of dog ownership and the needs of a working dog.
A day or two after arriving at the centre, students are introduced to their dogs, who from then on stay with their new owners, sleeping in their rooms, learning how to be friends and partners for the rest of the course and for many years to come.  Inevitably, new owners are apprehensive about working with a dog.  Confidence is gained from the Instructors and other students.
At the end of the training course an Instructor returns home with the newly qualified Service Dog Owner.  The Instructor helps the Service Dog and it's master to settle down to their new life together and provides assistance and advice.
The Training Centre keeps in touch with the Service Dog Owners and regular visits will be made throughout the dog's working life to help maintain safe and competent standards.  Instructors are always on call to help in an emergency or if unforeseen problems arise.
Over the years, much will depend on the Service Dog Owner ensuring that the dog's work remains at a high standard.  Every well-trained animal looks to its master for a lead, and unless a Service Dog receives clear instructions, firm control and lots of praise when it is working well, the quality of it's work will soon deteriorate.
How the association helps

The Association aims to provide Service Dogs for as many people as can use them safely, and will supply a fully trained Service Dog to any suitable person who completes the training programme successfully.
To ensure that no one is deterred from having a Service Dog on financial grounds the Service Dog Owner is asked to pay only R5.00 for the dog.
Students are expected to pay their own fares to and from the training centre and contribute R100.00 towards the cost of their board and lodging whilst undergoing training.  However, sympathetic consideration is given to anyone likely to face financial difficulties through this requirement.
How to apply for a service dog
Application may be directed to :
The Training Manager,
The South African Guide-dogs Association for the Blind
Box 67585, Bryanston, 2021
Telephone : (011) 705 3513, Fax: 086 506 3364 – Servicedogs@guidedog.org.za
When the completed forms are received, and if there is no obvious reason why the applicant cannot be trained, the applicant is placed on file and arrangements made for an informal interview. All applicants need to be interviewed and accepted before they can be trained. The applicant will then be called as soon as possible for training.
Benefits of owning a service dog
Studies show owning a pet or therapy animal offer positive effects psychologically, socially, and physiologically. Service animals especially come with a variety of benefits and help in many ways. They give a blind person more confidence, friendship, and security. Blind people who use service animals have increased confidence in going about day-to-day life and are comforted by a constant friend. Companionship offered by a pet helps reduce anxiety, depression, and loneliness. Because animals offer support, security, and companionship, stress is reduced, which in turn improves cardiovascular health. "A number of studies identify pet ownership as a factor in improved recovery from illness and in improved health in general".
Service animals make it easier to get around, resulting in the person getting more exercise or walking more. People are more willing to go places and feel a sense of independence. Meeting people and socializing is easier, and people are more likely to offer a blind person help when there is a service animal present. The animals may also lead to increased interaction with other people. Animals are seen as "ice breakers" to a conversation with something to talk about. In many cases, service animals offer a life changing experience. They are more advantageous than long canes when one is in an unfamiliar place. The animal directs the right path, instead of poking around wondering if you might bump into something. Service animals make the experience of the unknown more relaxing. Getting from point A to point B using a service animal is much faster and safer. Owners of service animals share a special bond with their animal. Many report that the animal is a member of the family, and go to their animal for comfort and support. The animal isn't seen as a working animal, but more as a loyal friend. However it is important to remember that service animals are working animals and should not be distracted or treated as a normal animal while they are working.