Service & Therapy Dogs:

Intellectual Impairments
To view the suppliers of Service Dogs that are available in your area, click the button to the right.
To view the service providers that can help train your Service Dog, click the button to the left.

Contents: To jump to the topic you would like, click on the links below
Introduction
"Service animals are defined as animals that are individually trained to do work or perform tasks for persons with disabilities." There are a variety of different types of animals that can be used as Service Animals, these include Monkeys; Miniature Horses and Dogs. The only Service Animal that is currently used and trained in South Africa, are "Service Dogs."  Service Dogs come in all shapes, sizes and breeds. Mixed breed dogs are often used and trained as Service Dogs by some companies and organisations such as The S.A. Dog Training College, Smart Dogs and Honeys Garden Medical Alert Dogs SA, while The S A Guide-Dogs Association for the Blind (GDA) only train pure bred dogs that have been bred and raised from recognised breeds. Through the training that Service Dogs receive from these companies and organisations, they will learn how to help you the handler, you as the handler will need to train with the dog to learn how to communicate with your Service Dog.
There are various types of Service Dogs that are trained in South Africa to assist persons with various disabilities or impairments, these include Service Dogs that can assist persons with:
Mobility Impairments - These are known as Service Dogs and can also help persons in wheelchairs and also those with Diabetes.
Visual impairments - These are known as Guide Dogs and are used to guide people who are blind.
Hearing Impairments - These are known as Hearing Dogs and they can alert people who are Deaf or who have Hearing Impairments.
Intellectual Impairments - There are a variety of different types of Therapy or Service Dogs that can help persons with various Intellectual Impairments including, Autism Support Dogs; Psychiatric Service Dogs and Seizure Alert Dogs which alert and protect a person who is having a seizure, reminding a person with mental illness to take prescribed medications, etc.
Service animals are working animals, not pets, the work or task that a Service Dog has been trained to provide must be directly related to the person's disability. There are various organizations, companies & individuals, who can help train your Service Dog, some of these places breed and supply these dogs to be trained and can assist you to train them, while other organizations, companies or individuals, can only train or assist you to train your dog, i.e. they do not supply the dogs.
On the page below we will list and discuss these companies, organizations or individuals that train or supply these different types of Service Dogs in South Africa which help persons with different types of Intellectual Impairments.
Types of Service Dogs
Desirable character traits in service animals typically include good temperament or psychological make-up (including biddability and trainability) and good health (including physical structure and stamina). Some service dogs are bred and trained by service dog organizations such as the South African Guide-dogs Association for the Blind also trains dogs to assist people with disabilities other than blindness.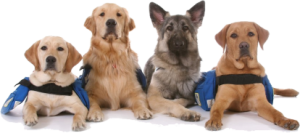 Labrador Retrievers, German Shepherds, and Golden Retrievers are the most common breeds used as service dogs, but any breed or mix of breeds is capable of being a service dog, though few dogs have all of the health and temperament qualities needed. Such a dog may be called a "service dog" or an "assistance dog," depending largely on country.
Service Dogs can be trained to assist with persons with Intellectual Impairments in a variety of different ways, including:
Autism: These are called "Autism Support Dogs.
Post traumatic stress disorder (PTSD),
Persons who are having a seizure
reminding a person with mental illness to take prescribed medications, etc.
Autism Support Dogs
Autism Assistance-Autism Assistance Dogs are not only a living miracle to the affected child, but also to the entire family. These special dogs are trained to assist the child, and the parents of the child, in a variety of ways. S A Guide-Dogs Association does however train specially selected dogs to work with children with Autism. The Autism Support dog's primary role is to help with the serious tendency of children with autism' to run away. These dogs are sometimes still referred to as Companions.
The dog is controlled by a primary handler, usually a parent or caregiver. A soft harness with a lead attached is worn by the dog and which the child holds onto.
There are various added advantages in owning an Autism Support dog including:
Companionship for children who are often lonely due to their Autism.

Assist with tactile issues.

Improve confidence often leading to some independence .

Provide physical pressure needed in times of anxiety.

Interaction free from demands.
These very special dogs can often aid in making a hostile world a bit friendlier.
Psychiatric Service Dogs
Psychiatric Service Dogs are trained to assist their handlers with a number of psychiatric conditions and symptoms such as post-traumatic stress,
severe depression, anxiety, panic attacks, obsessive compulsive disorder, dementia, phobias, and paranoia. These dogs are able to:
Decrease agitation, loneliness and aggression
Increase social interaction or provide a socially acceptable reason to leave
Provide exercise for dopamine release and structure / routine
Ease anxiety, depression and lessen signs of paranoia
Ease the mental burden of daily activities
Tasks that Psychiatric Service Dogs can perform include but are not limited to:
Remind handler to take medication and provide Deep Pressure Therapy
Wake the handler and encourage to get out of bed
Serve as a physical buffer in public and provide tactile stimulation
Note that we require a letter from a psychiatrist or psychologist to say that the handler is able to care for and train a service dog, and that the service dog will in fact benefit them. Our dogs can be custom trained to meet your needs.
Psychiatric Service Dogs– The Smart Dog strongly believes in assisting those with psychiatric disabilities.While this is a disability that is often overlooked, it is a condition which can be even more detrimental than some challenges which are strictly physical.  The trainers and volunteers of The Smart Dog  work diligently to place dogs with our soldiers, as well as civilians who suffer from similar forms of PTSD, and other psychiatric conditions such as severe anxiety and depressive disorders.
Seizure Alert Dogs
Seizure Alert Dogs-Our dogs are also trained to assist after a seizure. This is often referred to as "seizure response" training. The dogs are trained to locate and retrieve a phone for their handler to call for help if needed, or even to dial a specialized assistance dog phone, which allows the dog to call for help by pressing a button. This means the dog can call for help even if the affected party is unconscious. Dogs are also trained to help brace of balance their handler for stability after a seizure, retrieve medication, provide deep pressure therapy, or in certain cases recipients will ask that the dog be trained to retrieve a family member in another room.
Benefits of owning a Therapy or Service Dog
Studies show that owning a pet or therapy animal offer positive effects psychologically, socially, and physiologically. Service animals especially come with a variety of benefits and help in many ways. They give persons who are blind more confidence, friendship, and security. Blind people who use service animals have increased confidence in going about day-to-day life and are comforted by a constant friend. Companionship offered by a pet helps reduce anxiety, depression, and loneliness. Because animals offer support, security, and companionship, stress is reduced, which in turn improves cardiovascular health. "A number of studies identify pet ownership as a factor in improved recovery from illness and in improved health in general".
Service animals make it easier to get around, resulting in the person getting more exercise or walking more. People are more willing to go places and feel a sense of independence. Meeting people and socializing is easier, and people are more likely to offer a blind person help when there is a service animal present. The animals may also lead to increased interaction with other people. Animals are seen as "ice breakers" to a conversation with something to talk about. In many cases, service animals offer a life changing experience. They are more advantageous than long canes when one is in an unfamiliar place. The animal directs the right path, instead of poking around wondering if you might bump into something. Service animals make the experience of the unknown more relaxing. Getting from point A to point B using a service animal is much faster and safer. Owners of service animals share a special bond with their animal. Many report that the animal is a member of the family, and go to their animal for comfort and support. The animal isn't seen as a working animal, but more as a loyal friend. However it is important to remember that service animals are working animals and should not be distracted or treated as a normal animal while they are working.
Companies & Organisations That Can Assist
Service animals are not pets, the work or task that a Service Dog has been trained to provide must be directly related to the person's disability. There are various organizations, companies and individuals, who can help train your Service Dog, some of these organizations and companies breed and supply these dogs to be trained and can assist you to train them, while other organizations, companies or individuals, can only train or assist you to train your dog, i.e. they do not provide the dogs that will be trained.
Service Dogs need to be trained by an accredited Training facility which will not only teach you how to train your dog to assist you with what you require but will also be taught to behave in a certain way while out in public. Service dogs often accompany the handler on planes, buses, boats and into restaurants and other public places, the service dog therefore needs to be trained on how to behave in these busy places which often have strange noises and crowded areas. The Service Dog should at all times wear a jacket stating that it is a Service Dog and the type of Service Dog that it is and it should also be on a Harness or leash at all times while out in public. In most cases the training facility that assists you to train your Service Dog, will also supply you with a letter stating that your dog is a Service Dog and has been trained by an accredited service dog training facility. This letter is essential in case someone objects to you entering their premises with your Service Dog. Unfortunately there is still some confusion from the public and various restaurant and business owners that are not familiar with the regulations regarding Service Dogs, there is also currently no national registration process that registers Service Dogs in South Africa.
The Companies/Organizations listed below are qualified to work & train various types of Services & Therapy dogs in South Africa. They can teach you how to train your dog and once qualified, register the Service Dog on their Data Base and supply all owners with letters and jackets or bibs stating that the Service Dog has been trained and qualified with them. Please read the information below and contact them on the details provided to see if any of them will be able to assist you and what their costs will be.
The South African Dog Training College (SADTC)
S.A. Dog Training College & Kennels (SADTC) is a dog training school that was established in 1984 by Chris and Christine van der Westhuizen, a couple dedicated to teaching others how to encourage the best from their dogs. We are still as committed as ever to improve the lives of dogs by never using force or cruel methods to train dogs. We noticed that there was a need for gentler training methods and a demand from dog owners for other courses besides obedience.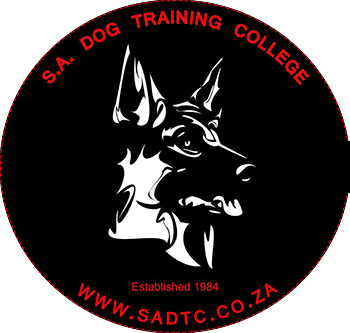 In 1984, puppy socializing, agility, consultations, etc were hardly known to South Africans and SADTC brought these and many more courses into South Africa in a big way. Our dog school has led the way for humane methods of training and have been pioneers of many methods being used today.
SA Dog Training College offers the following services: Dog Training; Obedience Training; Puppy Training; Dog Training Instructor Classes; Protection Training; Dog Behavior Consulting; Agility Training; Dog Jumping; Dog Equipment Suppliers; Personal Dog Training Lessons; Puppy Advice; Dog Training Classes; Detection Training/Scenting; Local and International Seminars; Sourcing Trained Dogs; Children Training Dogs; Inboard (Kennel) Training; Home Dog Training; Social And Fun Events; Dog Physio Therapy And Therapy and Service Dog Training.
SA Dog Training College is now also offering Therapy & Service Dog Courses in South Africa and fulfil huge demand for this. Therapy dogs and handlers play a vital role with regards to working with cases of trauma, head injuries, retirement villages, illnesses, etc. We have a therapy tester, and two therapy handlers, of which one is also a therapy instructor. They are qualified with DELTA, an international therapy organisation. We also offer training and testing right here in South Africa, so you won't have to travel overseas, as we are internationally endorsed with the Delta Society. Instructions and evaluations are now conducted locally, Christine van der Westhuizen is an accredited alternate evaluator for Delta® and is conducting the local evaluations in the Gauteng Area.
Evaluations will also be available on the South Coast from the middle of next year as Heidi is moving to the coast. Heidi had qualified as a Delta® and has also completed a number of Animal Behaviour Courses as well as Animal Assisted Activity Courses in South Africa and abroad and felt the need for trained handlers together with their pets to be qualified here in South Africa.
S.A. Dog Training College and Kennels offers training for a variety of Service Dogs including: Autism Support Dogs, Alert Dogs, Therapy Dogs and Service Dogs for persons with physical disabilities. Our prices are extremely reasonable, please email Christine on: info@sadtc.co.za or speak to her on: Tel: 065 860 6784 if you require any information, or you can visit their website at: www.sadogtraining.co.za
The Smart Dog - Training Centre
Smart Dogs is a Dog training facility in Durban that specialized in Puppy and Home Obedience Training. In 2016 Smart Dogs became an independent training school and started focusing not only on Puppy and Home Obedience Training but, very importantly training The Handler, Owner and Dog Trainers as well. Our courses at present include but are not limited to the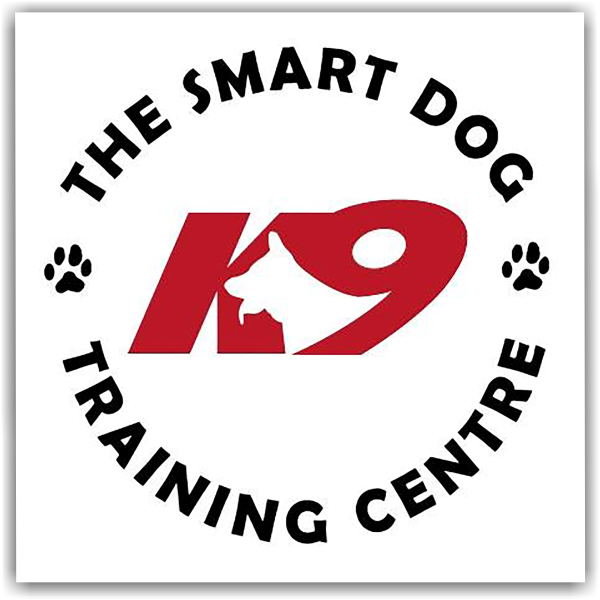 following: Dog Classes: Therapy Dogs; Puppy School; Home Obedience; Fun Agility – Canine Hooper's World Accredited; Scent Work- TDS accreditted; Animal Behaviour Training; CD Companion Dog-Working Trials; Canine Good Citizen Testing; Protection work and Rally Obedince Classes.
Animal-Assisted Therapy is a therapeutic intervention that incorporates animals, such as horses, dogs, cats, pigs, and birds, into a treatment plan used to enhance and complement the benefits of traditional therapy. It can be a useful intervention for individuals or groups and various studies have reported positive outcomes and improved emotional well-being in those with autism, medical conditions, or behavioral issues, as well as those battling illnesses like depression, schizophrenia, or addiction.
Autism Assistance
Psychiatric Service Dogs
Seizure Alert Dogs
Hearing Assistance
Mobility Assistance
Should you have any queries please feel free to contact The Smart Dog via either the contact form on our website: www.thesmartdog.co.za, or email Grant Smith on: info@thesmartdog.co.za or contact us on mobile: 081 270 4672.
The S A Guide-Dogs Association for the Blind (GDA)
"The S A Guide-Dogs Association for the Blind (GDA) are responsible for the breeding, rearing and training of guide dogs for persons with a visual impairment, service dogs for persons with a physical impairment and children with autism on the lower spectrum. Our dogs are identifiable by a leather harness with a metal handle in case of a guide dog, and a red service dog jacket with the GDA logo in the case of service and autism support dogs. All GDA certified working dogs are to wear these at all times once in public."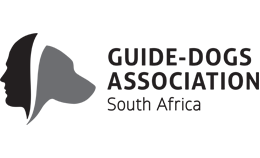 Training procedures are highly specialized. The dogs are trained in a variety of environments, including shopping malls, restaurants and other public places to prepare them for working in all types of situations. Coming from carefully selected pedigreed stock, as puppies they are placed in volunteer homes, "Puppy Raisers" as we call them, to begin their first stages of training. After 12-14 months with the Puppy Raiser, the pup returns to the training centre to start with approximately six months advanced training.  The skills and personalities of the dogs are thoroughly evaluated by the training staff, and each dog is matched and very carefully assessed before being placed with a person with a disability.
Who qualifies & Applying for a Service Dog
Any person over the age of 18 who is physically disabled can apply for a Service Dog if he/she is prepared to undertake the necessary training.  He will become the dog's owner on the successful completion of the course and a payment of a purely nominal sum of R5.00
Training is as important for the prospective owner as it is for the dog, as the training of the dog will quickly break down if it is not handled and managed properly. Training for the owner usually consists of a stay at the Training Centre for 2-3 weeks, although as the Association continues to strengthen and obtain additional facilities, more opportunities for whole or part training from the applicant's home will be made available. Each system has pros and cons for the individual and is something that would normally be discussed at the interview with the instructor.
Most Service Dogs are reared from breeding stock owned by the Guide Dog Association.  As puppies, they are brought up in families known as Puppy Walkers, who ensure that they are thoroughly domesticated and given some very basic training.  The young dogs return to the training centre when they are about a year old and for the next six to nine months are taught how to assist physically disabled people.  By the time they are ready to be allocated to someone, the traininer knows just about everything there is to know about the character and attributes of each of the dogs under his control.  Applicants will also have been interviewed and assessed so that the centre is able to select the most suitable dog for them.  This process is most important to the success of the working partnership and great care is taken to make the best possible match.
There are usually 2-3 students on each course and their residential training at the centre starts by learning about the responsibilities of dog ownership and the needs of a working dog.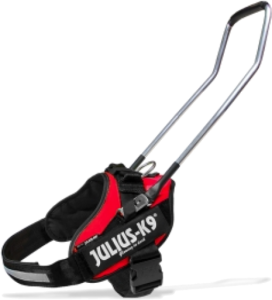 A day or two after arriving at the centre, students are introduced to their dogs, who from then on stay with their new owners, sleeping in their rooms, learning how to be friends and partners for the rest of the course and for many years to come.  Inevitably, new owners are apprehensive about working with a dog.   Confidence is gained from the Instructors and other students.
At the end of the training course an Instructor returns home with the newly qualified Service Dog Owner.  The Instructor helps the Service Dog and it's master to settle down to their new life together and provides assistance and advice.
The Training Centre keeps in touch with the Service Dog Owners and regular visits will be made throughout the dog's working life to help maintain safe and competent standards.  Instructors are always on call to help in an emergency or if unforeseen problems arise.
Over the years, much will depend on the Service Dog Owner ensuring that the dog's work remains at a high standard.  Every well-trained animal looks to its master for a lead, and unless a Service Dog receives clear instructions, firm control and lots of praise when it is working well, the quality of it's work will soon deteriorate.
How the association helps

The Association aims to provide Service Dogs for as many people as can use them safely, and will supply a fully trained Service Dog to any suitable person who completes the training programme successfully.
To ensure that no one is deterred from having a Service Dog on financial grounds the Service Dog Owner is asked to pay only R5.00 for the dog.
Students are expected to pay their own fares to and from the training centre and contribute R100.00 towards the cost of their board and lodging whilst undergoing training.  However, sympathetic consideration is given to anyone likely to face financial difficulties through this requirement.
How to apply for a service dog
The S A Guide-Dogs Association for the Blind have 3 branches in South Africa:
When the completed forms are received, and if there is no obvious reason why the applicant cannot be trained, the applicant is placed on file and arrangements made for an informal interview. All applicants need to be interviewed and accepted before they can be trained. The applicant will then be called as soon as possible for training.
Honeys Garden Medical Alert Dogs SA
Honeys Garden Medical Alert Dogs SA (Medical Service Dogs NPC PBO 18a) are situated in Cape Town and enrich the lives of children and adults with medical disabilities and diseases by matching them with task trained service dogs. We are a nonprofit company (2016/387235/08) whose mission is to place quality service dogs with people within South Africa who are under privileged and or fighting with disabilities or diseases. We also help with animal rescue, and educate the public regarding use of service dogs in public places and supply and utilize specifically trained TheraPets for working professionals and individuals. All of our Service Dogs and Therapets undergo stringent testing, including the KUSA Canine Good Citizen Award.
Service Dogs trained by Honey's Garden include: Hearing Dogs for the Deaf; Diabetic Alert Dogs; Psychiatric Service Dogs and Multipurpose mobility Dogs.
Seizure Response Dogs: Seizure Response Dogs are trained to respond when a seizure happens by carrying out custom trained tasks depending on the nature of the seizures and a person's situation. Read More: …
Psychiatric Service Dogs: Psychiatric Service Dogs are trained to assist their handlers with a number of psychiatric conditions and symptoms such as post-traumatic stress, severe depression, anxiety, panic attacks, obsessive compulsive disorder, dementia, phobias, and paranoia. Read More: …
Multipurpose Service Dogs: Multipurpose Service Dogs will generally assist in any way that is needed. Some examples of the types of people who may need a multipurpose service dog include but are not limited to: Foetal Alcohol Syndrome; Autism Spectrum; ADHD; Mobility impairments; Alzheimer's; Cerebral Palsy; Down's Syndrome; Medically frail children or adults​​​​​​​. Read More: ….
You can contact Lucy from Honeys Garden Medical Alert Dogs SA to find out more, you can speak to Lucy, Cell: 072 250 0336, Email: honeysgardenmad@gmail.com or visit their websites at: www.medicalalertdogs.co.za
Therapy Pets
A Therapy Dog or Therapy Pet is a dog that is trained to provide affection, comfort and support to people, often in settings such as hospitals, retirement homes, nursing homes, schools, libraries, hospices, or disaster areas. In contrast to assistance dogs, which are trained to assist specific patients with their day-to-day physical needs, therapy dogs are trained to interact with all kinds of people, not just their handlers. In order for a dog to be a good candidate to become a therapy dog and receive certification, they should be calm and social with strangers. They should also be able to adjust to loud noises and fast movements, they are tested on behaviors such as not jumping on people and being able to walk on a loose leash. Exact testing/certification requirements differ based on the organization's requirements. Some organizations offer classes such as "distraction-proofing," which strengthens the dog's ability to focus and therapy training to help prepare the dog and the dog's owner for therapy visits.
Therapy dogs are not limited to a certain size or breed, common breeds used in therapy dog application and research include the Golden Retriever and the Labrador Retriever. Cavalier King Charles Spaniels are considered natural therapy dogs since they were bred to be companion dogs. Thus they love meeting new people including children, are very gentle, and are eager to sit on a someone's lap for long periods of time and are small enough to do so.
Therapy dogs offer many benefits to people and patients, including encouraging people and patients to participate in physical activities and they help encourage them to have cognitive, social, and communication goals.
Paws for People Therapy Dogs: Paws for People Therapy Dogs It is a South African based non-profit organisation that currently offers Animal Assisted Therapy and Animal Assisted Activity programs in West Rand, Gauteng and our sister units in the East Rand and Vanderbijlpark "Paws for U" and Cape Town," Paw Pals." You can contact Jenny Williams on: 083 6904858 or via email jennyandco@gmail.com or visit their website at: www.pawsforpeople.co.za
Read More: ….
Paw Pals Therapy Dogs: Paw Pals Therapy Dogs offers Animal Assisted Therapy and Animal Assisted Activity programs in Cape Town.  Read More: …. You can contact  them on: (0)82 868 3962 or via email: admin@pawpals.co.za  or visit their website at: www.pawpals.co.za
Equipment
By law Service Dogs and Therapy Dogs are required to wear certain equipment such as Service Dog Vests, Service Dog Harnesses, Therapy Dog Vests and other dog training supplies.This equipment may differ according to the type of Service Dog it is.
Regulations & Rulings
Access rights of Guide, Service and Autism Support Dogs
The Constitution of South Africa states that a person cannot be discriminated against due to their disability. This means that people who are visually impaired, physically disabled or suffering from developmental conditions (such as autism) cannot be denied access to public places (restaurants, retail environments, airports etc.) due to the fact that they are users of a Guide / Service / Autism Support Dog. If such people are denied access they are able to approach the Human Right's Commission to seek redress.
R962 10 (i) The Foodstuffs, cosmetics and disinfectants Act of 1972 (At 54 of 1972) states that, "a guide dog accompanying a blind person may be permitted in the sales or serving area of the food premises." It is suggested that government departments, retail stores, the hospitality industry, the security industry and any organisation that provides a service ensures that they are compliant with the right of access of people who are disabled.
Organisations should have a policy that governs access rights of working dog users. This policy should be communicated to all staff (especially managers) during induction training. It is the responsibility of each and every retail organisation to ensure that their outsourced security staff are trained about the constitutional access right of clients who are disabled (and using a working dog trained by a member organisation of the International Guide Dog Federation).
South African Guide-Dogs Association for the Blind is embarking on a campaign to actively advocate for the access rights of working dog owners throughout South Africa.
Any organisation that requires advice and training related to improved service levels for people who are disabled are invited to contact: info@guidedog.org.za
Disclaimer
Please note that the FREE services and website that we offer is privately run & funded and is not run or funded by the Government. We therefore rely on advertising and donations to continue to supply and improve this Free service. The Companies, Clubs, Schools and Organizations that have their logos on this site, have advertised or made donations to the Website and have therefore assisted us be able to continue to offer this free Service. Please support them as they have supported Us and please contact us if you can advertise with us or would like to make a donation!
N.B: This Website is continually changing and being improved some sections may therefor be incomplete or have links and contact details that are outdated. We are making every effort to keep this to a minimum, so we ask for your patients in this regard and to please Contact Us if you notice that your Companies, Clubs, Schools or Organizations details are incorrect or have changed.
Thank you for visiting our website, we hope that it will be helpful, please feel free to visit our Facebook Page to leave a comment.
References