To view the suppliers of products, click the button to the right.
To view the service providers, click the button to the left.

Contents: To jump to the topic you would like, click on the links below

Introduction
Thanks partly to the disability rights movement we have seen an improvement in building accessibility. With the installation of elevators or lifts buildings are now accessible even if you are in a wheelchair.
A lift (or elevator) is a form of vertical transportation between building floors, levels or decks, commonly used in offices, public buildings and other types of multi-storey accommodation. Lifts can be essential for providing vertical circulation, particularly in tall buildings, for wheelchair and other non-ambulant building users and for the vertical transportation of goods. Some lifts may also be used for firefighting and evacuation purposes.
The South African National Standard for Building Regulations
The South African Government through The South African National Standard for Building Regulations therefore makes laws that insure that new buildings are designed & build with a certain regulations, which includes Lifts & the regulations set aside for these Lifts.
There must be a means of egress (a point of departure) that is suitable for people with disabilities to use in the event of any sort of emergency. This relates to any sort of emergency, but in addition, a further clause states that departure routes (or egress) must also be designed in accordance with Part T of the regulations, namely the section that relates to Fire Protection.

Lifts in buildings must be able to serve the needs of disabled people. This includes ensuring that any commonly used "path of travel" MUST be free of any sort of obstacles that would limit, restrict or endanger people with disabilities who use that route. There must also be absolutely no obstacles that will prevent people with disabilities from accessing facilities within the building. The regulations refer specifically to people with impaired vision, but clearly they also relate to people in wheelchairs, or people who have trouble walking freely.
Unfortunately many buildings and homes in South Africa were not designed and built to accommodate wheelchair users or the elderly and still do not have suitable Elevators or Lifts. The owners of these buildings may therefore be challenged by the need to find architects and renovators familiar with accessible design issues in order to make these buildings accessible. There are various Organizations and Companies that can assist with Universal Design and Access to make sure that persons with disabilities are not excluded from any events, services, information, communication, products and venues.
Organizations & Companies That Can Assist With Universal Design & Access
There are now various Organizations and Companies that specialize in Universal Design and Access when it comes to installing Elevators or lifts to make sure that persons with disabilities are not excluded from any events, services, information, communication, products and venues. The National Council of and for Persons with Disabilities (NCPD), Inclusive Design and Bradshaw LeRoux Consulting specialize in Universal Design and can assist in different ways including: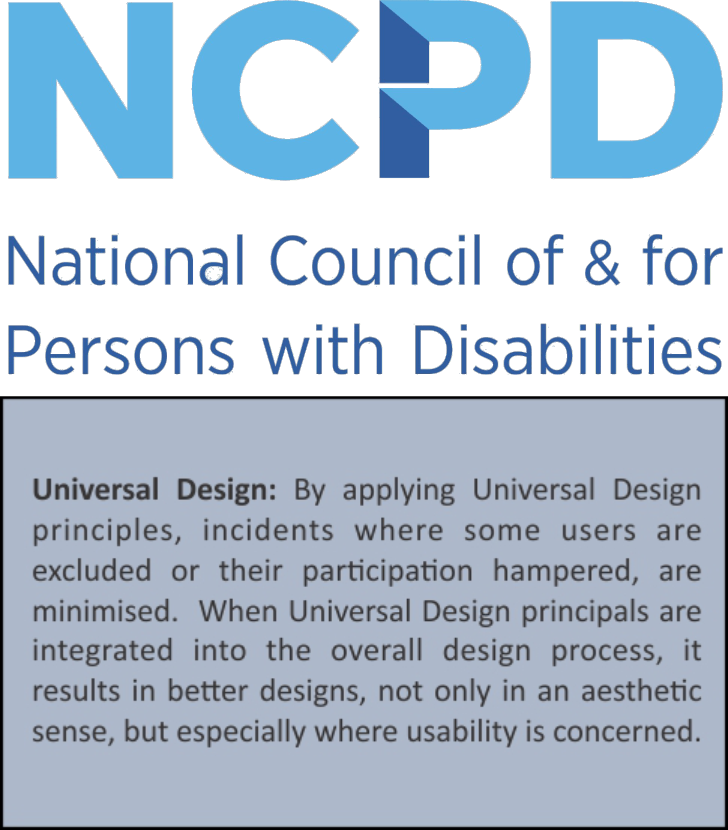 The National Council of and for Persons with Disabilities (NCPD): believe that this can be prevented by applying Universal Design Principals during the design phase and they therefor offer the following services to assist:
Workshops for architects, developers and other building professionals to develop an understanding of universal design and access.
Facilitating access audits for new or existing buildings; echo e-access for the natural and communication environment. Audits are followed by a report indicating shortfalls and recommendations.
Marketing of facilities that are accessible to persons with disabilities
Contact Fanie Swanepoel or Danie Marais for more information on Tel: +27 11 452 2774 or email them on: fanies@ncpd.org.za or danie@ncpd.org.za
Inclusive Design: is a company founded on the fundamentals of the South African Constitution and aims to serve as a driver of social inclusion for positive and effective change in the lives of people with diverse human needs. Our philosophy is guided by individual and shared needs of people and not that of special needs. Universal Design serves as a means in which to create and enhance the functionality of environments, services and products, for the widest range of users, recognizing diversity of the human condition. Inclusive Design as a company, recognises the importance of awareness raising and the dissemination of information on diversity and inclusion as an integral deliverable to achieve Universal Access and improving lives.
What we do:
Inclusive Design serves as a mechanism to audit, review, design, create and advise on adaptations and/or enhancements for the functionality of environments, transport, technology, education, services and operations, and products for all users, to accommodate the full spectrum of human diversity. Inclusive Design specialises in providing practical, sensible advice on issues relating to Universal Access and works on the premise that environments, services and facilities that are accessible to people with disabilities are equitable in the eyes of the law, makes business sense, as well as being easier and more comfortable for all users, irrespective of their functional requirements.
1.    BUSINESS CONCEPT:
Inclusive Design works with clients to find viable, feasible means of incorporating universal design into their environments, services, facilities and products. In a field of consulting where amateurs are rife and claim expertise, Inclusive Design has gone to great lengths to prove their competency on an international level. Headed by a consultant who is the highest certified Universal Access Consultant in South Africa, as verified by IAAP (International Association of Access Professionals) and with a plenary of examples and experience, Inclusive Design delivers, on time with exceptionally detailed results and recommendations. We put effort into making reports and findings legible, easy to understand and implementable to enable clients to positively affect change to becoming universally accessible and inclusive.
Services:
Universal Access Consulting:
Consulting serves to advise clients on the options, requirements and areas where Universal Access can and should be achieved. With experience and knowledge of both South African building regulations for Persons with Disabilities, supporting equality legislation and international access requirements, Inclusive Design makes for the perfect collaborator to achieve Universal Access. Our consulting services serve to impart knowledge with clients on aspects, features and implementation of Universal Access to increase awareness of the requirements of people with disabilities as well as the broader range of beneficiaries including, pregnant women, people with young children, elderly people and people with temporary disabilities or recovering from surgery.
As part of our consulting services we also offer specific research, skills transfer and mentorship related to Universal Access and assist our clients wherever possible to progress towards a viable, feasible and desirable means of implementation to achieve equality. In line with the social model of disability, our emphasis has shifted away from the concept of being 'disability' focused, to that of being focused on 'Universal Access', which acknowledges that the benefit thereof goes beyond the classification of people with disabilities. Universal Access Consulting can take place in numerous fields, including:
built environment (architecture and planning)
systems, services and operations
marketing, communication and information sharing (online, print media and presentations)
transport and all associated and supporting infrastructure and systems
Policy development, reviews and updates
Universal Access Auditing:
Auditing is the examination or inspection of various aspects of the environment, service, facility or product to determine compliance with local and/or international requirements. Audits are conducted through physical inspection and are followed by reports to indicate short-falls, areas of improvement and areas of non-compliance. Universal Access Auditing is largely conducted in the built environment in South Africa, where SANS 10400 Part S (2011): Facilities for Persons with Disabilities is the deem to satisfy requirement, which is supplemented with ISO21542 in areas where more details are required or environments which are more specialised. This process is detailed, and the audit is conducted meticulously and often includes discussions with users of the facility regarding usability, which leads to a custom report with bespoke recommendations for both built infrastructure and operations.
Inclusive Design also offers companies an advantage through a proprietary Universal Access Application™ which enables large areas of the built environment to be audited in a systematic, accurate, thorough and detailed process (for example: a campus). Saving clients time and money as the UA App captures vast amounts of data, with measurements, photo evidence and SANS 10400 Part S (2011) compliance in an easy to read, tabulated format, in a matter of days. This process conventionally takes a vast number of human hours to capture, process and write-up by a highly experience UA Auditor, but with the Universal Access App™ it is simplified, quickened, accurate and unbiased. 
Universal Access Auditing can take place in numerous fields, including:
built environment (architecture and planning)- with the UA App™
systems, services and operation
marketing, communication and information sharing (online, print media and presentations)
transport and all associated and supporting infrastructure and system
policy and implementation plans
Universal Access Awareness:
The Great Father of our Nation, Nelson Mandela said that "Education is the most powerful weapon which you can use to change the world." It is our belief, at Inclusive Design, that by teaching principles of good design, that we can make a significant impact upon our society. It is therefore always a recommended deliverable in our work to transfer skills and educate others on Universal Design and Universal Access. The capacitation of more people with the knowledge and understanding of the value that inclusive design offers to staff, clients and society, is part of our vision and what we strive to achieve. What we term Universal Access Awareness, can be customised to the clients' needs, and can vary from an introductory presentation to an in-depth training session on specific aspects. Universal Access cannot be achieved without at least the basic understanding of the paradigm that leads to equality.
Additional Services:
Disability Awareness Training (also known as Disability Awareness Training or Sensitisation)
Disability Specific Monitoring and Evaluation (Qualified M and E services)
Business Competitiveness:
Universal Access is a broad concept that requires understanding, application, implementation, experience and governance around various sectors, such as the built environment, services, facilities, transport, technology, regulations and more. Inclusive Design has explicit experience in Policy, Guideline and Framework writing and advising, Technical Requirement writing, Implementation Plans, Onsite Auditing, Plan Drawing Auditing, Architectural and Planning Consulting, Auditing and Consulting in the realms of Transport, Marketing and Communication, and Training. Inclusive Design is not focused on a specific area of disability, and therefore offer holistic recommendations in order to accommodate a spectrum of users, irrespective of their abilities. Inclusive Design practice good business principles, deliver on time, communicate directly with clients, and offer superior project deliverables.
If there are any questions or comments, please feel free to contact us at Inclusive Design on Tel: +27 72 027 3623 or Email: colette@inclusivedesign.co.za Cape Town (HQ) ● Pretoria (Administration), or visit our website at: www.inclusivedesign.co.za
These Organizations and Companies listed above which specialize in Universal Design and Access will follow those standards set by "The National Building Regulations and Building Standards Act" to make sure that "Lift Regulations" are met and persons with disabilities are not excluded from any events, services, information, communication, products and venues.
4.11 Lift Regulations

4.11.1 Lifts include passenger lifts and through-floor lifts, where
passenger lifts serve all the storey's of the building that can be accessed by the stairway, and
through-floor lifts may be used to serve a partial storey (see SANS 10400-A) of area greater than 100 m2.
NOTE A through-floor lift can be used in small buildings, as an alternative to a passenger lift.
4.11.2 Passenger lifts shall
have a minimum internal dimension of 1,1 m in width and 1,4 m in depth, clear of surface finishes;
have a doorway with an unobstructed width of not less than 800 mm;
be fitted with horizontal handrails the full length of the lift car sides at a height of between 850 mm and 1 000 mm above the floor level of the lift;
have a mirror on the top half of the rear wall equal to the width of the lift to enable wheelchair users to back out of the lift where the lift has internal dimensions less than 1,5 m in width and 2,0 m in depth;
have a clear circulation space of not less than 1,5 m × 1,5 m at the entrance of the lift on each floor;
have audible and visible warnings in the lift lobby and lift car to indicate the lift car approaching, the arrival of the lift, the lift doors opening, the lift doors closing, the floor requested and at which floor the lift stops;
have control buttons, including emergency control buttons, that are in accordance with 4.14;
have illuminance on the control panel that is not less than 150 lx;
stop level with the landing on each floor that they serve.
NOTE 1: The provision of the number and size of lifts should take into account the number of persons (persons with disabilities and persons without disabilities) using the site, complex or building. In buildings with large building-user numbers and flow, the size and number of lifts should reflect the fact that a wheelchair user needs to be able to turn when entering or exiting the lift.
NOTE 2: Wheelchair users should not have to travel further than non-wheelchair users to find a means of vertical circulation accessible to them, and they should not have to cross roads or endanger their safety to reach such means.
NOTE 3: To aid persons with visual impairments to operate automatic lifts, tactile identification, both raised numbers on buttons, in contrasting light and dark colours, and Braille lettering adjacent to the number, should be provided at the control panel within the lift car and external to it.
Links
To find Companies and Organizations that can assist you, visit our "Services & Service Providers" Search Facility on the following link: http://disabilityinfosa.co.za/search-for-info/services/. If you require any Products listed on this page, visit our "Products" search facility: http://disabilityinfosa.co.za/search-for-info/products-equipment/
Disclaimer
Please note that the FREE services and website that we offer is privately run & funded and is not run or funded by the Government or any Organization. We therefore rely on advertising and donations to continue to supply and improve this Free service. The Companies, Clubs, Schools and Organizations that have their logos on this site, have advertised or made donations to the Website and have therefore assisted us be able to continue to offer this free Service. Please support them as they have supported Us and please contact us if you can advertise with us or would like to make a donation!
N.B: This Website is continually changing and being improved some sections may therefor be incomplete or have links and contact details that are outdated. We are making every effort to keep this to a minimum, so we ask for your patients in this regard and to please Contact Us if you notice that your Companies, Clubs, Schools or Organizations details are incorrect or have changed.
Thank you for visiting our website, we hope that it will be helpful, please feel free to visit our Facebook Page to leave a comment.
References