Introduction
Listening to Music & Watching Television, Movies & Sport &  are all a great Hobbies, especially if you have a Visual Impairment. They offer a great way to escape from your troubles for a couple of hours & can be both entertaining & inspirational. All of these hobbies can be enjoyed at home on Television, where there are numerous TV programs showing:
a variety of different types of Movies
all the latest sports events, including the Paralympics
a Large variety of different music.
news shows, representing all the worldwide affairs, both domestic and international news.
Some of these Movies, Music & Sports are not available or are limited on the regular channels, but are available on Pay T.V Channels such as DSTV or Top T.V, or can be enjoyed through streaming or live streaming, such as:
You Tube, video sharing website, which contains video and audio files on a huge range of topics.
Netflix, which streams movies and TV shows.
Find out more about DSTV & other assistive devices: Click Here
DVD's & CD's
If you can't find the Music or Movies that you looking for in the above, you can:
Hire Movies through Devices like DSTV. The latest movies can also be hired through the DSTV decoder without leaving your living room.
Hire them through on-line Video Stores or Regular Video Rental Shops
Personal DVD & CD collection. These can be bought & collected
2. Video Rentals
If you prefer to hire movies as you want to watch them, or prefer something different from what is available on TV, you can either:
Hire movies from Online video rental shops
Hire movies from a Regular Video Rental Shop
Online video rental shops offers consumers a way of hiring movies without having to leave their home, which is helpful if you have a physical mobility & can't always get out to the stores to select movies that you want to rent. With the advent of the World Wide Web, Internet services, it is possible to go on-line & select the movies you want to rent, these can then be delivered to you, or you can watch them through streaming, alternatively you can visit a Regular Video Rental Shop.
Regular Video Rental Shop is a business that rents home videos such as movies and prerecorded TV shows. Typically, a rental shop conducts business with customers under conditions and terms agreed upon in a rental agreement or contract, which may be implied, explicit, or written. Many video rental stores also sell previously-viewed movies and/or new, unopened movies. The widespread availability of video on demand on Satellite TV, online video rentals that deliver & Streaming services such as Netflix offered consumers a way of watching movies without having to leave their home and have greatly reduced the demand for video rental shops.
3. Personal DVD & CD Collection
Many people enjoy collecting Movies, DVD's, series, CD's, Music Videos and More for their Home Theater collection. Movies & Music are a great way to relax and escape, and having your own collection of your favorite music & movies, means that you can watch or listen anytime without:
Trying to find music video's online.
Waiting for it to be available for hire
having to go to the store
waiting for it to come on TV.
If you are looking for Blue-Ray movies, DVDs & CD's for sale to build your personal library, you can purchase these:
Once you have a collection of movies or music you can set up your Home Entertainment System with a variety of Assistive Devices, such as backing up your music & movies to a Digital media player, so that you will be able to watch movies & listen to music of your choice with relative ease & little to no help, even with a severe disability. This will also help prevent ware-and-tear on your disks.
Visit Digital Media Players
Movies at the Cinemas, Live Sports Events & Live Music Concerts



If you prefer going out to the Movies, Live Sports matches, or Music Concerts are all great forms of entertainment & can still be enjoyed if you have a physical disability. These events normally take place in: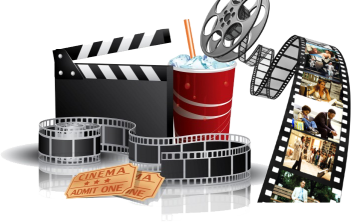 Cinemas or Movie Theatres - are usually in a building, that contains an auditorium.
Sports Stadiums
Halls
Thanks to The National Building Regulations and Building Standards Act these auditoriums, Sports Stadiums & Halls are regulated by law to be wheelchair friendly:
Buildings that incorporate halls or auditoriums for public use are obliged to ensure that a reasonable percentage of space is available for people in wheelchairs or other "assistive devices".
The National Building Regulations also state that where there is parking available for more than 50 motor vehicles, there must  be parking facilities that accommodate disabled persons. There is also an obligation to ensure that persons with disabilities are provided with a suitable means of access from the parking area to the ground floor – or storey – of the building. (Disabled Parking Bays)
Thanks to these & other regulations, these forms of entertainment are possible & a great way to relax, especially if you have a physical disability. Your disability does not prevent or effect your experience. In fact some of these venues make special concessions for people in wheelchairs including:
Parking close by in the Disabled Parking as listed above.
A special Disabled platform, from where you can watch the movie or event. This is often "some of the best seats in the house."
No queuing for tickets or food, etc. Most venues typically sell soft drinks, popcorn & sweets & other food.
Some offer discounted prices for pensioners, disabled pensioners people in wheelchairs.
Some offer a free ticket for your helper, if your disability requires that you need constant care.
When deciding to attend either of these events, it is important to:
Tickets - Book early, as there are often limited tickets available, which go quicker, as they often are priced cheaper.
Parking - Enquire about Disabled Parking prior to the event. Having a disabled ticket or being in a wheelchair, does not mean that you will automatically get Disabled Parking. In many cases at sports events & Music Concerts, you will need to get a disabled parking ticket when you purchase your ticket, to avoid being told that you must be dropped off & your companion must park else ware. This can be very stressful.
Get There Early - Get to the event early to:

Avoid traffic
Get your parking space.
Get a good seat. At many events, including at the cinema, they sell tickets for a platform or space. In this case, you could be the first to buy your ticket, but end up with a bad seat if you arrive late.
Become familiar with surroundings including Disabled Toilets
Get Refreshments. In some cases you might be helped first because you in a wheelchair, but other times not.
Tickets vary in price depending on event. Sometimes:
You can join Movie Clubs for cheaper tickets
Some Organizations offer cheaper or free tickets to its members for sports events, etc.
All of these forms of entertainment make great hobbies for all ages or degrees of physical disabilities.
Assistive Devices
There are a wide range of assistive  devices available which make watching TV & Movies easier for people with Mobility Impairments. With these devices, it  is possible to enjoy this hobby with little to no assistance, no matter what your disability.
These include devices such as:
To view more information about these TV Aids click here
References