Contents: To jump to the topic you would like, click on the links below
Introduction
The International Cricket Council (ICC) is the global governing body of cricket. It was founded as the Imperial Cricket Conference in 1909 by representatives from Australia, England and South Africa. It was renamed as the International Cricket Conference in 1965, and took up its current name in 1989.
The ICC has 104 members: 12 Full Members that play Test matches and 92 Associate Members. The ICC is responsible for the organisation and governance of cricket's major international tournaments, most notably the Cricket World Cup. It also appoints the umpires and referees that officiate at all sanctioned Test matches, One Day International and Twenty20 Internationals. It promulgates the ICC Code of Conduct, which sets professional standards of discipline for international cricket, and also co-ordinates action against corruption and match-fixing through its Anti-Corruption and Security Unit (ACSU).
The ICC does not control bilateral fixtures between member countries (which include all Test matches), it does not govern domestic cricket in member countries, and it does not make the laws of the game, which remain under the control of the Marylebone Cricket Club.
Cricket for the Blind
Cricket for the Blind is the most unique version of the game and the only version that boasts major adaptations of the rules as well as the equipment. Cricket for the blind in South Africa is co-ordinated by Blind Cricket South Africa, which is affiliated to the international governing body the World Blind Cricket Council. The current MCC laws of cricket are adhered to and certain adaptations to make the game accessible to blind and visually impaired persons are used in conjunction with these laws.
Rules
In disability cricket, there are a few rules and regulations that are specific to the different impairment groups. Where possible the game is played in accordance with the MCC Laws of Cricket but there are some differences which are detailed below.
There are some rule differences for the B3 classification in competition that are sport specific. In blind cricket, no more than four players in this class are allowed out of the eleven total players.
The rules of blind cricket are based on the standard laws of cricket with a few modifications. All players are registered blind or partially sighted, and of the eleven players in the team, at least four must be totally blind. Many clubs play friendly matches against sighted teams and give demonstrations of the game during the lunch intervals of Test Cricket Matches.
Teams are composed of players from up to five different sight categories B1, low partial, B2, B3 and B4. B1 is totally blind and the sight categories then move upwards in levels of sight. Each sight category is subject to different rules and compensations in order to make the playing field as level as possible.
There are special rules for this class in several sports. In blind cricket, each team of eleven must have at least four players in this class. Batsmen in this class have a runner for them. A B1 classified cricketer should bat in one of the first three batting positions. There should be at least 2 B1 batters in the first six batsmen, and at least three in the first nine. A bowler in this class may bowl to any batman, but may only face a bowler in the same class.
The pitch is made of concrete and measures the same length and width as used in sighted cricket. The boundaries are measured 40 meters in a circle around the pitch and indicated by a white line with flags set at intervals.
In terms of playing equipment, the major adaptation is the cricket ball, which is significantly larger than a standard cricket ball and filled with ball bearings. The size allows partially sighted players to see the ball and the contents allow blind players to hear it. The wicket (stumps) is also larger, to allow partially sighted players to see and blind players to touch it in order to correctly orient themselves when batting or bowling. Visit our Assistive Devices page, to find out more about Audible Cricket Balls & Other Cricket Equipment.
Verbal signals are widely used both by umpires and players: in particular, the bowler must shout 'Play!' as he releases the ball. The delivery is required to pitch at least twice when bowled to a completely blind batsman (once when bowled to a partially sighted batsman), but must not be rolling. Totally blind batsmen cannot be out stumped, and must be found to be LBW twice before going out. Totally blind fielders are allowed to take a catch on the bounce.
Categories



The cricketers are categorized according to the level of their sight loss.
B1 - no sight up to the ability to see the difference between light and dark.
B2 - from the ability to be able to distinguish the shape of an object held in front of their face, up to, a sight acuity of 2-60. This means that they can see at a range of only two meters, what a fully sighted person can see at 60 meters. Or, they have a field of vision of less than five degrees.
B3 - an acuity of 6-60. They can see at six meters what a fully sighted person can see at 60 meters. Or, a field of vision of less than 20 degrees.
A playing XI must have a minimum of four B1s and a maximum of four B3s. Any category can be replaced by a player of a lower category to make up the XI. There must be a B1, B2 and a B3 player in each cycle of three batsmen where possible.
The ball is made of moulded plastic with steel ball bearings inside to make it rattle. The ball must bounce at least once in each half of the wicket and must be delivered underarm.
A B1 player must have a runner and a B2 player has the option of having a runner if they wish. Each run scored by a B1 player counts as two.
The pitch is of a standard length and the stumps are painted yellow or orange to make them easier to see. Boundaries must be a minimum of 45 metres and a maximum of 55 metres.
League participation
Blind Cricket only have a senior structure which also caters for school-going children. Due to a limited number of club teams within an Affiliate or Associate, the clubs programme is coordinated amongst neighbouring Affiliate and/or Associates.
South Africa - Disability Cricket

Cricket South Africa (CSA) has three Disability entities affiliated to the organisation, namely Blind Cricket South Africa (BCSA); South African Deaf Cricket Association (SADCA) and South African Sports Association for the Intellectually Impaired (SASA-II)."
"Cricket really is the everybody-est sport! So, find out how you can get involved today and become part of the team. Contact Johan Weyers by Email: johanw@cricket.co.za or on Tel: 012 484 1835"
Vision
Cricket South Africa's vision is to make cricket a truly national sport of winners.
This has two elements to it:
To ensure that cricket is supported by the majority of South Africans, and available to all who want to play it.
To pursue excellence at all levels of the game.
Mission
As the governing body of cricket in South Africa, Cricket South Africa will be led by:
Promoting and protecting the game and its unique spirit in the context of a democratic South Africa.
Basing our activities on fairness, which includes inclusivity and non-discrimination.
Accepting South Africa's diversity as a strength.
Providing excellent service to Affiliates, Associates and Stakeholders.
Optimising commercials rights and properties on behalf of its Affiliates and Associates.
Implementing good governance based on King 2, and matching diligence, honesty and transparency to all our activities.
Cricket for persons with Visual Impairments is available at club level in South Africa. One of these clubs that offers this sport, is the Differently Abled Cricket Club. The Differently Abled Cricket Club are on a mission to uplift persons with disabilities in South Africa.
The Differently Abled Cricket Club
The Differently Abled Cricket Club is an open cricket club for the differently abled cricket players, which includes the Blind, Deaf, Intellectually Impaired (SID and MID) and Physically Disabled. We are the only club of this kind in South Africa and we would like to make it our goal in getting other regions to follow suit!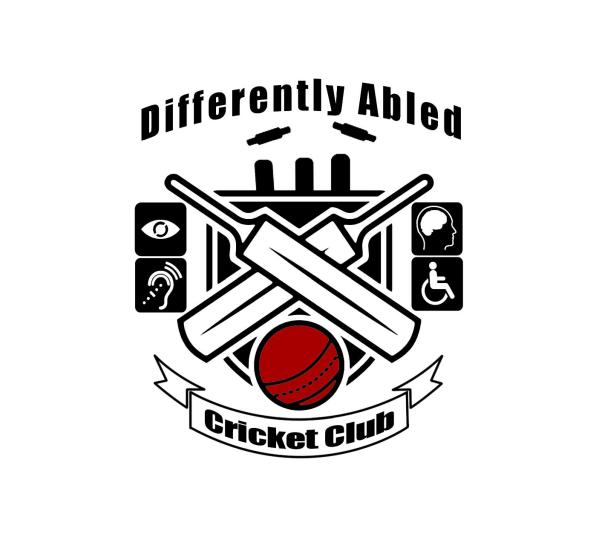 In 2017 the Differently Abled Cricket Club (DACC) adopted the principle of not being ashamed of who we are and hence the name Differently Abled Cricket Club, the club felt it's time we have our own identity and independence and focus on the awareness of LSEN (Learners with Special Educational Needs) which includes the Blind, Deaf, Intellectually Impaired and Physically Disabled."
The home of Differently Abled Cricket Club is located at FH Odendaal High School, we have embarked on a new journey and with the relationship we have built with the school they have given us permission to make the school our new home. We are in the process of building a clubhouse at the school and we also want to build a cricket academy specifically for differently abled players. Currently we are in the process of getting junior teams going as this is the feeding system for the club going forward.
With our new constitution we not only want to develop the cricket skills of players but also want to create a skills development program for our cricketers in order to attain the required skills for the workplace.
Please Support this Club!
Contact Details
For more information please contact Christo Pelzer on his Mobile: +27 82 998 4568 or Email: admin@dacc.co.za
Address: 200 Baviaanspoort Road, Derdepoort, Pretoria, 0186 or visit their web site at: www.dacc.co.za
Disclaimer
If you would like to find out more about these & other Sports, Sports Organizations or Sports Clubs that are available for you, you can visit our Sports Search Facility: http://disabilityinfosa.co.za/search-for-info/sports-clubs-organizations/
Please note that the FREE services and website that we offer is privately run & funded and is not run or funded by the Government or any Organization. We therefore rely on advertising and donations to continue to supply and improve this Free service. The Companies, Clubs, Schools and Organizations that have their logos on this site, have advertised or made donations to the Website and have therefore assisted us be able to continue to offer this free Service. Please support them as they have supported Us and please contact us if you can advertise with us or would like to make a donation!
N.B: This Website is continually changing and being improved some sections may therefor be incomplete or have links and contact details that are outdated. We are making every effort to keep this to a minimum, so we ask for your patients in this regard and to please Contact Us if you notice that your Companies, Clubs, Schools or Organizations details are incorrect or have changed.
Thank you for visiting our website, we hope that it will be helpful, please feel free to visit our Facebook Page to leave a comment.
References