Contents: To jump to the topic you would like, click on the links below

Introduction
Scuba Diving is a very popular recreational activity for both able bodied persons and persons with disabilities across the world, not to mention in our beautiful waters and climate of South Africa. Scuba Diving provides a wide variety of benefits for persons with impairments and is enjoyed by persons with disabilities/impairments, including persons who are Blind or have a visual Impairment. Having a Visual Impairment does not affect your ability to Scuba Dive but they may need to be given extra guidance. Thanks to organisations in South Africa such as Handicapped Scuba Crew, who are willing and able to make these adaptions to accommodate everyone, Scuba Diving can be enjoyed by more people in South Africa and around the world. The Handicapped Scuba Association promotes Scuba Diving in other countries around the world, each year they plan Scuba Diving trips to exotic locations led by specially trained Scuba Divers and, ensuring that you have a safe and comfortable Scuba Diving experience. Please read the page below to find out more about these two organisations and how Scuba Diving can benefit you.
The Handicapped Scuba Association (HSA)
The HSA was founded in 1981 by Jim Gatacre and is now the world's leading authority on recreational Scuba Diving for persons with disabilities. The HSA had its' genesis in 1975 at the University of California-Irvine (UCI) as a research pilot program. The program looked at self-image changes for Scuba Diving students 'with disabilities' as they are learning together with students 'without disabilities'. "The results were amazing! Everyone, with and without disabilities, grew in ways we could not measure and went on to more full and exciting lives." Gatacre, who had sustained an injury in 1972 that left his right arm with an impairment, was the prime motivation for the program. Learning to Scuba dive had such a powerful rehabilitative effect on Gatacre, that he wanted to share it with others. In 1981 he realized his dream and founded the Handicapped Scuba Association.
The Handicapped Scuba Association has it's headquarters in California, but extends its underwater educational programs worldwide, it has dedicated itself to improving the physical and social well-being of persons with disabilities through the sport of scuba diving." Through Scuba Diving the Handicapped Scuba Association is able to:
Improve the health and fitness of persons with disabilities by challenging their physical abilities and endurance;
Improve the quality of life of persons with disabilities by providing opportunities to actively participate in a mainstream sport;
"Level the playing field" between persons with disabilities and their able bodied peers by facilitating access to a sport that they, and others, thought was not possible;
Motivate persons with disabilities into pursuing other life challenges such as education, employment, travel, sports and by allowing them to achieve at a sport that many people cannot;
Profile the abilities and potential of persons with disabilities to mainstream society.
The Handicapped Scuba Association is made up of over 4000 underwater educators, Scuba Divers with disabilities and supporting members which are located in over 45 countries. They are dedicated to assuring that persons with disabilities are given the same opportunity to receive quality training, certification and dive adventures as the able bodied population.
The HSA operates as an independent diver training and certifying agency. "Our training materials have been translated into 10 languages, and the HSA has brought the first recreational activity of any kind for persons with disabilities to countries such as the Ukraine."
In South Africa organisations such as the Handicapped Scuba Crew promote and offer Scuba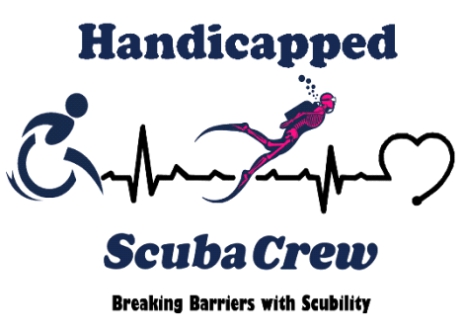 Diving for persons with disabilities, as both an activity and a form of therapy, thus improving the lives of many persons with disabilities throughout South Africa and promoting Scuba Diving for persons with disabilities. This includes persons who are Blind and those with Visual Impairments.
Handicapped Scuba Crew
Handicapped Scuba Crew is a Nonprofit Organization (Registration No: NPO 240/281) which is based in Pretoria and has a mission to break down barriers with "Scubility" – "We Use SCUBA as a tool for rehabilitation back into normal society and to make sure that persons with disabilities are given the same opportunities to receive excellent quality training, certification and dive adventures, as able-bodied divers do. We enhance the lives of all persons with disabilities and their families through the sport of SCUBA Diving. - We raise funds for all of these activities."
In 2019 the Handicapped Scuba Crew completed more than 400 Sea Dives (Venues include: Sodwana Bay; Aliwal Shoal; Ponta do Ouro Mozambique and the Red Sea); more than 1000 Pool Sessions and more than 40 x courses up to and including:
Discover Scuba
Open Water
Advanced specialties such as deep/nitrox/night/rescue/emergency first aid /and dive master.
Handicapped Scuba Crew have worked with persons with various disabilities/conditions, including persons who are Blind and those with Visual Impairments. Other types of impairments/conditions affecting persons who have dived with us include:
Persons who have had a Stroke and Persons with Cancer
Persons with Autism
Persons who are Deaf and have Hearing Impairments
Persons who have Down Syndrome; PTSD and TBI.
Persons with mobility impairments, including persons with Spinal Cord Injuries; Cerebral Palsy; Multiple Sclerosis; Amputees; Spina Bifida; Hemiplegics; Muscular Dystrophy.
Adaptive techniques enable our organization to live our ethos of everyone is equal, giving people as above an equal opportunity to experience all parts of the dives, including sitting on the pontoon if viable! The benefits of Scuba Diving are vast and include both mental and physical benefits:
Mental advantages include increase serotonin, increased activation of different parts of the brain, improvements / miracles that should not happen. e.g. feeling goosebumps below injury on complete paralysis paraplegic.
New medical studies confirm the therapeutic benefits of Scuba Diving and the Handicapped Scuba Crew have been recognised for the work that they are doing and the benefits of Scuba Diving for persons with disabilities, including the Blind. Dr Wilson has used the Handicapped Scuba Crew rehabilitation methods in her International Presentations and Netcare has recognised HSC as a valuable contributor to their patients and staff, especially around the Sports Days held in November / December each year.
Lives We Have Changed
Handicapped Scuba Crew have changed various peoples lives over the years through the Scuba Diving activities that they offer and have benefited them by building confidence and independence - "Through scuba therapy, HSC innovative and exciting methods also help temporarily decrease pain and helped me with my disabilities by increasing my self-esteem. My pain associated with Spinal Cord injury in a motor vehicle accident in  2013 left me as paraplegic and this pain improved and nearly vanished while under water and for a brief amount of time after the dive." - Sue Jordaan. (Pictured Right)

Ursula: - Photographer, Diver, Hemiplegic Stroke Survivor - "SCUBA diving was the most fearful thing I have ever done, but it taught me that I can overcome any obstacle put in my way! 3 sea dives later I am hooked and cant wait to go back".
Jillian Joan van der Merwe:- I qualified as an Open Water Handicapped Scuba Diver on 22 October 2017 in Mozambique. It is difficult to describe in plain words what I experience 18 meters under water. I am a complete quadriplegic. I am 59 years old. Recently in September 2017 I went diving in Umkomaas on the south coast of KwaZulu-Natal. On our last dive we saw some whales and all kind of other fishes around us. My buddy gave me some signals when we approached those fishes. Diving has a wonderful calming effect on me. I am looking forward to future dives. I recommend scuba diving to all that loves the outdoor sports.
Contact Details
If you are interested in Scuba Diving, or would like to find out more about the Handicapped Scuba Crew or various events planned, please feel free to contact:
Dean on: 083 6789 849 or via email: dean@scubacrew.co.za;
Richard on: 082 579 3732 or via email: info@scubacrew.co.za or
Sue on: 064 545 1671 or via email: sue@scubacrew.co.za.
You can also visit the Handicapped Scuba Crew: Facebook Page or visit Handicapped Scuba Crew YouTube Channel (coming soon).
Dive Sites
There are a variety of accessible dive sites in and around South Africa, such as The Miracle Waters scuba diving site , which has become much more wheelchair accessible, thanks to wheelchair accessible paths, a wheelchair accessible toilet, sink & shower. The site is used by Handicapped Scuba Association and visually impaired diver Francois Neeting diving, with sighted diver Braam Le Roux assisting South Africans with disabilities in participating in scuba diving, through training them, partnering them with dive buddies and providing opportunities to do open water diving.
Guinjata Dive Centre in Mozambique is another site that is accessible and is the only dive centre in Mozambique offering this service and having a tradition in it.
Disclaimer
Please feel free to Contact Us if you have any questions about the Clubs, Organizations, Products and Services listed on this page and we will point you in the right direction.
Please note that the FREE services and website that we offer is privately run & funded and is not run or funded by the Government or any Organization. We therefore rely on advertising and donations to continue to supply and improve this Free service. The Companies, Clubs, Schools and Organizations that have their logos on this site, have advertised or made donations to the Website and have therefore assisted us be able to continue to offer this free Service. Please support them as they have supported Us and please contact us if you can advertise with us or would like to make a donation!
References