Audio Books & Players
To view the suppliers of products that are available in your area, click the button to the right.
To view the service providers available in your area, click the button to the left.

Contents: To jump to the topic you would like, click on the links below
Introduction
Audio Books are Assistive Devices that enable a Blind or badly Visually Impaired person to be able to enjoy books. They are also useful for the mobility impaired, elderly and people with various other disabilities. An audiobook (or talking book) is a recording of a text being read.
Spoken audio is available in schools and public libraries and to a lesser extent in music shops. Many spoken word albums were made prior to the age of videocassettes, DVDs, compact discs, and downloadable audio, however these were often of poetry and plays rather than books.
Audiobooks are distributed on any audio format available, but primarily these are CDs, records, cassette tapes, or in downloadable digital formats, such as MP3 (.mp3), Windows Media Audio (.wma), Advanced Audio Coding (.aac), and solid state preloaded digital devices in which the audio content is preloaded and sold together with a hardware device.
Employers, Teachers and Lecturers should make Reading Aids available to persons with Visual Impairments, so that they will not be disadvantaged in School or at their job. Below is some information on Reading aids that are available in South Africa as well as the companies that supply them. To view more information about these Assistive Devices and others, read the article below
Use & Listening Practices
Audiobooks are also considered a valuable learning tool because of their format. Unlike traditional books or a video program, one can learn from an audiobook while doing other tasks. Such tasks include doing the laundry and exercising indoors, among others. The most popular general use of audiobooks by adults is when driving an automobile or traveling with public transport, as an alternative to radio. Many people listen as well just to relax or as they drift off into sleep.
A recent survey released by the Audio Publishers Association found that the overwhelming majority of audiobook users listen in the car, and more than two-thirds of audiobook buyers described audiobooks as relaxing and a good way to multitask. Another stated reason for choosing audiobooks over other formats is that an audio performance makes some books more interesting.
Common practices include:
Replaying: Depending upon one's degree of attention and interest, it is often necessary to listen to segments of an audio book more than once to allow the material to be understood and retained satisfactorily. Replaying may be done immediately or after extended periods of time.
Learning: People may listen to an audio book (usually an unabridged one) while following along in an actual book. This helps them to learn words that they may not learn correctly if they were only to read the book. This can also be a very effective way to learn a new language.
Multitasking: Many audiobook listeners choose the format because it allows multitasking during otherwise mundane or routine tasks such as exercising, crafting, or cooking.
Entertainment: Audiobooks have become a popular form of travel entertainment for families or commuters.
Where Can I Get Audio Books?
About 40 percent of all audiobook consumption occurs through public libraries, with the remainder served primarily through retail book stores. Library download programs are currently experiencing rapid growth (more than 5,000 public libraries offer free downloadable audio books). Libraries are also popular places to check out audio books in the CD format.
There are also a wide variety of Charitable and nonprofit organizations that make audio books available online, so that they can be downloaded. Some of these organizations also lend out these audio books and will post them to you.
With the rise of the Internet, broadband technologies, & new compressed audio formats, it is now easier than ever to obtain audio books by downloading them from anywhere in the world.
Well known Charitable and nonprofit organizations include:
Learning Alley was founded in 1948 & serves more than 300,000 K-12, college and graduate students, veterans and lifelong learners – all of whom cannot read standard print due to blindness, visual impairment, dyslexia, or other learning disabilities. Learning Ally's collection of more than 80,000 human-narrated textbooks and literature titles can be downloaded on mainstream smartphones and tablets, and is the largest of its kind in the world.
Bookshare was Founded in 2002 & is an online library of computer-read audiobooks in accessible formats for people with print disabilities.
Libri Vox was founded in 2005 & is also an online library of downloadable audiobooks and a free non for profit organisation developed by Hugh McGuire. It has audiobooks in several languages. Most of their languages are typically Western European languages.
Calibre Audio Library is a UK charity providing a subscription-free service of unabridged audiobooks for people with sight problems, dyslexia or other disabilities, who cannot read print. They have a library of over 8,550 fiction and non-fiction titles which can be borrowed by post on MP3 CDs and memory sticks or via streaming.
Listening Books is an audiobook charity in the UK providing an internet streaming and postal service to anyone who has a disability or illness which makes it difficult to hold a book, turn its pages, or read in the usual way. They have audiobooks for both leisure and learning and a library of over 4,000 titles which are recorded in their own digital studios or commercially sourced.
Audio Book Players
Listening to Music & enjoying Television, Movies & Sport are all Hobbies that can still be enjoyed alone or in a group by persons who are Blind or have Visual Impairments. These activities offer a great way to escape from your troubles for a couple of hours & can be both entertaining & inspirational. Thanks to a number of Assistive Devices supplied by Companies such as Edit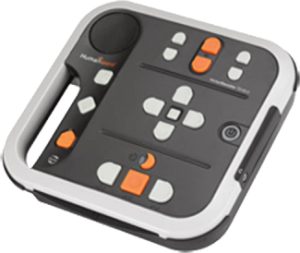 Microsystems these activities can be made easier to enjoy. Below are a number of these Music Aids that are available:
Victor Reader Stratus4 Daisy MP3 player: This Victor reader is a MP3 Player, which is ideal for playing both music and audio books. It is easy to use and has a user friendly simple interface with 4 navigation keys enabling direction to desired chapters, pages, sections, paragraphs or tracks. The DAISY, MP3 audio books and music CD's can be to be played through the reader stratus 4, it also bookmarks important locations in each type of book, music file or text document. The built-text to speech (TTS) feature allows the user to make a copy of text documents and then replay it through the built-in speaker or headphone output. It also comes with optional features which makes easy accessibility to most important buttons with the optional keyboard cover. Those who prefer an even simpler operation, use the optional keyboard cover that makes only the most important buttons accessible, and thus simulates a conventional cassette recorder. You can contact Edit Microsytems to find out more about this product and the other features it has or to receive a quote.
Victor Reader Stream CD Accessory: This Victor Reader Stream CD Accessory is a device that plays CD's onto a portable audio playback device. It is an easy way to transfer a collection of CD's onto a single portable audio device without using a PC.
The device is ideal for users who do not use a PC. The device is a perfect solution to transition from using VR Wave to VR Stream.
The CDCD player accessory especially designed to be used with the VR Stream. This product includes a power adapter and a D-Shaped USB cable. You can contact Edit Microsytems to find out more about this product or to receive a quote.
There are also various other types of these products which are available from companies such as Edit Microsystems, contact them to see what other types of these products they can supply.
Disclaimer
Please note that the FREE services and website that we offer is privately run & funded and is not run or funded by the Government or any Organization. We therefore rely on advertising and donations to continue to supply and improve this Free service. The Companies, Clubs, Schools and Organizations that have their logos on this site, have advertised or made donations to the Website and have therefore assisted us be able to continue to offer this free Service. Please support them as they have supported Us and please contact us if you can advertise with us or would like to make a donation!
N.B: This Website is continually changing and being improved some sections may therefor be incomplete or have links and contact details that are outdated. We are making every effort to keep this to a minimum, so we ask for your patients in this regard and to please Contact Us if you notice that your Companies, Clubs, Schools or Organizations details are incorrect or have changed.
Thank you for visiting our website, we hope that it will be helpful, please feel free to visit our Facebook Page to leave a comment.
References