Contents: To jump to the topic you would like, click on the links below

Introduction
Literacy is a key to personal independence and the access to information for Persons who are Blind, Reading and Writing can only be attained through Braille, making it key to literacy. Thanks to the availability of a variety of Printing Aids, Braille literature and printed materials are more readily available through Schools, Universities, Libraries, Organizations and Companies. Writing Aids, and various techniques have also been developed to assist persons who have Visual Impairments, so that they are able to Write or Sign. These Writing Aids can include simple assistive devices such as writing or signature guides, Slate and Stylus, paper with raised or bold lines or Special Pens. The use of slant boards, and different types of magnification may also be helpful for those who are writing print, while environmental adaptations include increasing contrast and lighting. Equipment such as Tape Recorders can be used to capture meetings, lectures or assist in composition of papers, while voice synthesizers can read each page back to the user. Computers, Computer Aids and Computer Software have also been developed to assist persons who are Blind or who have Visual Impairments while Employers, Teachers and Lecturers should make this type of equipment available to persons with Visual Impairments, so that they will not be disadvantaged in School or at their job. These and other Writing & Printing Aids are readily available in South Africa from organizations and companies such as Blind SA, The South African Council for the Blind (SANCB), Sensory Solutions and Edit Microsystems. Please read the information below to find out more about these different types of Writing & Printing Aids, as well as some of the companies that supply them.
The South African Council for the Blind (SANCB): is a registered non-profit and public benefit organisation established in 1929 with four mission focus areas which include Prevention; Inclusion; Advocacy & Support. As a South African national representative body for the blind, it offers supportive, rights driven function to its nearly 80 member-organisations. The presence of its community work is felt throughout its nine provincial structures in South Africa. The SANCB also lays emphasis on the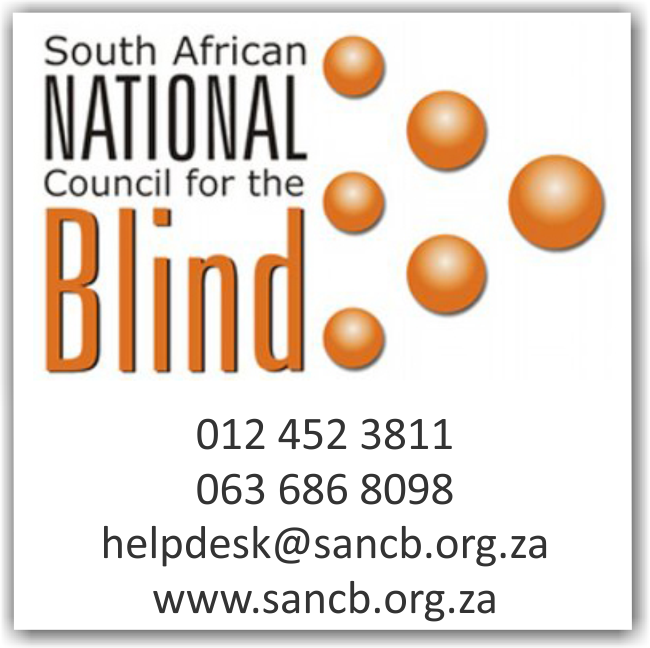 prevention of blindness and in 1944 the Bureau for the Prevention of Blindness was established. Since then, SANCB has grown exponentially, adding Education and Rehabilitation to its portfolio in 1985; the Resource Centre for Assistive Devices and Technology which is now known as the Assistive Technology Centre in 1986 and Entrepreneurial Development and support in 1991.
 "Our Mission serves and supports community empowerment; rehabilitation; training and education of South Africans with visual impairments, we also facilitate the prevention of blindness, while our Vision is enhanced facilitation and collaborations with a network of Organizations for the full participation and inclusion of blind and partially sighted people in all aspects of a diverse South African society. The South African Council for the Blind (SANCB) has a wide variety of objectives, one of which is to supply assistive devices and related technologies to persons with visual impairments.
Contact the South African Council for the Blind (SANCB) to find out more on +27 12 452 3811 or
+27 63 686 8098. Alternatively you can email them on: helpdesk@sancb.org.za or visit their website: www.sancb.org.za. You can also visit them at their offices at 514 White Street, Bailey's Muckleneuk, Pretoria, South Africa, 0181.
Edit Microsystems: Edit Microsystems (Pty) Ltd is an award-winning company that is devoted to finding alternative and state-of-the-art technical solutions to improve curriculum delivery in educational institutions and effective communication in

business with a focus on high-speed functional connectivity and on-going support. They have a proud tradition of innovation and are on the cutting edge of technological advances in education. Many of their products are designed to enhance interactivity in a classroom or lecture theatre. Edit Microsystems are also a leader in finding and providing specially adapted hardware and software for Learners with Special Educational Needs throughout South Africa.
Edit Microsystems can be contacted on: 086 111 3973 and have their Head Office in Cape Town at: 13 Boy De Goede Circle, Table View, 7441. They also have an online shop and branches in KwaZulu-Natal, Mpumalanga, Gauteng.
To contact these other branches or find out more about Edit Microsystems and the products they supply, visit their web site at: www.editmicro.co.za or email them at: info@editmicro.co.za.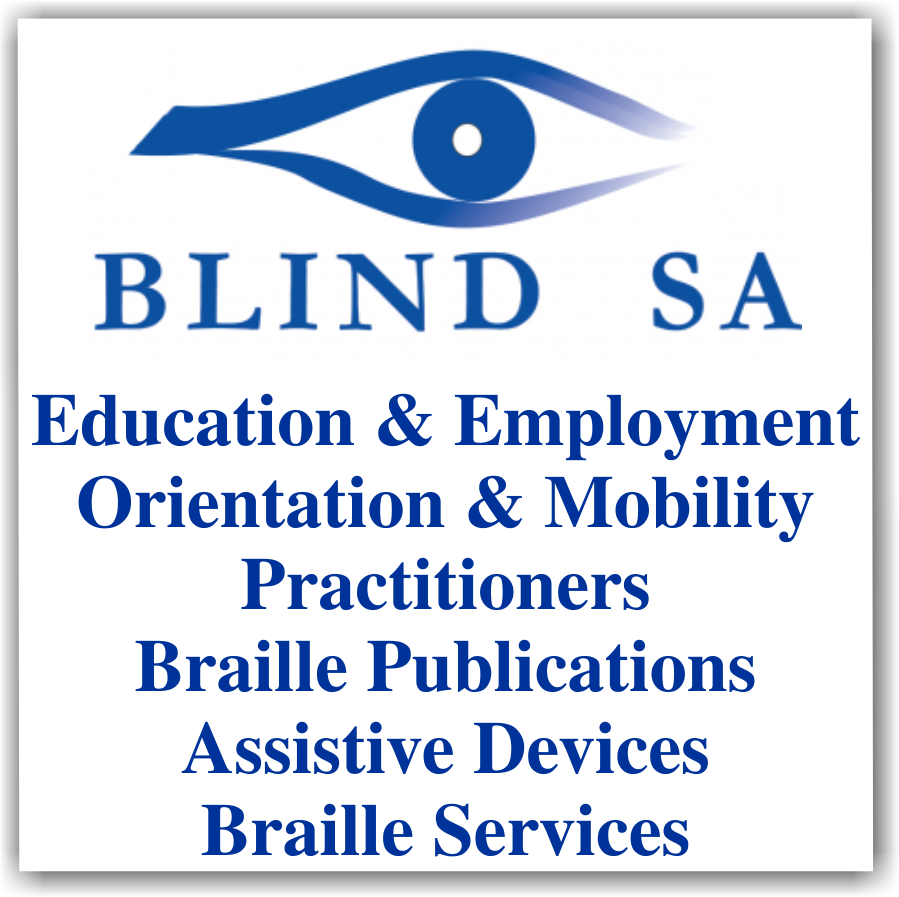 Blind SA: originally started on 26 October 1946 as the South African Blind Worker's Organisation to help the blind find meaningful careers. In 2004 it became Blind SA. Blind SA is governed by its members who elect the Head Committee. We insist on self-representation and work and speak from the viewpoint of blind people. We stand for equality, advocating the rights of the blind throughout South Africa. Based in Johannesburg, we serve the blind community at large, we equip blind people with the skills they need to fully and independently participate in society. This includes support in living without assistance, getting about, using technology, reading, working and socialising. All this is made possible through advocacy, our Education Committee, Braille Services, Equipment, Mali-Bhala, Orientation & Mobility Practitioners and our employment programme. It is through this, and the support of our donors, that we connect South African's who are blind or visually impaired with the world they live in. "Our Purpose is to end the cycle of poverty for Blind South Africans, empowering them with knowledge and information through education, braille and developmental services and to break down barriers, provide opportunities and create answers that improve the quality of life for the blind community so that they can live the life they choose."
You can Contact Blind SA on: Tel: +27 11 839 1793/4 or Email: ceo@blindsa.org.za, or visit us at: Address: 102 Eighth Avenue, Mayfair, Gauteng, South Africa. Website: www.blindsa.org.za
Signature Guides
Signature Guides are ideal for persons who have trouble seeing where to sign important documents, like a cheque, receipts, or even your tax return. It is a simple tool that helps you to sign on the dotted line every time. Signature guides are typically made of cardboard or plastic and work by using a cutout space or raised lines to help you sign in place. These Guides are inexpensive and come in several sizes, so you can keep them in the places where you are most likely to use them, such as your home, office or wallet. When you're ready to sign, you can ask someone to put the window of the guide over the signature line; hold the guide in place; and sign in the area outlined by the window. Signature Guides are available to purchase in South Africa from organizations such as the South African National Council for the Blind and Blind SA who recently launched Mali-Bhala – a money counter and signature guide – in association with the Disability Rights Awareness Month.
Mali-Bhala: This locally created device comes in two standard sizes that are designed to fit either in a person's wallet or pocket. It is used as an indicator to differentiate between the five South African 'Mandela' bank notes and as a signature guide. It gives thousands of blind and partially sighted individuals the independence of signing documents and counting money. The cost for a single Mali-Bhala is R20 or R35 for a double pack that includes both the pocket and wallet size devices. Blind SA strives to make assistive devices like this one more accessible and affordable to the blind community. For more information or enquiries on this device, please contact Blind SA through their website or Tel: 011 839 1793.
Slate And Stylus



The Slate and Stylus are tools used by persons who are Blind to write text that they can read without assistance, it allows for a quick, easy, convenient and constant method of making embossed printing for Braille character encoding. The basic design of the slate consists of two pieces of metal, plastic or wood fastened together with a hinge at one side. The back part of the Slate is solid with slight depressions spaced in braille cells of six dots each. The depressions are approximately 0.75 mm (0.030 in) deep and about 1.5 mm (0.059 in) in diameter. The horizontal and vertical spacing between dots within a cell is approximately 2.5 mm (0.098 in), while the distance between adjacent cells is about 4 mm (0.16 in).
The front of the Slate consists of rectangular windows that fit over the braille cells in the back. The inner rim of each window is provided with six indentations, which assist the user to position the stylus properly and press to form a dot. There are pins or posts in the back of the Slate positioned in non-cell areas to hold the paper in place and keep the top properly positioned over the back. The pins align with matching depressions on the opposite side of the slate. A slate as designed for a normal 8.5 inch piece of paper has 28 cells in each row. The rows can be any number, usually at least four. The Stylus is a short blunted awl with a handle to fit comfortably the hand of the user.
Writing is accomplished by placing a piece of heavy paper in the slate, aligning it correctly and closing the slate. The pins in the back of the slate puncture or pinch the paper securely between the two halves of the slate. The person writing begins in the upper right, each combination of dots in the cell has to be completed backward. The awl is positioned and pressed to form a depression in the paper. The writer moves to one of the other dots in the cell or to the next cell as appropriate. The Slate is repositioned as needed to continue writing on the paper. When completed the writer removes the slate and turns the paper over to read the braille by feeling the dots that were pushed up from the back.
Slate and Stylus is a reasonably low cost and convenient means of writing braille and is available from Organizations such as the South African National Council for the blind who sell them. You can contact them to receive a quote or find out more about this product.
Magnifiers
Magnifiers are not only handy Reading Aids for Persons With Visual Impairments, but can also be useful for writing. Persons with a low or moderate Visual Impairment can read and wright with magnification aids, which might range from a simple Handheld Magnifying Glass, to Hands Free Magnifiers, Electronic Magnifiers and Portable Video Magnifiers. There are a variety of different types of Magnifiers that can be used as Reading and Writing Aids these assistive devices are available in South Africa from Companies and Organizations such as The South African National Council for the Blind and Edit Microsystems who stock a variety of them, including:
The A4 Sheet Magnifier: This magnifier has a 2x magnification and is ideal for magnifying books, magazines, paperwork, craft work and needle work. The magnifier comes with 2 stands and can be used as a hands free device. The stands are adjustable in height and allow viewing from a flat and angled perspective. The stands can be removed  and the magnifier can be folded for easy storage. Dimensions: 280 mm (W) x 210mm (L) x 14 mm (D). You can contact Edit Microsytems to find out more or receive a quote.
Butterfly Digital Magnifier: The Butterfly Digital Magnifier (pictured right) is a 3.5 inch handheld electronic magnifier which is designed for the people with low vision who are on the go. Because of its light weight and compact size, Butterfly can be hung around the neck or kept in the pocket, handbag or even purse. The Butterfly is ideal for spot reading, such as from a price label, menu and or signs around you. 3.5 inch screen; Zoom in/out 1.5X to 15X magnification; Change colour mode (5 modes); Freeze frame/ Capture image. You can contact Edit Microsytems to find out more or receive a quote.
Helix HD Magnifier: This Helix HD Magnifier (pictured right) is ideal if you are struggling to read text & need something more powerful than an optical magnifier, it is also however ideal for writing letters, cards, crosswords, sudoku, reading post, bank statements, cooking instructions, etc. With magnification of up to 150x, enhanced reading colours, lines, blinds & unique signature box, everyday tasks that were difficult are now possible again; such as reading.
Helix HD is light enough to easily move around the home or office & connects to any television or computer monitor via an HDMI / DVI connection. With Helix HD integrated output selector, you can connect your PC, laptop, Mac or set-top box etc. to the same screen as the Helix HD & instantly switch between them using the dedicated button on Helix HD control pad. Would like a portable solution that you can use around the house and at work.; Have dyslexia and find that changing the colours of text make documents easier to read. It has a simple tactile control pad which makes is easy to operate. You can contact Edit Microsytems to find out more or to receive a quote.
To view more information on Magnifiers and the products that are available to assist you to read visit our Reading Aids page: Reading Aids for persons with visual impairments.
Braille Notetakers
Braille Notetakers are personal digital assistants for individuals who are Blind or Visually Impaired. Input is through a Perkins-style Braille keyboard or a standard QWERTY keyboard. Output is through an adjustable speech synthesizer and some models include refreshable braille displays which can also provide refreshable braille when connected to a computer running popular screen reading programs. There are a variety of different types of these products sold in South Africa including those listed below which are sold by Edit Microsystems. They include the:
BrailleNote Apex BT 32 Braille Notetaker: This Braille Notetaker is an advanced device for braille users. It allows for efficient braille computing in a digital world through internet connectivity and ample storage capacity. The Braillenote interface features a refreshable 32-pin braille display, full-size Perkin-style braille keyboard with thumb keys and a scroll wheel for increased comfort during long periods of reading and writing. The Word Processor enables you to Create and edit text in different formats including Microsoft Word, it also translate between different grades of Braille, then print, emboss or attach to an e-mail. The Book Reader downloads eBooks and various text types and can be read in your preferred grade of Braille or speech. You can also listen to audio books and utilise DAISY navigation options. Web Browser and E-Mail: Use WiFi to connect to the internet, send and receive emails and stay connected using your preferred service provider. You can contact Edit Microsytems to find out more or receive a quote.
BrailleMe: "The convenient yet affordable braille display"BrailleMe is a sleek, portable and lightweight smart braille display. It is a competent device specially designed for visually impaired students and professionals. The Touch of Genius Prize for Innovationwas awarded toBrailleMe refreshable braille display, which will offer an affordable option for getting braille into the hands of as many blind people as possible. The committee was impressed with how their unique engineering design produces quality braille at a very low cost. The BrailleMe uses a magnetic actuation with only one moving part to raise and lower braille dots. This simplifies the manufacturing process and eliminates many possible sources of failure compared to other existing braille display technologies. BrailleMe is a compact smart braille display with the following capabilities:
• 20 braille cells representing any six-dot braille code, in any language.
• Capable of reading the contents of files from an SD card under Stand-Alone mode.
• Connectivity to PCs and mobile devices via Bluetooth and USB
• A basic note-taking feature with internal braille translation
The BrailleMe operates in 2 ways –Standalone reader mode and remote mode:
Standalone reader mode: In this mode, BrailleMe displays the content of files stored on the inserted SD card. Braille Me allows you to browse files, read, edit, rename and delete them. BrailleMe has a built-in braille translator to support grade 1 and grade 2 translation and multi-language braille.
Remote mode: You can connect the device to a computer/ smartphone/ tablet using either Bluetooth or USB. Once connected, you can navigate, read and edit the content present on the connected device through BrailleMe seamlessly. You can also read books on your smartphone from Kindle, iBooks, Bookshare, etc. For more information, please contact Ofentse Manyane at Blind SA on 011839 1793 or ofentse@blindsa.org.za
BrailleNote Touch: The BrailleNote Touch is the world's first all-in-one braille tablet, it combines the simplicity and accessibility of a note taker with the power and efficiency of a modern smartphone or tablet. The BrailleNote Touch interface is easy to learn for both students and teachers, combining the benefits of KeySoft and braille literacy of a traditional note taker with the efficiency and power of a modern tablet. It has a powerful combination of accessibility and efficiency, The KeySoft user experience with the power of an Android operating system, Linear, user-friendly menu and interface, Supports perfect braille translation in contracted or uncontracted braille, including UEB and multiple languages, First certified Braille Tablet providing Play Store access, Supports Google Play store for accessible third party apps. Teachers want an easy and interactive approach to help their students learn braille, while students need the most efficient tool to accomplish their everyday tasks, from writing documents and sending emails, to downloading and reading books. The BrailleNote Touch was designed to meet all of these needs and more, to completing class work easier and more efficient than ever. Smart keyboard cover provides a perfect ergonomic introduction to braille typing for young children, Students can transition to TouchBraille as their motor skills develop, Teachers can receive instant visual feedback. Teachers and supporting IT staff can quickly disable KeySoft with a triple tap of the Home button to use Braille. You can contact Edit Microsytems to find out more about this product and its features or to receive a quote.
Braille Embossers
A Braille Embosser is an impact printer that renders text as tactile Braille cells. Using Braille translation software, a document can be embossed with relative ease, making Braille production efficient and cost-effective. Braille Embossers usually need special Braille paper which is thicker and more expensive than normal paper but some high end Embossers are capable of printing on normal paper. Embossers can be either one-sided or two-sided. There are a variety of different types of these products sold in South Africa including those listed below which are sold by Edit Microsystems. They include the:
Brailo 600 S2: This Braille Embosser is the faster, more robust counterpart to the Braillo 450 S2. Embossing at 600 CPS (1,800 pages per hour), it is the fastest continuous/fanfold embosser available, and it offers remarkable dot quality and dependability. 600 CPS (1,800 pages per hour) 24/7 Braille production, Superior Braille quality and reliability Scalable to a 600 SR as production needs increase Duxbury Braille Translator included free, Easy to setup & easy to service. You can contact Edit Microsytems to find out more or receive a quote.
The Emprint SpotDot: This is the latest model of the Braille Embosser with a colour ink display and an  all in one printer for the Blind Braille user. It is the perfect companion to the Braillenote Apex, the SpotDot enables you to print Braille graphics for a Blind user with a visual display for sighted persons. It has an easy to use operator panel with a tactile button and uses the same paper and ink cartridges as an HP Inkjet printer. It prints Braille and ink on the same page and formats Word and Excel documents to Braille automatically. It creates raised visual images on paper from anything on the computer screen and includes Tiger Designer, which is a tactile graphics design software for Windows. You can contact Edit Microsytems to find out more or receive a quote.
The Braillo 650 SW:  This Braille Embosser is a heavy-duty Embosser ideal for creating both Braille magazines and textbooks. Once the Brailled documents reach the conveyor belt, they are separated by "signatures" and the user will then remove and fold the sheets into magazine/book format (2-4 pages per sheet) ready for binding. Using paper rolls helps to save money on paper expenses and also eliminates the need for a burster and its operator. This product creates superior Braille quality and reliability it Embossers 650 characters per second (1,950 pages per hour) and uses Braille paper rolls, allowing for less expensive and longer duration embossing. You can contact Edit Microsytems to find out more or receive a quote.
Braille Writers
There are a different types of these products sold in South Africa including those listed below which are sold by Organizations and Companies such as the South African National Council for the Blind, Blind SA and Edit Microsystems. They include the:
Perkins Brailler: This manual braille writer is a precision designed machine. The six keys each produce one of two dots in the braille cell and can together print the full alphabet in dots, as well as numbers represented by dots. The Perkins classic is still the most popular manual braille writer. You can contact Blind SA and the South African National Council for the Blind to receive a quote or find out more about the Perkins Brailler.
The Tatrapoint Mechanical Brailler: Tatrapoint is a manual six-key braille writer that is lightweight, reliably strong and requires minimum physical effort to write braille. It is easy on the wrists and is suitable for Braille users of all ages who will find it perfect for Braille writing for work or otherwise. The spacing between keys can be adjusted to accommodate different hand sizes and positioning. The high contrast colour schemes make Tatrapoint features easier to find and appealing to younger users. This product includes a briefcase for transporting the Tatrapoint and documents. Tatrapoint Features include:
Left and right margins can be set.
A warning bell rings five cells before the end of a line.
Carriage release and backspace key
Can emboss on dymo tape.
Precise paper transport for exact re-adjustment of corrections in previously written text.
These Brailles are available from various companies or Organizations including Edit Microsytems & Blind SA, contact them to find out more or to receive a quote. To place your orders with Blind SA, or for more information, please contact Ofentse Manyane on 079 871 7396 or Ria Vermaak on: 011 839 1793, Fax: 011 839 1217 or Email: accounts@blindsa.org.za.
Voice Recorders
A Voice Recorder or a Dictation Machine is a device to record speech or other sounds, and then play it back. Voice recorders are slim, portable gadgets that are used to create audio files that can later be downloaded onto a computer. They can be used to record discussions at meetings as well as notes, ideas, dictated letters and memos. Many students use them to record lectures so that they can write up proper notes later. They are also very useful for Persons with disabilities, including Persons who are Visually Impaired or Blind. There are a variety of different types of these products sold in South Africa including those listed below sold by Organizations and Companies such as the South African National Council for the Blind and Edit Microsystems. They include the:
Victor Reader Stream (New Generation): The Victor Reader Stream is a portable device similar to a media player for Visually Impaired and blind users. The compact device has a recorder, microphone and built in human sounding voice for assisting with text speech and voice replay. It has wireless connectivity enabling web access to rich media content, radio stations, audio films and video clips, online reference tools. The Stream plays media formats such as MP3, MP4, EPUB and DAISY books. The battery is replaceable and recharges through your computer USB or USB AC adapter. The speaker and headphone jack assimilated into the device. It has user friendly voicing controls and a microphone to record voice notes, to-do lists, classroom lectures or from a line-in device. The user can control the reading speed with a forward and rewind button on the device. It has a sleep detection key which causes the playback to stop as soon as it senses no activity. The information key provides information of the present activity such as reading the book title, time elapsed / remaining, the total number of pages and chapters read and it tracks your place and the stream resumes from where you left off. You can contact Edit Microsytems to find out more or receive a quote.
Olympus Digital Notetaker: This digital device, replaces conventional tape recorders. It has no moving parts and is available with voice guidance, for easy use for Persons With Visual Impairments. It provides 4 recording selections, each with at least 100 files. It has voice activation so it is ideal for lectures and meetings. It also allows pc connectivity to save voice files. You can contact the South African National Council for the Blind to receive a quote or find out more about this Olympus Digital Notetaker.

To view more information about these Assistive Devices and others, view the menu on the left or feel free to Contact Us if you have any questions about the products and Services listed on this page and we will point you in the right direction.
References