Computer & Electronic Aids



Welcome to our "Computer & Electronic Aids" page. This page is still under construction, we hope to have it completed soon. Please Check back soon, or contact me via the "Contact Us" page and we will try to assist you.
Contents: To jump to the topic you would like, click on the links below
Introduction
Computers and other electronic aids can be extremely helpful tools, especially for people with disabilities, including the Intellectually Impaired. Due to the fact that many people with disabilities turn to computers to assist them with a variety of tasks, there are a number of Assistive devices to make computer accessible for almost anyone to use.  Computers are useful operate a business, do research, socialize, listen to music, watch TV & movies, play games, read books, take part in discussions, even therapeutic treatments are available through your computer.  You can order just about anything you can get in a store, receive & send faxes, listen to voice-mails, & call for emergency help, all from your computer.

There is a variety of different types of Computer Aids available for Persons with various types of Intellectual Impairments, including children. These Computer Aids are available in South Africa from Organizations and Companies such as Edit Microsystems. which offers a wide variety of solutions and can also advise you on what equipment would best suit your needs. Some of these companies can also teach persons and offer support to them on how to best use the equipment that they supply. To view more information about these Assistive Devices and others, read the article below or view the menu on the left.
Laptop computers & Tablets

Laptop computers and tablet devices are beneficial for students with learning disabilities because they are portable and lightweight. For students with handwriting difficulties, being able to take notes on a laptop or computerized device (such as an iPad) can improve the quantity and quality of the notes. Using a word processor can help students to complete work that is more organized and includes less spelling errors than handwritten work. Some students may also identify and correct more errors when using spell check than when editing by hand. However, personal access to laptops and computerized devices does not ensure engagement and increased academic success. For many students, laptop computers and computerized devices can be too distracting. Teachers and students need to be trained in how to meaningfully integrate technology into academic contexts so that the devices don't detract from learning.
A laptop, often called a notebook, is a portable personal computer. The keyboard and screen can be folded shut for transportation of the laptop. Laptops are therefore extremely useful for working on while traveling or for people who need to spend time in bed.
A laptop uses a pointing device called a touch pad or track pad,  & can be very difficult to use if you have a mobility impairment that effects your hands. I use a Trackball & wireless keyboard.
Key Boards & Key Boards Shortcuts
There is a variety of different types of Computer Aids available for Persons with various types of Intellectual Impairments, including children. Some of these Computer Aids such as specially adapted keyboards are available in South Africa from Organizations and Companies such as Edit Microsystems, who stock the following types of keyboards:
Accuratus Monster 2 – Mixed Colour Lower Case Childrens Keyboard for Learning with Large Keys: This keyboard is for young children and is the perfect entry into computing, with large oversized keys grouped in different colours making learning easy and fun. The lowercase keys are especially designed for early readers who are not yet familiar with capital letters. The keyboard features and specifications include a USB connection; black case with modern gloss piano black beveled edge; large 1 inch square keys (24mm); mixed, high visibility or high contrast keys (only 1 style per carton) and much more. Contact Edit Microsystems to find out what other features they offer and to receive a quote
Keyboard shortcuts are combinations of two or more keys that you can use to perform a task that would typically require a mouse or other pointing device. Keyboard shortcuts can make it easier to work with your PC, saving you time and effort as you work with Windows and other apps. This can be particularly useful if your hands are impaired, especially in combination with "Sticky Keys"
Examples of these include:
Windows system key combinations
F1: Help
CTRL+ESC: Open Start menu
ALT+TAB: Switch between open programs
ALT+F4: Quit program
SHIFT+DELETE: Delete item permanently
Windows program key combinations
Mouse Keys
Mouse Keys allows you to move the mouse cursor from the keys in the number pad on the right side of a full-size keyboard. It is not as fast as a regular mouse, or even as fast as the Track Ball, but when turned on, Mouse Keys also allows you to click and drag. This gives you much more control, especially in Graphic Design & if your hand movement is impaired.
To turn on the Mouse Keys option, click Start; Settings; Control Panel; Accessibility Options. Click the Mouse Tab at the top of the dialog box and then click the little box next to Use Mouse Keys to put a check in it. You can then select the options you want and click OK.
You can also turn on Mouse Keys by pressing Left Alt+Left Shift+Num Lock.  To change options like how quickly the mouse pointer moves and whether your PC makes a sound when you turn on Mouse Keys, in the Ease of Access Center, tap or click Make the mouse easier to use, and then, under Control the mouse with the keyboard, tap or click Set up Mouse Keys, and tap or click OK.
Move the pointer using Mouse Keys
After you turn on Mouse Keys, you can use the numeric keypad to move the mouse.
To move the mouse pointer
Up - 8
Down - 2
Right - 6
Left - 4
Up and to the left - 7
Down and to the left - 1
Up and to the right  - 9
Down and to the right - 3            
Sticky Keys
Sticky Keys is a Windows Ease of Access feature that makes it possible to use keyboard shortcuts or type capital letters without needing to press more than one key at once. Normally, you'd hold down the Shift key while pressing a letter to type a capital, or hold down the Ctrl key while pressing 'S' to save a document. It's even trickier if you want to use a shortcut such as Ctrl-Alt-Del or Ctrl-Shift-Esc.
With Sticky Keys, you can press Ctrl, Shift or Alt, let go and then press another key – Windows will interpret this as GjvzKoxh8yBmIcgL5WxBlX0w9l0akIIPshould also hear a beep if you have speakers connected.
It's great if you're disabled and can't press two keys at once, I always use it & find it helps allot. It also makes it easier to use keyboard shortcuts or hold down the Ctrl key while pressing 'S' to save a document.
You can Setup Sticky Keys when you hit one of your keyboard's Shift keys five times in a row, this will cause a Windows pop-up, which will ask if you want to enable Sticky Keys.
You can also switch it on by going to "Control Panel" then "'Adjust Computer Settings" then"ease of access" & turn sticky keys on.
Software & Applications
Penfriend XP 4.1
The Penfriend XP 4.1 is an application tool specially designed for users with Dyslexia or physical disabilities. The application allows users to add word prediction, speech and an onscreen keyboard.
Features
The application allows users to add word prediction, speech and an onscreen keyboard which is compatible with most other software programs.
New and improved abbreviation expansion.
works with your word processor and tries to guess the word you are typing when the first, second and third letter has been entered.
Complete the word with one key press.
Learns the words you used recently and frequently and improves when you use it.
saving feature allows for work to be saved by each individual user enabling easy access for teachers.
Includes an edit and add topic feature for vocabulary.
Technical Specifications
XP Windows CD-Rom single user PC
XP Portable single user USB
http://editmicro.co.za/product/penfriend-xp-4-1/
Trackball/Roller Ball Mouse
As mentioned above, some individuals with Intellectual Impairments might find a regular mouse difficult to use. A Rollerball Mouse also known as a Trackball can assist you. A Trackball is basically an upside-down mouse with an exposed protruding ball. To move the pointer the user rolls the ball with the thumb, fingers, the palm of the hand, or in my case back of my hand.
Compared with a mouse, a trackball has no limits on effective travel. A mouse can reach an edge of its working area while the operator still wishes to move the screen pointer further.
With a trackball, the operator just continues rolling, whereas a mouse would have to be lifted & re-positioned. Some trackballs have notably low friction, as well as being made of dense material such as glass, so they can be spun to make them coast. The trackball's buttons may be situated to that of a mouse or to a unique style that suits the user.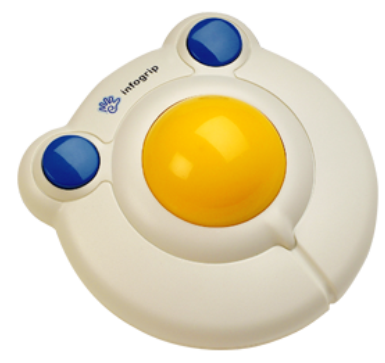 You get a variety of different types & styles of trackballs, including cordless ones, which can be handy, you need to find one that suits you. The Trackball is more expensive than the normal mouse & can be difficult to find in South Africa.
Large trackballs can be used for easy precision. The BIG track Trackball has a 3 inch trackball which makes it the largest trackball available. The large ball requires less fine motor control than a standard trackball and it is ruggedly built. It has a left and a right mouse click button located behind the trackball to avoid unwanted mouse clicks. This was the first type of trackball that I used & gave me good practice to eventually use a normal trackball. These large Trackballs are cheaper than normal Trackballs.
Voice/Speech-Recognition Software
Voice/Speech-Recognition Software  enable you to run your computer entirely with your voice. It converts speech to text, and allows users to perform commands and even move the mouse without touching anything. This is ideal for someone who has difficulty typing through a physical disability.
There are a variety of options available including a free one that comes with windows & Dragon NaturallySpeaking also known as Dragon for PC. This speech recognition software package, runs on Windows personal computers . It requires quite a bit of RAM (Random Access Memory) to run well & the right microphone.
There are many different microphones that work well with Voice/Speech-Recognition Software, but the better microphone results in better accuracy.
There is no "BEST" microphone. Your voice, how you use the microphone, your environment, and your PC are a few of the variables that determine what is a good microphone for you, the same applies to the microphones you will find comfortable, it is a personal preference.
If you have a local microphone reseller who will let you come try various microphones, contact them and buy from them!
The Microphones vary in type & price & include:
Basic headsets & mike
cordless headsets & mike
USB headsets & mikes
Microphones mounted on a desk.
Each of these have their pros & cons & you will need to purchase one that suits your needs & pocket.
The person using it, talks into a mike & the words are then translated into text. After you set it up, it provides a Tips function, which you can leave on for a while so you keep learning tricks every time you start the software. You will also need to train it to learn & understand your voice.
If used correctly, it should improve every time you use it.