Contents: To jump to the topic you would like, click on the links below
Introduction
Tennis & Table Tennis are both sports that have been adapted from their original sports. Both sports can be played by people with nearly every disability & allows both sportsman who use wheelchairs & those who don't, to participate. Athletes receive classifications, so that they can be grouped for competition purposes according to their impairment. Both sports are played at social, club & Provincial level, as well as at International level.
Tennis
Wheelchair tennis is one of the forms of tennis adapted for those who have disabilities, it welcomes people with nearly every disability. It is even suitable for people in electric wheelchairs. As an integrated sport, able-bodied people are welcome to play. Disabilities include spinal cord injuries, amputation, cerebral palsy, spina bifida, muscular dystrophy, multiple sclerosis, arthritis, and many more.
The size of courts, balls, and rackets are the same, but there are two major differences from pedestrian tennis, the athletes use specially designed wheelchairs and the ball may bounce up to two times. The second bounce may also occur outside the court.
Who Can Play?
Anyone can play tennis! However, in order to be eligible to compete in ITF sanctioned wheelchair tennis tournaments and the Paralympic Games, a player must have a medically diagnosed permanent mobility related physical disability. This permanent physical disability must result in a substantial loss of function in one or both lower extremities. A quad player must meet the criteria for permanent physical disability as defined above. In addition, the player must have a permanent physical disability that results in a substantial loss of function in one or both upper extremities.
Rules of the Game

The game of wheelchair tennis follows the ITF Rules of Tennis with a few exceptions. Here are some of the significant exceptions:
1. The Two-Bounce Rule
The wheelchair tennis player is allowed two bounces of the ball. The player must return the ball before it hits the ground a third
time. The second bounce can be either in or out of the court boundaries.
2. The Wheelchair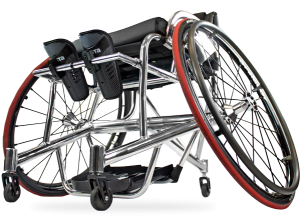 The wheelchair is considered part of the body and all applicable Rules which apply to a player's body shall apply to the wheelchair. One buttock must remain in contact with the wheelchair seat when contacting the ball.
3. Propelling the Chair with the Foot
If due to lack of capacity a player is unable to propel the wheelchair via the wheel then he may propel the wheelchair using one foot.
For a complete list of rules, click here.
Equipment
All you need is a racquet and some tennis balls! Beginners can play in their everyday chairs, including power chairs, but the more serious player can use a sports chair specifically made for tennis. You may wish to strap yourself into the chair to improve your stability. Straps can be used around the waist, knees and ankles, depending on the players balance. Ace wrap can be used to secure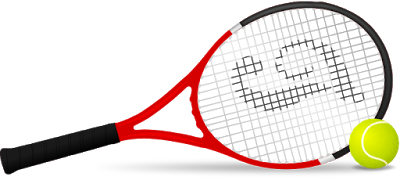 the racquet to one's hand if there is a lack of grip strength. Adaptive equipment, including special socket devices with rings that attach to prostheses and which enable players to hold, toss, and serve balls, has also made tennis a popular sport among amputees.
Wheelchair tennis is one of the official Paralympic sports and also played at Grand Slams. There are three categories; Men, Ladies, and Quads and each category has singles and doubles tournaments. Quads is the category for those with quadriplegia and it is sometimes called Mixed especially at Paralympic Games. Quads players can hold rackets taped to the hand and use electric-powered wheelchairs.
South African Wheelchair Tennis
Wheelchair Tennis is one of the fastest growing wheelchair sports in the world. The ITF considers South Africa one of the global success stories in introducing the sport, making Wheelchair Tennis South Africa (WTSA) one of the top wheelchair tennis structures and nations in the world.
Wheelchair Tennis South Africa (WTSA) was established as a non-profit company in 2005 when a handful of players, including Craig Fairall and Kevin Smith, came together with a collective vision of formalising and developing wheelchair tennis into a mainstream sport.
WTSA was initially aligned with SASAPD (South African Sports Association for the Physically Disabled), but has recently closely re-aligned the organisation with TSA (Tennis South Africa) as its mother body. WTSA is also affiliated to the ITF (International Tennis Federation).
The ITF has sighted South Africa as a global success story for the introduction and growth of the sport. As a result of this recognition, South Africa now hosts six tournaments on the NEC World Wheelchair Tennis Tour including one of only 6 Super Series (Premier events) offered each year.  WTSA also hosted the Wheelchair Tennis World Team Cup in 2011.
WTSA now has sustainable sports programs running in each of South Africa's 9 provinces to introduce and offer wheelchair tennis to as many physically disabled individuals & communities as possible. Through these programs people with disabilities are given the opportunity to learn a new skill and excel at a sport. Players are continuously developed and discovered through these programs from introduction to the game, to ultimately, representing South Africa internationally. To find out more, you can visit their website at: www.tennis.co.za
Major tournaments
International tournaments are organized by International Tennis Federation as a Uniqlo Wheelchair Tennis Tour. In wheelchair tennis there are five top-ranked major tournaments called Super Series (SS); Australian Open (Melbourne), British Open (Nottingham), Japan Open (Iizuka), US Open (St. Louis) and French Open (Paris, BNP Paribas Open de France).
The World Team Cup is an international team event held annually. To wrap up the season, they have NEC Wheelchair Tennis Masters (singles event) and Uniqlo Wheelchair Doubles Masters tournaments which only world top-ranked players can compete.
The top eight men and women based on the ranking after the US Open at the end of the year compete to be the champion of the year. In addition, Grand Slams, Australian Open, Wimbledon, Roland Garros, and US Open have each created wheelchair tennis category.
It is also played at Paralympic Games and FESPIC games as well. In 1990 wheelchair tennis was played at the abled bodied event in Miami, this lasted for more than 15 years. The Wheelchair Tennis Class 8s at the 2002 Australian Open saw competitive wheelchair tennis take place at the same time and the same venue at a Grand Slam for the first time.
In 2005 the Masters series was created, comprising all the events at the Grand Slams and the end of year championships, as Wimbledon and the US Open joined Melbourne.
In 2007 Roland Garros joined and the Classic 8s were replaced by the Australian Open which had been held at the same venue two weeks later. In 2009 all events played at the abled bodied Grand Slams were renamed Grand Slams.
The Netherlands has dominated numerous victories at major tournaments including Paralympic Games and Grand Slams.
History
Wheelchair tennis increased in popularity in 1976 due to the efforts of Brad Parks, who is seen as the creator of competitive wheelchair tennis. In 1982, France became the first country in Europe to put a wheelchair tennis program in place. Since then, much effort has made to promote the sport to rid it of its 'therapy' image that still affects many sports for people with disabilities.
The sport quickly became popular worldwide and was introduced to the Paralympic Games as a demonstration event at the Seoul 1988 Summer Paralympics. It was at the 1992 Summer Paralympics in Barcelona that wheelchair tennis acquired the status of a full-fledged competition.
The 2000 Summer Paralympics in Sydney boosted public awareness immensely & led to the introduction of the sport to Grand Slams of pedestrian tennis.
For the 2013 season the ITF decided to adopt match tiebreakers in place of a third and deciding set in doubles matches. However the tiebreaker would only be used at events which were rated as ITF1 or lower and at the World Team Cup. The grand slams however were free to decide on the format of their tournaments.
Table Tennis
Table tennis, also known as ping pong, is a sport in which two or four players hit a lightweight ball back and forth across a table using a small paddle. The game takes place on a hard table divided by a net. Except for the initial serve, the rules are generally as follows: players must allow a ball played toward them to bounce one time on their side of the table, and must return it so that it bounces on the opposite side at least once. A point is scored when a player fails to return the ball within the rules. Play is fast and demands quick reactions. Spinning the ball alters its trajectory and limits an opponent's options, giving the hitter a great advantage.
Table Tennis or Para Table Tennis is a disabled sport which allows both sportsman who use wheelchairs & those who don't, to participate. Athletes receive classifications, so that they can be grouped for competition purposes according to their impairment.
Table tennis is governed by the worldwide organization International Table Tennis Federation (ITTF), founded in 1926. ITTF currently includes 220 member associations. The table tennis official rules are specified in the ITTF handbook. Table tennis has been a Deaflympic sport since 1957 with several event categories.
Table Tennis was included in the first Paralympic Games in 1960. Athletes from all disability groups, with exception to the visual impaired participate and compete in Table Tennis in standing and sitting classes. Men and women compete individually, in doubles, as well as in team events. Para Table Tennis also appears on a lot of multi-sporting event programs.
Para table tennis follows the rules set by the International Table Tennis Federation (ITTF). The usual table tennis rules are in effect with slight modifications for wheelchair athletes. Athletes from disability groups can take part. Athletes receive classifications between 1-11. Class 1-5 are for those in wheelchairs and class 6-10 for those who have disabilities that allow them to play standing. Within those groups the higher classification means the more function the athlete has. Class 11 is defined for players with an intellectual disability.
South African Table Tennis
Para Table Tennis is a very popular sport in SASAPD and is active in all provinces. The convenor for Table Tennis is Lill Bhagwan. She can be emailed at: Bhagwa_L@mtn.co.za
The South Africa Age Group Summer Games take place from March 11 to March 16.  While not a hugely important event on the international disability sport calendar, it is important on the South African and African continental intellectual disability calendar.  Taking place in Port Elizabeth, the competition also includes INAS sanctioned Cricket, Swimming and Indoor Rowing events open to participants from all African countries.  This makes it important for growing ID sport in Africa.
The IWAS U23 World Games take place from June 28 to July 3 in Prague, Czech Republic.  Formerly known as the IWAS World Junior Games, this biennial competition features Archery, Athletics, Powerlifting, Shooting, Swimming, Table Tennis, Wheelchair Fencing, Wheelchair Rugby, Table Tennis and Volleyball.  These sports are all on the Paralympic program.  Some of the world's best future Paralympians are scheduled to participate.
Classification
The roles of classification are to determine eligibility to compete for athletes with disability and to group athletes correctly for competition purposes. Athletes are grouped by reference to functional ability, resulting from their impairment.
Sitting classes
Class 1:
No sitting balance with severe reduction of function in the playing arm.
Class 2:
No sitting balance with reduction of function in the playing arm.
Class 4:
Existing sitting balance although not optimal because of non-existing anchorage (stabilisation) of the pelvis.
Class 5:
Normal function of trunk muscles.
Standing classes
Class 6:
Severe impairments of legs and arms.
Class 7:
Very severe impairments of legs (poor static and dynamic balance), or severe to moderate impairments of playing arm, or combination of arms and legs impairments less severe than in class 6.
Class 8:
Moderate impairments of the legs, or moderate impairments of playing arm (considering that elbow and shoulder control is very important), or moderate cerebral palsy, hemiplegia or diplegia with good playing arm.
Class 10:
Very mild impairments in legs, or very mild impairment of playing arm, or severe to moderate impairment of non-playing arm, or moderate impairment of the trunk.
Class 11:
For players with an intellectual disability.
Laws of table tennis in wheelchair
There are no exceptions to the laws of table tennis for standing players with a disability. All players play according to the laws and regulations of the ITTF. The umpire may relax the requirements for a correct service if the compliance is prevented by physical disability.
Service
If the receiver is in wheelchair, the service shall be a let under the following circumstances:
After touching the receiver's court, the ball returns in the direction of the net.
The ball comes to rest on the receiver's court.
In singles, the ball leaves the receiver's court after touching it by either of its sidelines.
If the receiver strikes the ball before it crosses a sideline or takes a second bounce on his or her side of the playing surface, the service is considered good and no let is called.
Doubles
When two players who are in wheelchairs are a pair playing doubles, the server shall first make a service, the receiver shall then make a return but thereafter either player of the disabled pair may make returns. However, no part of a player's wheelchair shall protrude beyond the imaginary extension of the centre line of the table. If it does, the umpire shall award the point to the opposing pair.
Limb positions
If both players or pairs are in a wheelchair, the player or the pair score a point if:
the opponent does not maintain a minimum contact with the seat or cushion(s), with the back of the thigh, when the ball is struck.
the opponent touches the table with either hand before striking the ball.
the opponent's footrest or foot touches the floor during play.
Equipment and playing conditions
Table Tennis equipment consists of :
A Ball
1 bat per player
A Table with a Net
A player may not normally wear any part of a tracksuit during play. A player with a physical disability, either in a wheelchair or standing, may wear the trousers portion of a tracksuit during play, but jeans are not permitted.
Ball
The international rules specify that the game is played with a sphere having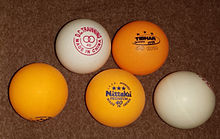 a mass of 2.7 grams (0.095 oz) and a diameter of 40 millimetres (1.57 in). The rules say that the ball shall bounce up 24–26 cm (9.4–10.2 in) when dropped from a height of 30.5 cm (12.0 in) onto a standard steel block thereby having a coefficient of restitution of 0.89 to 0.92. The ball is made of celluloid plastic as of 2015, colored white or orange, with a matte finish. The choice of ball color is made according to the table color and its surroundings. For example, a white ball is easier to see on a green or blue table than it is on a grey table. Manufacturers often indicate the quality of the ball with a star rating system, usually from one to three, three being the highest grade. As this system is not standard across manufacturers, the only way a ball may be used in official competition is upon ITTF approval  (the ITTF approval can be seen printed on the ball).
The 40 mm ball was introduced after the 2000 Summer Olympics.
Table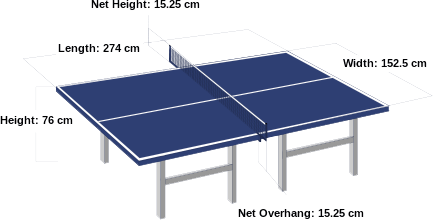 The table is 2.74 m (9.0 ft) long, 1.525 m (5.0 ft) wide, and 76 cm (2.5 ft) high with any continuous material so long as the table yields a uniform bounce of about 23 cm (9.1 in) when a standard ball is dropped onto it from a height of 30 cm (11.8 in), or about 77%. The table or playing surface is uniformly dark coloured and matte, divided into two halves by a net at 15.25 cm (6.0 in) in height. The ITTF approves only wooden tables or their derivates. Concrete tables with a steel net or a solid concrete partition are sometimes available in outside public spaces, such as parks.
Table legs shall be at least 40 cm from the end line of the table for wheelchair players. In international competitions, the playing space is not less than 14m long, 7m wide and the flooring shall not be concrete. The space for wheelchair events may be reduced to 8m long and 6m wide. The flooring may be of concrete for wheelchair events, which is prohibited on other occasions.
Paddle/racket
Players are equipped with a laminated wooden racket covered with rubber on one or two sides depending on the grip of the player. The ITTF uses the term "racket", though "bat" is common in Britain, and "paddle" in the U.S.
The wooden portion of the racket, often referred to as the "blade", commonly features anywhere between one and seven plies of wood, though cork, glass fiber, carbon fiber, aluminum fiber, and Kevlar are sometimes used. According to the ITTF regulations, at least 85% of the blade by thickness shall be of natural wood. The average size of the blade is about 17 centimetres (6.7 in) long and 15 centimetres (5.9 in) wide. Although the official restrictions only focus on the flatness and rigidness of the blade itself, these dimensions are optimal for most play styles.
Table tennis regulations allow different surfaces on each side of the racket. Various types of surfaces provide various levels of spin or speed, and in some cases they nullify spin. For example, a player may have a rubber that provides much spin on one side of their racket, and one that provides no spin on the other. By flipping the racket in play, different types of returns are possible. To help a player distinguish between the rubber used by his opposing player, international rules specify that one side must be red while the other side must be black. The player has the right to inspect his opponent's racket before a match to see the type of rubber used and what colour it is. Despite high speed play and rapid exchanges, a player can see clearly what side of the racket was used to hit the ball. Current rules state that, unless damaged in play, the racket cannot be exchanged for another racket at any time during a match.
Wheelchairs 
Wheelchairs must have at least two large wheels and one small wheel. If the wheels on the player's wheelchair become dislodged and the wheelchair has no more than two wheels, then the rally must be stopped immediately and a point awarded to his or her opponent.
The height of one or maximum two cushions is limited to 15 cm in playing conditions with no other addition to the wheelchair. In team and class events, no part of the body above the knees may be attached to the chair as this could improve balance.
References